If you're looking for a weekend getaway that combines great food and fun activities, then you've come to the right place. Oakland is known for its vibrant food scene, and with an increasing number of vegan options, it's no surprise that it has become a vegan paradise. Whether you're a local or a visitor, a vegan or a meat-eater, a weekend exploring the Oakland Vegan Trail is a must.
My boyfriend, Miguel, and I recently had the pleasure of exploring the Oakland Vegan Trail and discovering some of the best plant-based eateries in the city, and let me tell you, this journey was one of a kind! So, if you're ready to indulge in this epic experience, then here is the perfect itinerary for a weekend exploring Oakland's vegan food scene, along with some fun activities to check out in between meals.
 
The Perfect Oakland Vegan Trail Itinerary
 
---

DAY ONE:

Grand Lake Farmers' Market
 
Head over to Grand Lake Farmers' Market, grab yourself a cup of Ethiopian coffee with ginger, and explore all the vegan vendors this market has to offer. You will find everything from vegan ice cream to vegan Afghanistan flatbreads and everything in between. The options are endless and the food is incredible. You can easily lose track of time here - that's how good and fun it is.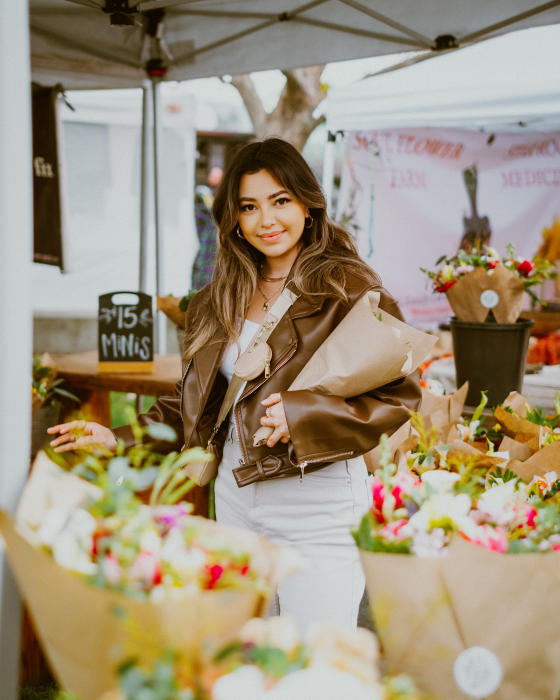 Lunch at Malibu's Burgers
 
I don't think I've ever had a more delicious vegan burger before my visit to Malibu's Burgers. I mean, it is quite literally vegan burger heaven in there! Each burger is a mouthwatering dream crafted with a variety of toppings like melty cheese, sweet caramelized onion, smoky vegan bacon, and served on soft eggless brioche buns! Do yourself a favor and try out The La Lulu Chick'n Sandwich, The Ghost Town Burger, and a side of Stadium Fries and Tater Tots.
Piedmont Ave. + Mr. Dewie's Cashew Creamery
 
Walk off those delicious burgers with a stroll along Piedmont Avenue. Here you can explore quirky stores, vintage boutiques, and historical architecture, right before you make your next vegan stop at Mr. Dewie's Cashew Creamery.
Mr. Dewie's serves creamy, rich, delicious vegan ice cream. It's hard to believe this mouthwatering treat is only made with natural, organic, and healthy ingredients. We tasted almost every flavor, and they were all so delicious. But, we ultimately decided to grab a scoop of Ultra Matcha, one of Lemon Creme, and one of Caramel Almond.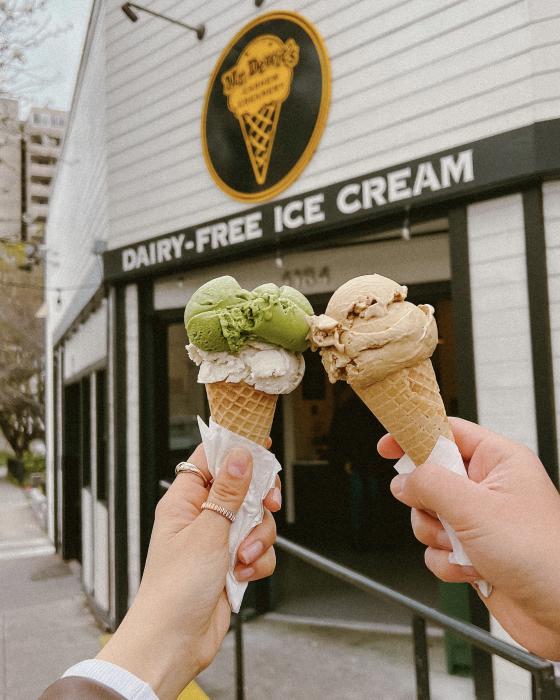 The Hive + Cocktails at Calavera
 
Head over to your hotel, freshen up, and get ready for some spicy Mexican cocktails at Calavera. We ordered the Spicy Citrus Margarita and the Salt-Air Jamaica and all I can say is, I am coming back for more as soon as possible! They were delish! Plus, the vibe of Calavera is unmatched.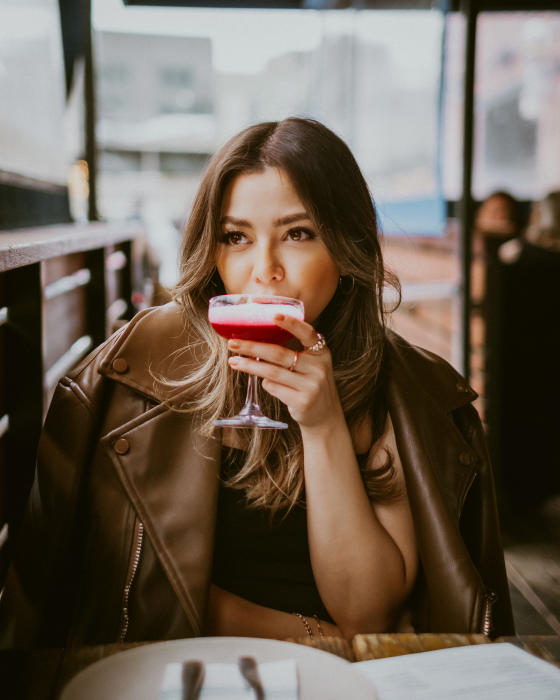 Dinner at Millennium
 
Lastly, we couldn't end the night without dinner at Millennium. This restaurant offers fresh, innovative vegan cuisine with vibrant dishes that are globally inspired and blended with flavors from around the world. They also work with small farms and showcase local, sustainable, organic produce at its peak. This means their menu is constantly changing, which makes for an exciting visit, knowing you'll always find something new. Oh, and let's not forget their house-made infusions and fresh juices used to make the yummiest cocktails. I could rave about this restaurant all day long!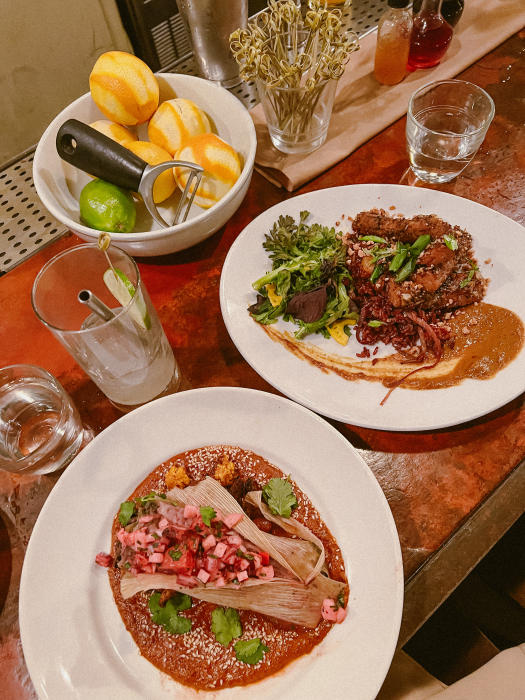 ---

DAY TWO

Coffee + Pastries at Timeless Coffee

Wake up bright and early and head over to Timeless Coffee, a 100% vegan coffee roastery and bakery. Their coffee drinks and bakery treats are all made in-house daily. From golden milk lattes to plant-based quiche, and vegan donuts - you'll never go wrong at Timeless.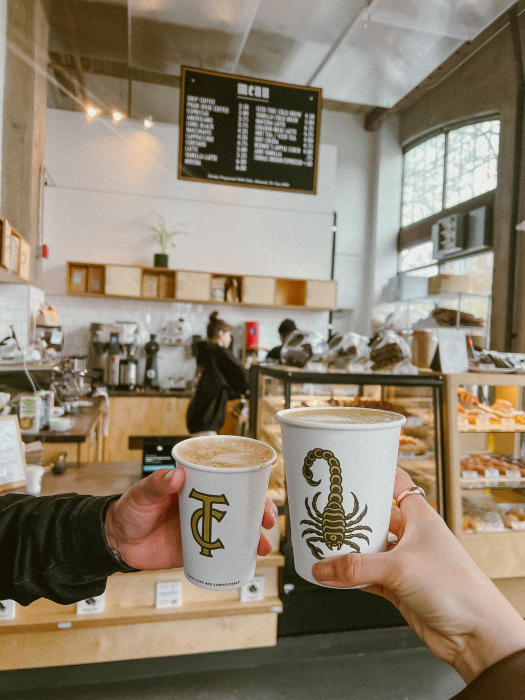 Explore Oakland Museum of California

Once you get your coffee fix, head on over to the Oakland Museum of California. Here you can learn all about our Golden State's art, history, and natural surroundings. We were pleasantly surprised with this museum and we immediately fell in love with all of their galleries and exhibitions. I strongly encourage you not to skip this one.
Visit Lake Merritt

Before you get ready for your next feast, walk along the beautiful Lake Merritt that sits in the center of the city. It is surrounded by grassy shores, lakeside gardens, hanging twinkly lights, great wildlife, and more! A true Oakland gem!
Brunch at Souley Vegan

Souley Vegan is a vegan soul food restaurant that will blow your mind with its authentic Louisiana Creole flavors. And the story behind the owner is truly inspiring - Tamearra Dyson started her journey when she was 18 and once sold at the Grand Lake Farmers' Market. She now has her own location and serves everything from BBQ tofu to mac and cheese, Beignets, and Seitan Chick'in Waffles. Yum!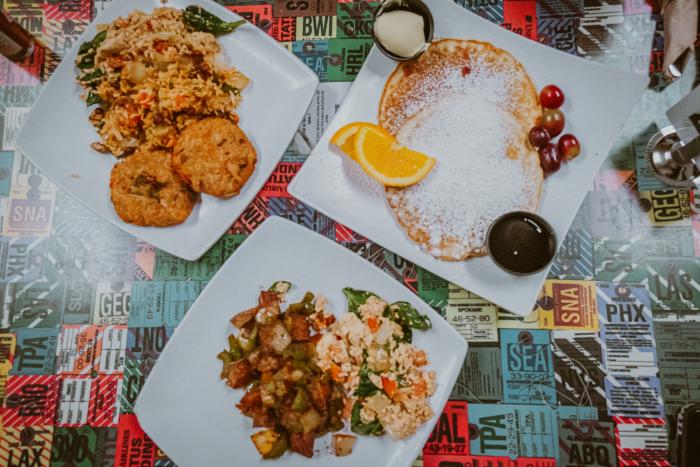 Farewell Oakland

That is all, this is where our journey ends! However, if you have more time to spare before heading home, then here are a few other spots to check out on the Vegan Trail:

Make sure to check out the full list and Vegan Trail Map!
 
---

UNTIL NEXT TIME

With the perfect itinerary for a weekend exploring Oakland's Vegan Trail, you're sure to discover some new favorite spots while also getting a taste of the city's culture and creativity. So, pack your bags, grab your appetite, bring a friend, and get ready to explore and eat your way through the Oakland Vegan Trail.