Fall doesn't have to mean staying inside, and we have all the events you could want to attend. Whether your thing is arts and culture, sports, or music, Oakland has an event for you. Check out all of the family-friendly and sometimes even free activities that will help keep you and your family out of the house. Here is our list of just some of the best fall activities and fall festivals in Oakland. Don't forget to add your favorite events in the comments below.
On-going Events
Discover the cutting-edge artwork, sculpture, and interactive installations from Burning Man, one of the most widely-celebrated and influential cultural events, at Oakland Museum of California. At No Spectators: The Art of Burning Man, experience the immersive and multi-sensory pieces that extend beyond the gallery walls into the Museum's public spaces—including an OMCA-commissioned 40-foot-tall outdoor temple by internationally-acclaimed sculptor David Best. No Spectators will also feature commissioned works, jewelry, gifts, costumes, "mutant" vehicles, sculptures, photographs, ephemera, paintings, artifacts, and other items. The companion exhibition within the gallery, City of Dust: The Evolution of Burning Man, organized by the Nevada Museum of Art in Reno, will trace Burning Man's origins from its countercultural roots in the San Francisco Bay Area to the world-famous desert gathering it is today. Click here for events like discussions about the pieces, tours, a block party and more.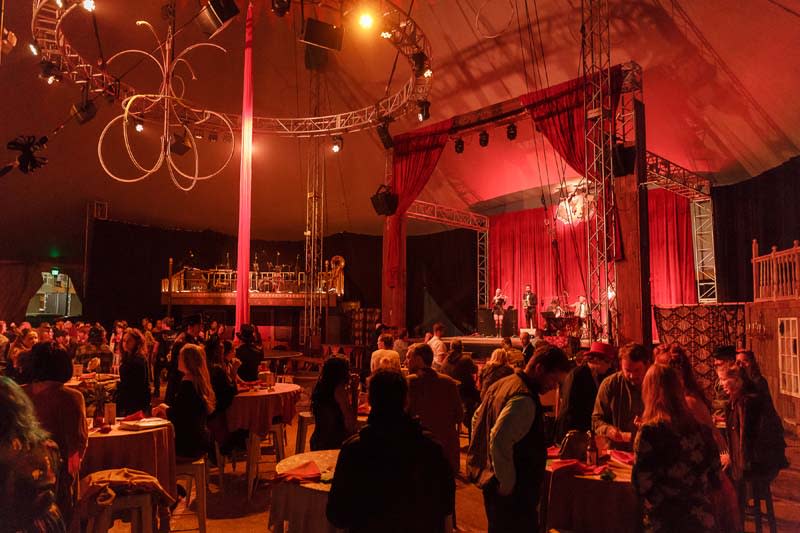 PC: The Soiled Dove
The Soiled Dove | September 20 - December 20, 2019
From The Vau de Vire Society, co-creators of the world-renowned Edwardian Ball, Lagunitas Beer Circus, Phantasm Halloween, New Bohemia NYE and a decade of The Bay Area's most creatively outrageous nightlife events, comes an immersive, circus-infused, scandalous and historic dinner-theater experience that will titillate your every sense. For 2019, The Soiled Dove graces Downtown Oakland September 20th, with shows every Friday and Saturday evenings, through December 7th…under Vau de Vire's massive 12,000 sq. ft. circus tent, the Tortona Big Top! Also pictured in header image.
Be sure to also check out: 
90's Experience | Buy tickets Wednesday- Sunday
Oakland First Friday Street Festival | Every 1st Friday of the month
 
Food & Drinks

Oakland Cocktail Week is back for a second year!  Celebrate Oakland's unique cocktail community neighborhood by neighborhood all week long with craft cocktails, live music, cocktail competitions and more. Support local bars and restaurants throughout the week with participating bars in over 15 neighborhoods.
More food and drink events:
Eat Real Festival | September 21-22
Oaktoberfest in the Dimond | October 5-6
 
Culture, Music & More

Join this free, outdoor festival to celebrate the vibrant culture of Día de Los Muertos in culturally rich Fruitvale. Enjoy world-class live music, family-friendly games, rides and activities, traditional Latin American artisans, and the stunning altar artistic installations created by community members paying homage to Los Muertos. 
Explore these events:
FURY Show | September 13-14
A's Firework Nights | September 21
East Bay Regional Park District Presents: FAM Fest! | September 28
Rolling Loud Music Festival | September 28-29
Oakland Black Cowboy Parade | October 5
Drunken Film Festival | October 6- 11
Autumn Lights Festival | October 17-18
Explore our full calendar of events and things to do in Oakland.