And Finds a Goldmine of Delicious Dishes

When I received the assignment to research restaurants for the Oakland Vegan Trail, I didn't expect to find and visit over 20 vegan restaurants and businesses. Whoa, really? Yes! We aren't talking about vegetarian restaurants that have a vegan option for some of their dishes—these are completely vegan businesses. Even San Francisco would be hard-pressed to come up with that many dedicated vegan spots, and certainly doesn't have the range of cuisines that Oakland is repping.

Oakland's ever-expanding vegan scene stretches all over, and is anchored by longstanding spots like the Ethiopian Cafe Dareye, Vietnamese Golden Lotus, macrobiotic Shangri-La Vegan, the upscale (and globetrotting) Millennium, and many more!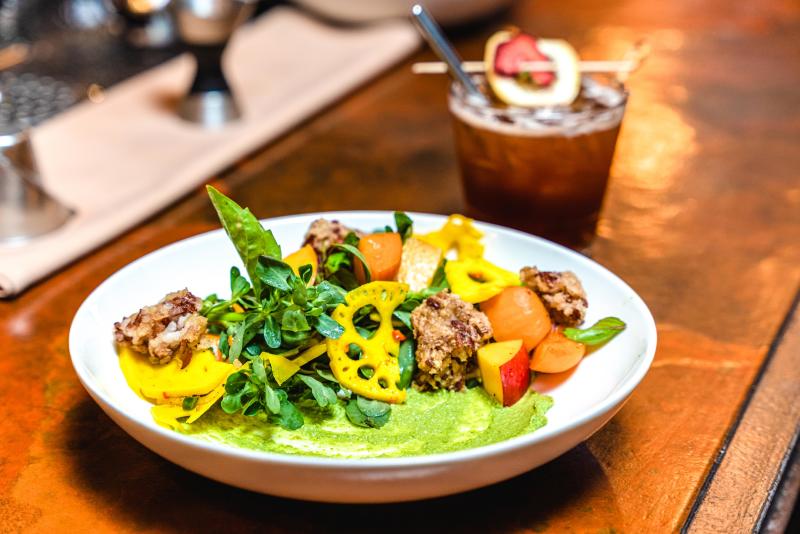 Vegan dinner and cocktail at Millenium
The latest wave of vegan restaurants includes a couple popular Black-owned spots that offer a healthier and planet-friendly alternative to fast food with crave-worthy portions, like Instagram-ready Malibu's Burgers (even the milkshakes are plant-based). There's an enthusiastic fanbase for a couple spots serving vegan soul food, like the ample plates of vegan BBQ from Vegan Mob—with some Mexican and Filipino influences in their Fusion Meals—and the flavor-packed, Louisiana Creole-style dishes at Souley Vegan (chef-owner Tamearra Dyson has expanded to Los Angeles and Las Vegas, and even beat Bobby Flay on the Food Network!).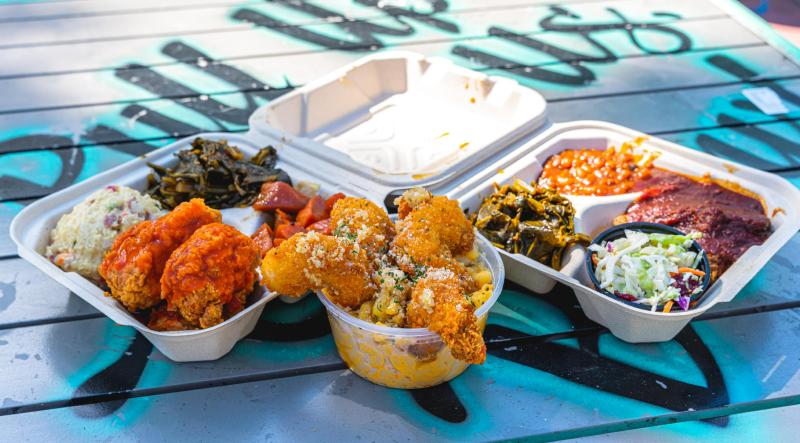 Variety of dishes at Vegan Mob
A number of places are creating their own plant-based proteins, like the house-made diced Louisiana hot links at Souley Vegan, and Taqueria La Venganza is making plant-based carnitas (with shredded soy skin marinated in a smoky citrus brine), pollo, and even chicharrón. Señor Sisig Vegano uses a marinated and char-grilled soy protein to make their pork sisig, chicken sisig, longanisa chorizo, and tocino. With these housemade, seasoned proteins, all the authentic flavor is there. Even Bare Knuckle Pizza has a quality lineup of Neapolitan pizzas with some of the best vegan melty, creamy mozzarella you'll ever taste (from local vegan deli The Butcher's Son).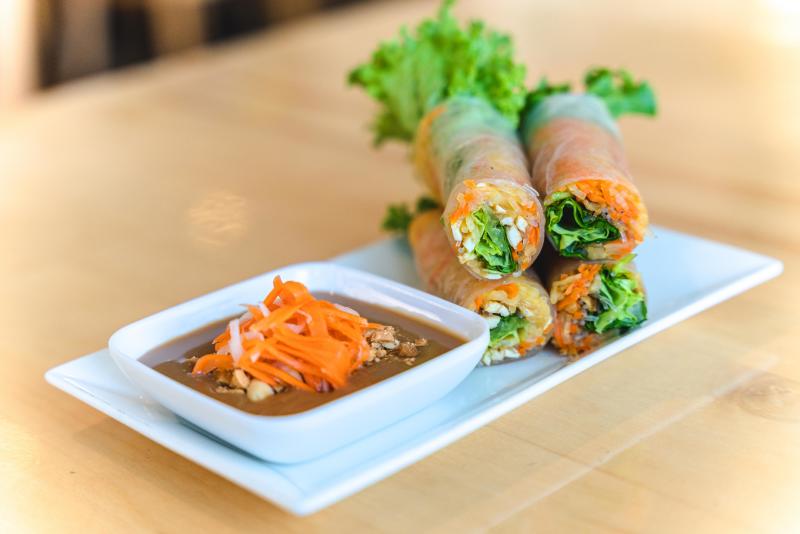 Spring Rolls at Golden Lotus
Something I really appreciated about the mother-daughter duo at Hella Nuts is they developed their own ground walnut meat since they want to avoid soy in their cooking; they use it in their old-school, Taco Bell–inspired lineup of dishes, and you won't miss the beef. Something I noted about their cooking is how fresh everything tasted—you can tell they really love to eat (and prepare) their vegetables. Roasted and Raw also has a healthy, vegetable-forward focus in their dishes.
 
Imani Greer, Chef and Owner of Roasted and Raw
As a meat-eater, there's always something in the back of my mind that says, "It's good for a vegan substitute…" but the question remains: would I eat the vegan version instead of a beef burger or cheese pizza or fried chicken? One place where this doesn't even enter my mind is the outstandingly creative Lion Dance Café, with the most flavor-packed, seasonal, Chinese-Singaporean dishes—and their shaobing sandwiches are simply amazing sandwiches, period.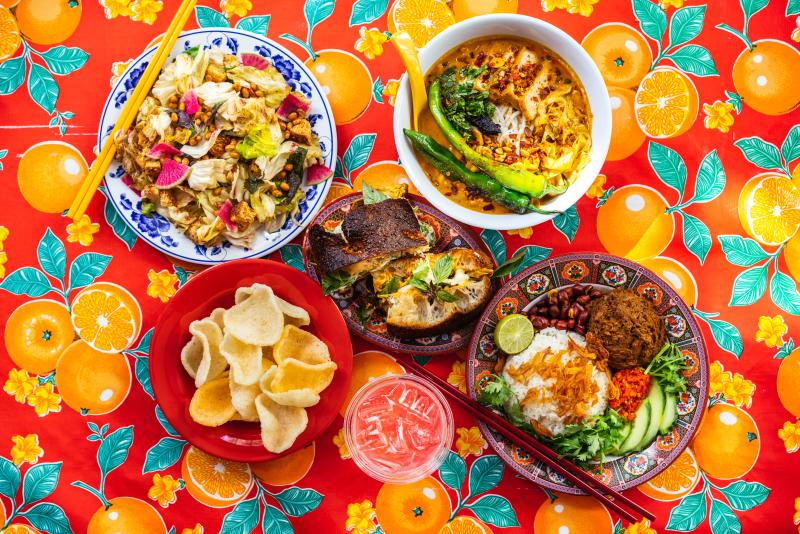 Variety of dishes at Lion Dance Cafe
Have fun exploring the Oakland Vegan Trail—there's a unique story at every spot, and so many well-made, creative dishes worth traveling across town for.