Stretching from Oakland's main drag, Broadway, to the Berkeley border (and ultimately to the University of California campus), College Avenue is the mile-long commercial heart of the desirable Rockridge neighborhood in Oakland. With a BART station in the center and AC Transit's frequent 51A bus serving the street, College Avenue is an easily-accessible and very walkable neighborhood with shops and restaurants to suit many tastes. Check out this blog and learn about the many things to do in Rockridge!
Breakfast and Coffee

Start your day at one of Rockridge's breakfast-oriented restaurants, like old-school Crepevine or buzzy, Korean-accented Kitchen Story. For a morning pick-me-up, Chocolate Dragon Cafe and Bakery and Bay Area favorite Philz Coffee are great options on either end of the strip. You can also find Taiwanese-style bubble tea at Boba Guys and RareTea, or join the locals who spend hours at and around Cole Coffee.
 
Lunch and Snacks

There are many more food options in Rockridge than can fit in a single article! For a casual lunch, pan-Asian United Dumplings and Asian-Mexican fusion spot Belly are great options, as are the baked goods, to-go foods and imported cheeses at Market Hall. Ike's Love & Sandwiches has a Rockridge outpost - if you go, be sure to order a sandwich on the Bay Area favorite Dutch Crunch roll.
 
Shopping

Rockridge shopping scene is so unique. Boasting two bookstores - East Bay Booksellers and Pegasus - as well as two record stores, Stranded and Open Mind. Stylish housewares boutique Atomic Garden, charming Bella Vita Home and popular emporium Nathan & Co are great places to purchase gifts for friends, family and yourself, while See's Candies is a uniquely San Francisco Bay Area treat. You can shop for designer clothes at CHIC, FIT, and local maker Lesley Evers, and secondhand threads at Crossroads and Bambino Thrift Shop.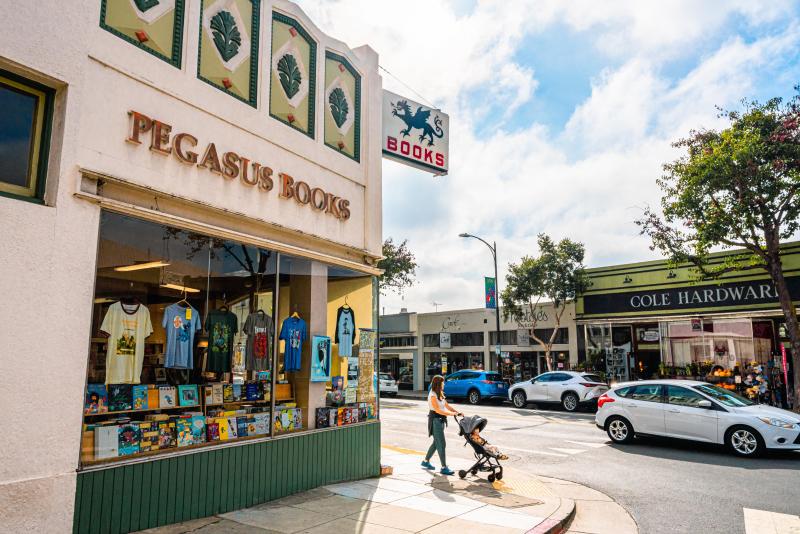 Outdoor activities

About a quarter mile past beautiful historic homes along Chabot Road, you can find three picturesque public tennis courts. Under the freeway behind the BART station lies community-created FROG Park, which contains a pleasant and shaded half-mile creekside path to the nearby Temescal district. For a more strenuous adventure, check out this 4-mile hike among the postmodern homes and streetcar-era stairways of Upper Rockridge.
 
Cocktails and Drinks

From divey Rockridge Improvement Club to the Vietnamese restaurant and lounge Holy Basil, there are a multitude of drink styles available in Rockridge. A16 is a staple in the Rockridge neighborhood and it is well known for its martinis, and Enoteca Molinari provides a curated selection of Italian wines by the glass. Redfield Cider Bar & Bottle Shop offers a wide selection of apple-based tipples, while the Golden Squirrel Pub has a libation for every taste. If you're a whiskey fan, don't miss the 400-bottle menu at Beer Baron!
 

Dinner

Restaurants in Rockridge have always been the highlight of this neighborhood. From famed vegan restaurant Millennium and new favorite ACRE Kitchen, to Zachary's Chicago Pizza, Rockridge has eateries to suit a special occasion or a low-effort evening. Other highlights include minimalist sushi outpost Uzen, creative Ramen Shop, and comfortably elegant Wood Tavern.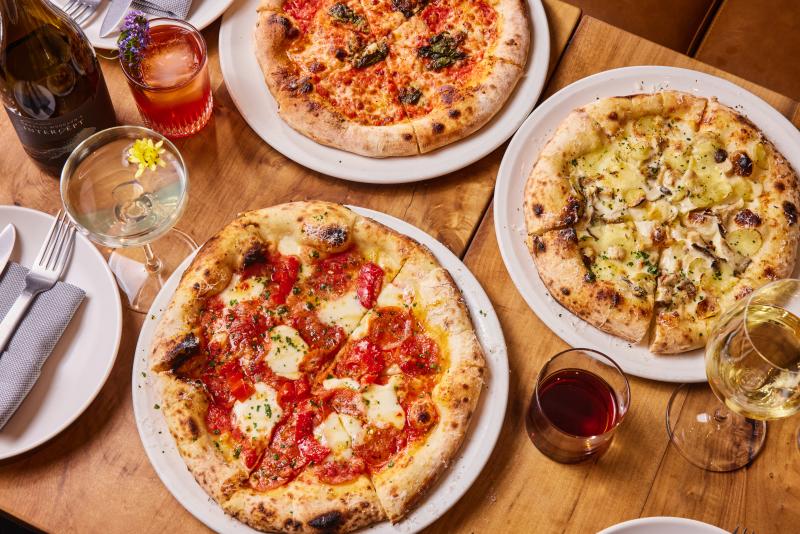 Pizza at ACRE Kitchen
A list of Rockridge shops, restaurants and services can be found at the Rockridge District Association.