Great chocolate is easy to find in Oakland! The Town is rich with chocolatiers creating some of the most decadent chocolate around. From jewel like truffles to vegan bars – these only-in-Oakland treats will make your valentine's heart melt and their mouth water. Visit Oakland, visit one of these chocolate shops and pick up a delicious gift for you or someone you love! 
Bisou Chocolate

Bisou Chocolates  has been making chocolates since 2006. They offer boutique chocolate bars with a blend of the finest ingredients possible with a focus on single origin batches that highlight cacao from select regions and unique flavor profiles. Plan a visit with your significant other and select from an array of chocolates in addition to a wide selection of delectables covered in chocolate including Medjool dates; raisins; and candied citrus. | Location: 730 29th Street
The Chocolate Dragon Bittersweet Café and Bakery

Originally known as Bittersweet Café, the Chocolate Dragon Bittersweet Cafe and Bakery has been serving chocolates and treats for over 17 years, and under their current owner for over 5 years. This community driven business cares deeply about their customers so make sure to stop by for a cup of melted hot chocolate and take home one or all of their assorted chocolate bars and irresistible salty chocolate caramels. | Location: 5427 College Ave.
Le Bonbon

Established in 1977, Le Bonbon is a European-style shop that has been offering made in-house chocolates and candy, as well as imported favorites in storybook Montclair Village. Plan a visit and as soon as you walk in you'll see a self-serve wall of bulk candies with a large variety of Jelly Belly, Gummi Candy, Lolli Pops, mugs, and tea pots which is exciting for both kids and adults. And on the counter side, you will find delicious locally made chocolates, truffles, and gelato. | Location: 2050 Mountain Blvd.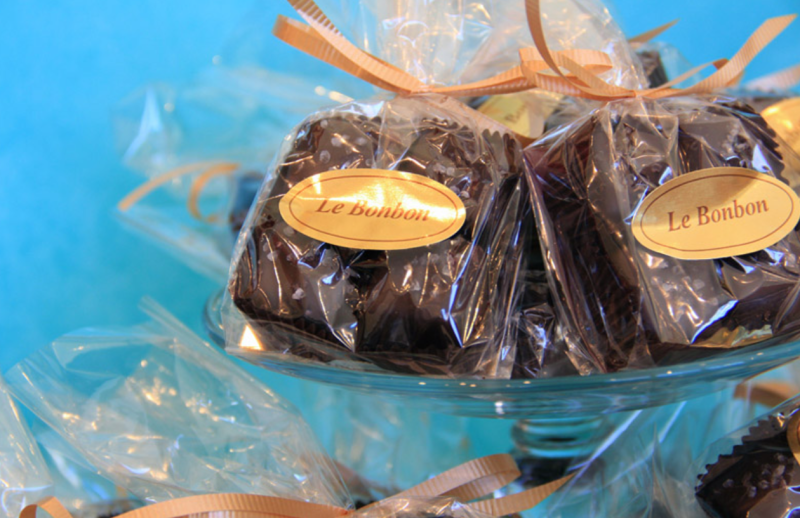 Michael's Chocolates

Created in 2015, this artisan chocolate shop is owned by husbands, Michael and Curtis. Michael's Chocolates confections are like beautiful jewels made with unique and decadent flavors. It all started one day years ago, when Michael and Curtis were walking down the street and Michael said "I think, in my next life, I want to do something with chocolate". The following Christmas, Curtis gifted Michael with some of the best books on chocolate and confectionary production and the rest is history. We highly recommend them! | Location : 3352 Grand Ave.