Oakland is a beautiful city ready to inspire romance. Whether you're a lover of the great outdoors, passionate about food and cocktails, crazy for music, seeking heart pumping adventure or simply desire lots of fun – Oakland has it all.The Town features so many diverse experiences the date possibilities are truly endless! Here are 6 great dates you and someone special can enjoy in Oakland.
 
Gondola Cruise and Dinner at Lake Merritt

Lake Merritt in Oakland always has that Saturday-by-the-lake relaxed vibe making the perfect place for a stroll with your loved one. But did you know you can also go on a gondola cruise at Lake Merritt? It's true! Dolce Vita Gondola invites you to experience a private gondola cruise on our beautiful lake. Book a Romantic Cruise this Valentine's Day and get a taste of Venice in The Town! Once you're back from your cruise, walk to Lake Chalet Seafood Bar & Grill for a delicious romantic dinner right on the water. TIP: Make it an overnight visit with a stay at the Moxy Oakland Downtown located at 2225 Telegraph Ave.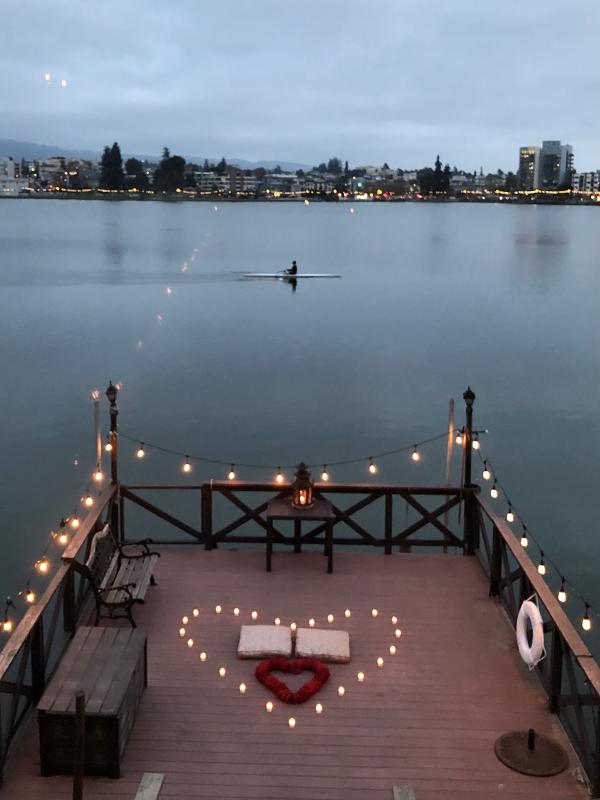 Weekend Movie Date in Grand Lake

Located immediately adjacent to Lake Merritt, the Grand Lake neighborhood in Oakland offers shopping opportunities, great restaurants and, of course, it is also home to the historic Grand Lake Theater. Start your weekend date with brunch at Shakewell – one of Oakland's favorite spots for Mediterranean and Spanish cuisine. We highly recommend their Bomba rice paellas! After brunch, head to the Grand Lake Theater and get tickets for a matinee movie showing. The movie theater is graced with a colorful, lighted marquee and a sweeping staircase in the main hall – perfect for selfies with your date. Finish your night at Bardo Lounge and enjoy classics-inspired cocktails and a rotating menu. TIP: Make it an overnight visit with a stay at the Kissel Uptown Oakland located at 2455 Broadway.
 

Massages, Dinner and Stay at the Claremont Club & Spa

Located in the Oakland hills with breathtaking views, the Claremont Club & Spa, blends its rich 19th century history with the modern day to offer the very best of the Bay Area. But let's talk about the spa! The Fairmont Spa at the Claremont is a place to restore energy and relax. Treat yourself and your significant other to a massage and relax your bodies and minds. After your massages, head to Limewood Bar & Restaurant - a vibrant, casual gathering place showcasing regionally-sourced cuisine put together by Chef Joseph Paire, III. Spoil yourselves further by making it a staycation and booking a stay at the Claremont!
 

Wine Tasting and Bowling at Jack London Square

Located just feet off the Oakland Ferry Terminal, you will find Rosenblum Cellars, a true urban gem offering a unique and relaxed atmosphere. With a large collection of Californian Zinfandel, Rosenblum is the perfect place to get your date started with a wine tasting session. Hungry? Walk to plank where their menu offers a variety of shared plates, burgers, pizza, salads and more. Reserve a lane and play a few bowling games to keep the night going. Not a fan of bowling? There's also bocce ball and an amazing collection of arcade games. End the night with ice cream cones from Ben & Jerry's, take a sit on one of the many benches at Jack London Square and enjoy the amazing views. TIP: Make it an overnight visit with a stay at the Waterfront Hotel located at 10 Washington St.
 

Hike and Picnic in the middle of the Redwoods

For those looking to stay active during Valentine's Day, we suggest taking a hike at the Redwood Regional Park. This hidden redwood forest lies off Redwood Road, just a few miles from Downtown Oakland. One of the nicer hikes is the Tres Sendas Trail, located just north of Chabot Space & Science Center. Another favorite is the three-mile French Trail, which you can link to from Tres Sendas. For your picnic, we recommend stopping at Pomella on Piedmont Ave. Chef Mica Talmor serves modern California-Israeli food – always fresh, mindfully prepared, casually served, and better when shared!
 

Catch a Live Performance at an Oakland Venue

Looking to catch a concert or comedy show this Valentine's Day? Well, you're in luck! Oakland is home to numerous great venues offering a great selection of world-class performers for you and your date to enjoy. For music lovers – catch live shows at the historic Paramount or Fox Theaters. You can also check out Yoshi's Jazz Club, the Continental Club in West Oakland or the Oakland Arena. From blues to jazz to hip-hop to the Oakland Symphony – diverse music is found throughout The Town and enjoyed in perfect harmony. TIP: Eric Benét will be performing at Yoshi's on Valentine's Day, get your tickets now!


 
---