Oakland's influence on the world – from pop culture to social movements - is undeniable. With Kamala Harris taking her place as the first female Vice President of color in the United States' history, let's take a look at the beauty and history of Oakland that left a mark on the VP, and is sure to leave a mark on The White House. 
Oakland, California, is the birthplace of incredibly influential individuals and movements: The birthplace of the Black Panther Party; actors Tom Hanks and Mark Hamill; Rocky Road Ice Cream and The Mai Tai cocktail; and so much more.  
Harris herself is a woman of firsts. Via her successful - and at times controversial - career, Harris became: The first Black woman to be elected District Attorney in California; the first woman to be California's attorney general; the first Indian American senator; and the first Black woman and first Asian American to be picked as a vice presidential running mate on a major-party ticket. 
And while the Bay Area has long been regarded as a beacon of progressive politics and free speech, Harris' lineage to Oakland, Berkeley and San Francisco is sure to put a renewed spotlight on the places that molded her on her journey to becoming the 46th Vice President of the United States.  
Follow below for a timeline-by-location of Kamala Harris' journey through Oakland (and the rest of the East Bay), and the many ways you can get to know the Oakland of today.  
*In consideration of Alameda County's current Shelter-in-Place order, please respect all COVID-19 recommendations, and honor our Oakland Community Pledge. 
Stop 1: Kaiser Hospital Oakland/Piedmont 
Corner of W MacArthur Boulevard & Howe Street, Oakland CA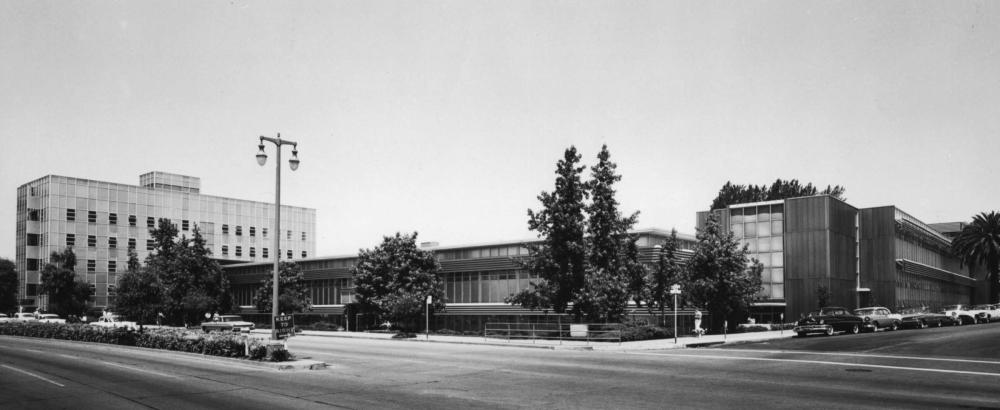 ​PC: Kaiser Permanente 

​PC: Google Streetview 
A daughter of two immigrant parents, Kamala Harris was born at Kaiser Oakland. The MacArthur Boulevard hospital where Donald Harris, a Stanford University economics professor born in Jamaica, and Shyamala Gopalan, a cancer researcher born in India, brought Kamala into this world is now gone. 
In Oakland today: Just around the corner from the former building lies the small bustling neighborhood around Piedmont Ave. - now filled with cozy shops, restaurants, Fentons, (the ice cream parlor featured in Pixar's Up and the birthplace of Rocky Road), bars and more. While COVID-19 has forced many of Oakland's shops and restaurants to pivot, many of the businesses are available for purchases online or for via food delivery, including and especially Oakland's POC-owned businesses and Black-owned businesses and restaurants. 
Stop 2: Oakland's 23rd Avenue Church of God  
1940 23rd Ave, Oakland CA 
Growing up, Kamala and her family, including younger sister Maya, lived on Milvia Street and Bancroft Way in the neighboring city of Berkeley. Both girls and their mother frequently visited a nearby cultural center, known as 'The Rainbow Sign', described as a vibrant black cultural arts center. It was here that Kamala was exposed to inspiring women like "Shirley Chisholm, Alice Walker, Nina Simone, and Maya Angelou"— all "extraordinary people...who showed us what we could become." 
Even though Kamala and her family lived in Berkeley, both young girls also spent time in Oakland during their childhood. Their downstairs neighbor, Regina Shelton, often took Kamala and Maya, to the 23rd Avenue Church of God in Oakland, east of Lake Merritt. It was here they sang in the children's choir and discovered Social Gospel. 
In Oakland today: The Lake Merritt area often surprises non-natives ("there's a lake in the middle of Oakland?!") but the 3-mile-round-loop is as much an ecological haven for animals, as it is a place of natural beauty and comradery for locals. Take an hour to walk around Lake Merritt, stop at any of the shops along Grand Ave., or check out the "All Black Lives Matter" mural on Bellevue Ave. At the West Shore of Lake Merritt, looking east to the hills, turn around and notice how close you'll be to the Oakland Museum of California, currently renovating their exterior grounds to welcome visitors back in 2021.  
Stop 3: Mural at Thousand Oaks 
840 Colusa Ave, Berkeley, CA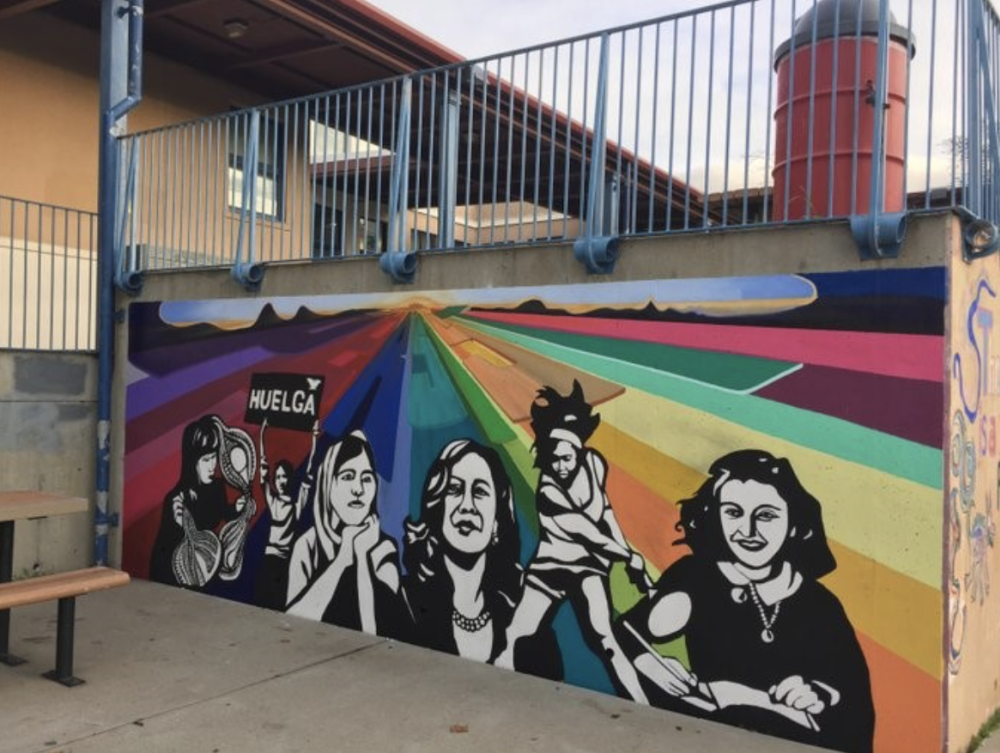 ​PC: Kamala Harris' Twitter
Artist: Miriam Klein Stahl
In 2019, Kamala returned to her Thousand Oaks elementary school in Berkeley and tweeted a picture of a new mural she's featured in alongside many other influential women you may recognize.  
In Oakland today: There's already one artist mural dedicated to Vice President Kamala Harris (that we know of) that you can visit on Stop 5. It was designed by artist Miriam Klein Stahl and painted by students in the Arts and Humanities Academy at Berkeley High School.The streets of Oakland are already filled with more than 1,000 murals, making the city itself a museum. Visiting murals on self-guided tours is just one of many activities that can be done in Oakland at a safe physical distance. For some inspiration on how to explore neighborhoods through their mural art – from Jack London Square to Jingletown, check out Visit Oakland's directory of self-guided tours.   
Stop 4: Alameda County District  Attorneys  Office (Oakland)  
1225 Fallon St #900, Oakland, CA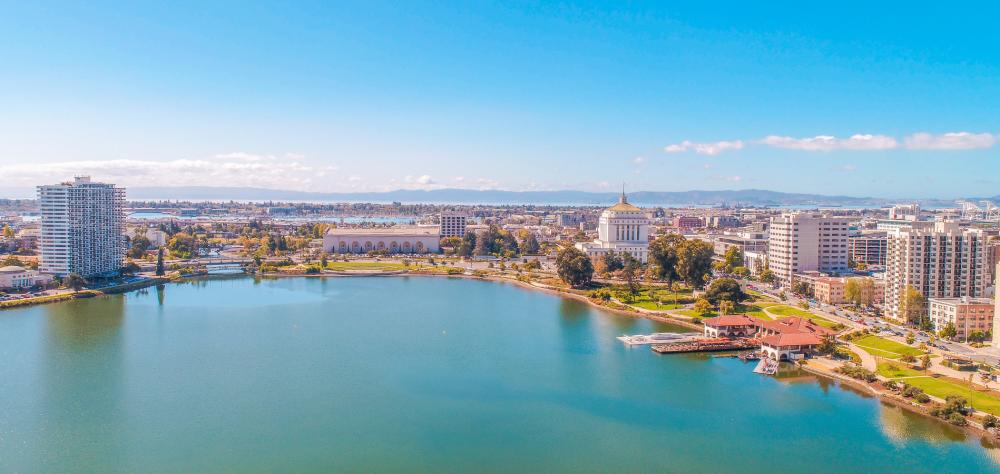 After attending Howard University and UC Hastings, Kamala began her career in the Alameda County District Attorney's Office, located on the edge of Lake Merritt in Downtown Oakland.   
In Oakland today: The very building in which Kamala began her career is a storied address whose steps have seen some of the most important civic demonstrations in modern history, from protests against the Vietnam War to peaceful demonstrations by the Black Panther Party. In the late 1960's, the steps of the Alameda County Courthouse were featured in nationwide news stories – demonstrators protesting the trial of Party founder Huey P. Newton amassed on the steps. This historical, political meeting point is a notable marker for exploring into Oakland's diverse, multicultural neighborhoods – Chinatown is immediately a few blocks north/northwest, and Oakland's Latinx Fruitvale neighborhood is a short drive/train ride to the south.  
Stop 5: Mural at Home of Chicken & Waffles  
444 Embarcadero West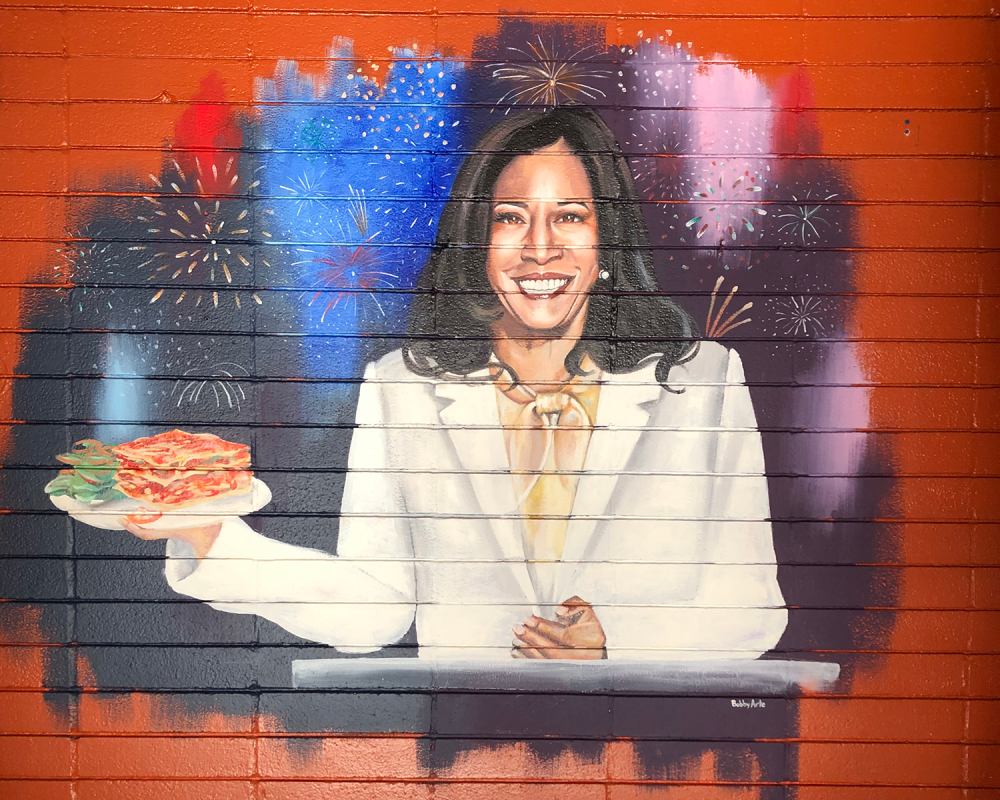 Artist: The Real Bobby Arte
Almost at the very southern end of Broadway Avenue, you'll find an Oakland staple, Home of Chicken & Waffles. In December 2020, co-founder Derreck Johnson commissioned and dedicated a mural of his close friend, Vice President Kamala Harris. The mural was painted by Bobby Arte, a 3rd-generation Oakland native professional artist and athlete. Bobby has created commissioned portraits for many celebrities and well-known figures including Congresswoman Barbara Lee, Marshawn Lynch, 50 Cent, Governor Gavin Newsom, and President Barack Obama. 
In Oakland today: The Home of Chicken and Waffles in just steps away from Oakland's waterfront district – Jack London Square – and sweeping views of the bay, Oakland Port and the San Francisco skyline. The port continues to be a point of commerce for Oakland, pointing to growth and expansion along the waterfront in the form of the new market and public space around Brooklyn Basin. Heading away from the water and back to the city, the waves lapping on the shore give way to Old Oakland, a charming historic district tucked away near Oakland's downtown. Make sure you pop into Swan's Market to find your fill of cupcakes, fried chicken sandwiches, tacos, sausages & more!  
Stop 7: Oakland City Hall 
1 Frank H. Ogawa Plaza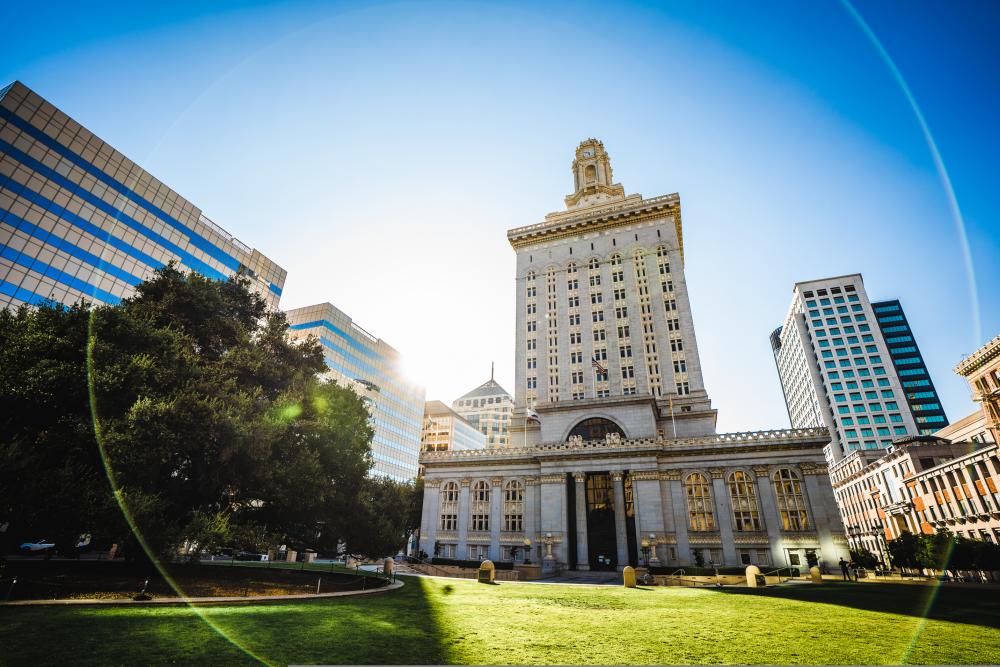 After her time as District Attorney, it was 21 years until Kamala Harris returned to Oakland. On January 27, 2019 she formally launched her vice presidential campaign at City Hall in Downtown Oakland, with more than 20,000 people in attendance. 
In Oakland today: The downtown area is filled with Oakland history that started over a hundred years ago, when Oakland was a town surrounded by Oak trees. Today, many of the iconic Art Deco structures that stood then now blend with more modern architecture. Walking around downtown and looking up, you'll see the iconic Tribune Tower, what was once the tallest building in Oakland and one of the skyline's most recognizable buildings. Take a tour of Frank H. Ogawa Plaza, also known as Oscar Grant Plaza, and then make your way to the Remember Them: Champions for Humanity Monument.