From the undeniable classics, to exciting unconventional flavors, Oakland has got your perfect scoop! Indulge in your favorite churned, vegan, rolled, and liquid nitrogen frozen scoops at these unique ice creameries in The Town. Check them out below!
Ben & Jerry's 

Known for their decadent ice cream flavors (Cherry Garcia, Chunky Monkey, and American Dream just to name a few,) Ben & Jerry's is the perfect spot to take the family for a cool down. Located right next to the water in Jack London Square and our administrative offices, Ben & Jerry's will serve as the perfect treat for a nice cool down.
Address: 505 Embarcadero West, Oakland, CA 94607
 
Curbside Creamery

A participant in our Vegan Trail, Curbside Creamery offers a wide variety of cashew and coconut-based ice cream, pie, soft serve, and ice cream sandwiches. Perfect for any ice cream lover, whether you're vegan or not! Located in the shady Temescal Alley, this popular ice cream shop should definitely be added to your summer day itinerary.
Address: 482 49th St, Oakland, CA 94609
 
De La Creamery

De La Creamery was born in 2020 to provide small batch ice cream with creative flavors, inspired by personal Mexican and traditional Californian experiences using simple and fresh ingredients. Their product is made from common items that can be found in Mexican kitchens. They are currently a pop-up, travelling their way around the Bay Area and collaborating with the community as they go.
Address: Location varies, check website.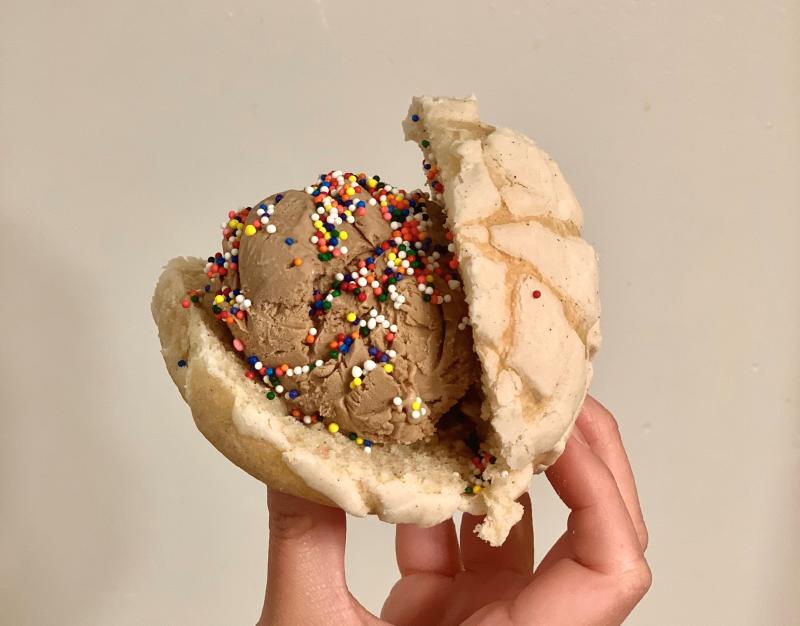 Fenton's Creamery

We can't say enough about the historic ice cream parlor. Fenton's Creamery has been keeping Oakland cool since 1894 and the handcrafted ice cream is something dreams are made of. Try the rocky road. They are somewhat famous for it.
Address: 4226 Piedmont Ave, Oakland, CA 94611
 
Humphry Slocombe 

In the mood for ice cream flavors that are out of the ordinary? Humphry Slocombe is your spot! Located in the Uptown portion of Oakland, this ice cream shop has a flavor for anyone's taste buds. 
Address: 2335 Broadway, Oakland, CA 94612
 
Kubé Ice Cream

Specializing in vegan coconut ice cream, Kubé is an Oakland staple if you're on the hunt for vegan ice cream. This black women owned establishment will satisfy your sweet tooth with some of the best ice cream flavors in town. Flavors range from a decadent salted caramel flavor to a key lime flavor that hits the spot during the hot summer days.
Address: Splash Pad Park, 746 Grand Ave, Oakland, CA 94610
 

Lana's 

Formerly known as the Cookiebar Creamery in Old Oakland, Lana's still serves great ice cream with flavors that include Vietnamese Coffee, Fruity Pebbles, Ube, Toasted Black Sesame, and more! Give Lana's a try, you won't be disappointed with their exotic flavors. 
Address: 517 8th St, Oakland, CA 94607
 
Loard's Ice Cream 

Loard's Ice Cream is an ice cream parlor that has been serving up delicious frozen treats for over 60 years. Whether you're looking for a sweet treat on a hot day or just want to indulge in a tasty dessert, Loard's is the perfect spot to satisfy your cravings.
Address: 5942 Macarthur Blvd, Oakland, CA 94605
 
Mr. Dewie's Cashew Creamery

No fillers, additives, preservatives, gums, or oils, Mr. Dewie's Cashew Creamery is a naturalist's dream come true! Their popular cashew milk based ice cream is a staple in Piedmont Avenue. Flavors range from Banana Nut, Caramel Almond Crunch, and Golden Spice which is turmeric based flavor.
Address: 4184 Piedmont Ave, Oakland, California 94611
 
Nieves Cinco de Mayo

Located in the heart of the Fruitvale District, Nieves Cinco De Mayo is a family-owned joint that specializes in churned ice cream. Guava, corn, cheese, and pecan are among fan's favorites. They also offer an array of snow cone flavors for anyone in the mood for something more refreshing.
Address: 3340 E 12th St, Oakland, CA 94601
Other Frozen Treats: 

Flavor Brigade 

Flavor Brigade brings Philadelphia-styled Italian Water Ice to The Town. If you're on the hunt for a dessert that is non-fat, non-dairy, and made with fruit and water, the Flavor Brigade is calling you! 
Address: 3540 Fruitvale Ave, Oakland, CA 94602
 
Gelato Firenze 

Gelato Firenze is a popular dessert spot located in Grand Lake that specializes in yummy gelato and boba. With a total of 260 reviews on Yelp, it is clear that Gelato Firenze is a well-known establishment in the area. If you have a sweet tooth and are in the area, Gelato Firenze is definitely worth a visit.
Address: 478A Lake Park Ave, Oakland, CA 94610
 
---

Did we miss a spot? Please email us at marketing@visitoakland.com and we will kindly add the Oakland establishment to our list.