Back
Where To Spend Your Halloween in Oakland, CA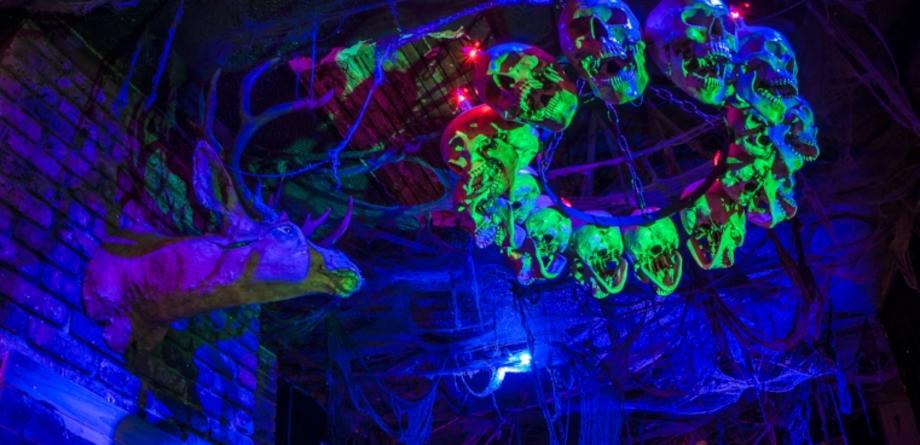 Looking for ways to celebrate Halloween in Oakland? Look no further! We gathered up costumer events, pumpkin festivals, and even events for you and your pet.  
 
Cultural, Art & Family Friendly

7th Annual Autumn Lights Festival
Oct. 18-20
The Gardens at Lake Merritt
The festive Autumn Lights Festival blends live music, illuminated art, fire dancers, food and libations to make one unforgettable experience. 
24th Annual Dias De Los Muertos Celebration
Oct. 21, 2018
Oakland Museum of CA
OMCA comes alive for the 24th annual community celebration honoring the traditions of Día de Los Muertos. Craft activities, tasty food, dance and music groups, colorful ofrendas, and ceremonia bring the community together for this healing tradition. 
Watch demonstrations of traditional Mesoamerican arts and cooking, and browse Día de Los Muertos crafts by local artisans for your home altar at our garden mercado.
Enjoy performances ranging from contemporary popular music to folkloric dance to mariachi. Join in the opening procession led by Aztec dancers and Día de Los Muertos committee members. View community-created altars throughout the OMCA Gardens paying homage to loved ones lost. 
Piedmont Avenue Pumpkin Patch and Haunted House
Oct. 26 - Oct. 31
Piedmont
We have been on Piedmont Avenue since 1996. Walk through our Halloween store at 4414 Piedmont into a Pumpkin Wonderland. The Haunted House has two options.
Boo At The Zoo
Oct. 27-28 
The Oakland Zoo
Ride the spooky boo train and join the dance party. Boo at the Zoo Stroll the zoo in costume and collect yummy treats. Ride the spooky boo train and join the dance party. Get your face painted, make treats for the animals. Kids in costumes receive a free ride ticket.
Jack O'Lantern Jamboree 2018
Oct. 28 
Children's Fairyland
Come in costume and enjoy a spooktacular extravaganza.
"Oaklandish" T-shirts.
Día de Los Muertos Festival: "A Dream for All"
Nov. 4, 2018
Fruitvale Ave & 40th Ave.
The Unity Council Día de Los Muertos Annual Festival is a free, outdoor festival that brings over 80,000 people to the vibrant, culturally-rich Fruitvale neighborhood to enjoy world-class live music, family-friendly games, rides and activities, traditional Latin American artisans, and the stunning altar artistic installations created by community members paying homage to los Muertos. Families across California join us to experience live music, Ballet Folklorico, Aztec dancers and to shop at the local artisan craft stands. The Día de los Muertos Festival was inducted into the U.S. Library of Congress by Congresswoman Barbara Lee as a "Local Legacy."
While the festival has deep ancestral roots, the current political climate begs the question of how we can use this platform to educate, mobilize, and elevate the voice of our community.
Costume Parties

Halloween Costume Party Cruise 2018
Oct. 26, 2018
Board Vessel at Jack London Square
Halloween Costume Cruise is upon us. Come celebrate Halloween with our 3-hour midnight cruise around the bay! We will have food available if you are hungry, and ice cold cocktails from one of our 2 bars. There will be cash prizes for best costumes so come dressed to win.
Extra Action 20th Anniversary Halloween Ball
Oct. 26, 2018
The New Parish
Gamelan X, Fatty Cakes and the Puff Pastries, Tig Bitty, Finger Blast Burlesque, KROB Doors 
Vampires & Vixens Henny Halloween
Oct. 26, 2018
New Karibbean City
Come in your scariest or sexiest, either way, we lit!
A DJ Lineup full of monsters: Lex Jones and DJ Black Marc of KMEL, DJ J12 official DJ for Philthy Rich.
Hip Hop vs. House Halloween Bash
Club BNB
Oct. 28, 2018
Club BNBValentino Presents with Jhonatan & Daniela Productions of Bachata Takeover bring you a new Monthly Bachata event every Fourth Friday of the month in Club BNB on the main dance floor.
Freak Fest
Oct. 27, 2018
Level 13 Ultra Lounge
Kick-off your Halloween weekend at the biggest costume party in the Bay. Come to experience Freakfest with the goblins, vampires, and ghouls. Sounds by: DAGHE, DJ Red Corvette.
Sweat Haus Hellaween Edition
Oct. 27, 2018
The Legionnaire Saloon
Oakhella + Beat Haus Presents: Sweat Haus Hellaween Edition: Join us for Sweat Haus — a party for people who like to dance and not be on their phones!
Chabot Space & Science Center Mysterium Starlight After Party
Oct. 27, 2018
Chabot Space & Science Center
The Mysterium Starlight After Party is the official after party for Chabot Space & Science Center's Starlight Gala: Mysterium. Last year's fundraiser generated over $250,000 to support programs that reach thousands of students and visitors across the Bay Area. This year, all proceeds from the Starlight Gala and the Starlight After Party will support Chabot's education and community programs.
Nightmare on 14th Street | BayArea Halloween Extravaganza
Oct. 27, 2018
Complex Oakland
Party with Bay Area's Top Tastemakers & DJs. 3 Spooktacular Rooms of Music and Decor and outdoor lounge!
SOHALLOWEEN: Outdoor Silent Trap Party
Oct 27, 2018
Revolution Cafe
Sooakland brings you SOHALLOWEEN Silent Trap Party! Costumes preferred! Last event 600 tickets sold out!
BYOB, food vendors, dope DJs, and unconventional spaces.
OVO Presents Halloween Glow Party
Oct. 27, 2018
Oakland's Very Own Tavern & Eatery
This is not just a normal Halloween party! We're making a fun and exciting With the Glow Party!
All costumes are welcome Glow sticks and other fun accessories will be available at the door!
Early arrival is strongly suggested! Once hit capacity event will be closed! 1st 100 people Receive a free Monster Shot!
Performances, Shows & Screenings

Bunny Pistol's Bang Bang Cabaret Celebrates Halloween
Oct. 20, 2018
The RIC
Join Bunny Pistol and friends for a night of burlesque, comedy, and HALLOWEEN!!! Yes!! That's right! It's a spooky themed show of glamour! A fearful yet FUN and exciting night celebrating everyone's favorite scary holiday!! Dress to impress or come as you are!
KPFA Halloween Movie Matinee- Night of the Living Dead!
Oct. 27, 2018
The New Parkway Theater
Join us for the Zombie movie that started it all, Night of the Living Dead! This 1968 classic inspired movies like Get Out and Silence of the Lambs which use devices of fear and horror to make biting social critiques. Some interpret the film as a critique of American society in the 1960s, and, especially, racism. It reminds us of the racial tensions that still exist, even in the midst of crisis... So grab your Zombie costume (there's a contest!) and head to the New Parkway, Saturday, October 27 at 3 pm for Night of the Living Dead... at your own risk!
Hubba Hubba Revue's Halloween Bash!
Oct. 27, 2018
The Uptown Nightclub
Bewitching burlesque beauties, live music & gorgeous ghouls galore! -- heat up your Halloween weekend with a Saturday night soiree of supernatural striptease! -- plus! Cash-prize costume contest, & musical guests, sinister twist!​
Halloween Horror Night
Oct. 31, 2018
Starline Social Club
Halloween Night come party with King Woman, Lingua, MSC & MANE!
Luna Mexicana
Nov. 2, 2018
Paramount Theatre
Oakland Ballet in celebration of Dia de los Muertos (Day of the Dead). Beautiful costumes, festive music, tasty treats and more! 
Children under 2 are free.
Historical

Morbid Desire
Oct. 14 - Nov. 4, 2018
Cameron Stanford House
This year the popular series highlights the death of one of the house's famous former residents and will feature a visit to a Victorian funeral parlor, as well as the family quarters properly dressed for death. You'll even have the chance to create your own memento mori by posing in a Victorian coffin.
The exhibit is open for just four Sundays so don't miss this opportunity to be enlightened, engaged and just a little bit frightened by the customs of the past.
Oakland Sweets Spirits and The Beyond Food Tour
Fridays, Saturdays and Sundays in October at 4 pm
Chapel of the Chimes
Our Oakland Sweets Spirits and The Beyond Food Tour is not your typical Oakland ghost tour. This 90-minute walking tour highlights some of Piedmont Avenue's hidden gems including the final resting places of some of the Bay Area's most famous and infamous residents. Plus, you get to savor some delicious sweets and spirits along the way!
Pet-Friendly

Howloween Party
Oct. 27
Wag Hotels
5th annual spooky Haunted Howl-o-ween Party at Wag Hotels to benefit California Fire Foundation. With the numerous fires in California this past year, we are partnering with the California Fire Foundation for a fundraiser to honor firefighters and support families of the fallen. We would like to thank the amazing firefighters for their bravery and continued efforts in containing the California wildfires.