From the pretzels and pilsners of a German beer hall to the fish and chips and bitters of a proper pub, beer and food have paired together since before the first ale was ever brewed. With modern classics like burgers, pizza, and tacos earning their place on menus alongside more traditional offerings, Oakland offers excellent options for those who bring an appetite along with their thirst. Below, explore some of our favorite places on the Oakland Ale Trail to grab a bite to eat while drinking a pint.
Classics New and Old

Offering updated takes on pub classics, Seawolf on 4th Street in Jack London and Cato's Alehouse on Piedmont Avenue both offer a range of filling meals that feel right at home alongside dark wood interiors and a pint of ale.
If it's a burger you're after, Uptown's Telegraph Beer Garden is the spot for you. Excellent variations on the classic beef burger and their signature half beef/half bacon 5150 patty make this a satisfying stop for folks who've come with an appetite.
 

In Temescal, Arthur Mac's offers pizza, wings, salads, and more, with fantastic vegan, vegetarian, and some gluten-free options available.
 
Lighter Fare and Shared Plates

When you're not in need of a full meal, smaller plates can be a welcome accompaniment to an afternoon or evening of drinking and conversing. Rose's Taproom in Temescal offers an excellent range of small to medium plates, great for sharing alongside their locally-produced brews, wine, and spritzers. Don't miss the Feta with Za'atar or the Boquerones!
 
Located on 8th Street in Old Oakland, Sante Adairius Rustic Ales' Oakland Arbor (occupying the former home of Belgian beer bar The Trappist) offers a selection of European-inspired plates, great for snacking and sharing. Of note are the savory Belgian waffles, house-made mixed pickles, and cheese plate with selections from local Oakland cheese vendor Graze + Gather.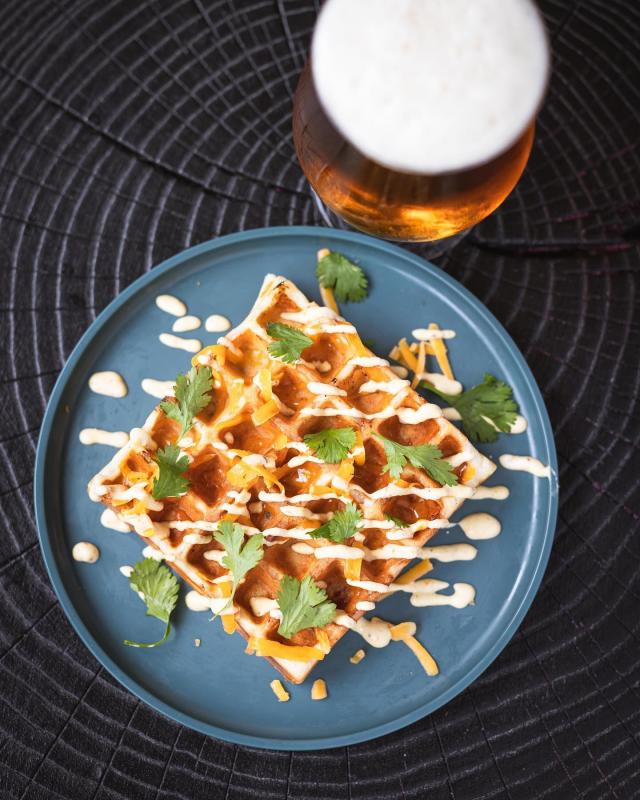 Sausages, Pretzels and More

Beer and sausages go together like hops and IPAs. In addition to German classics like spaetzle and pretzels, the sausage selection at Brooklyn Basin's Brotzeit Lokal isn't to be missed. With eight distinct styles on offer (including one vegan), the sausage platter is a great way to explore different expressions of this beer hall classic.
 
If a modern American-style sausage is more your speed, Line 51 in the Jack London area offers Polish sausages as well as hot dogs, including vegan options, in both a maximalist Chicago style and a minimalist bun and dog presentation that would please even the strictest hot dog purist.
Gluten-Free

This list would be incomplete without mentioning Buck Wild Brewing for their dedication to gluten-free options. In addition to producing gluten-free beer in a wide range of styles, Buck Wild's entire building is a gluten-free space, so patrons with any amount of gluten sensitivity can enjoy beers and classic bar fare (the chicken nuggets are a must!) without worry or risk. A substantial collection of board games and Wednesday night trivia make this a great hangout spot for everyone, gluten-free or not!
 
---

See all that The Town has to offer! Check out our Digital Inspiration Guide and start planning your trip!