A Choose Your Own Adventure Two-Day Cannabis Trip

Cannabis has deep roots in Oakland culture, which makes it a memorable cannabis travel destination today. I embarked on the Oakland Cannabis Trail, and here are my recommendations on how to enjoy this immersive, fun, and safe cannabis-infused experience!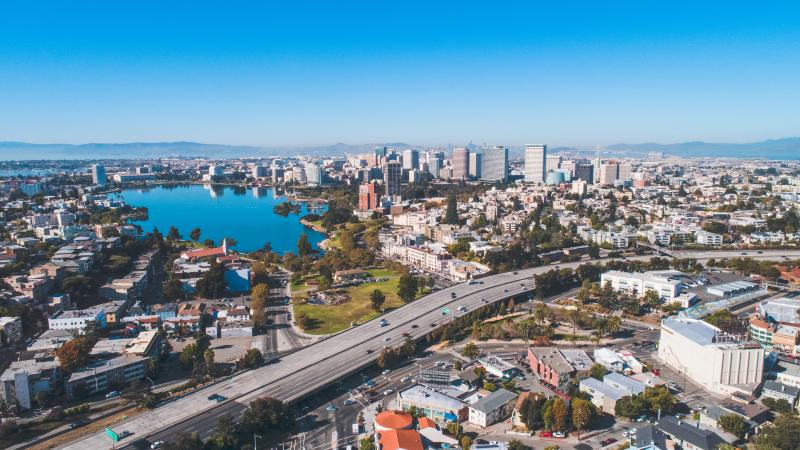 View of "The Town" from Lakeshore Drive
1. Know the Local Cannabis History -  Oakland has been at the forefront of cannabis education, compassionate patient access, and human rights. With the city facing strong economic headwinds during deindustrialization and the loss of manufacturing jobs throughout the 1950s - 1980s, by the 1990s, city leaders were open to exploring uncharted avenues for downtown revitalization. The potential for much-needed commerce spurred a new perspective on cannabis regulation and taxation, long before other cities across the country followed suit. 
For nearly two decades, Oakland has been a cannabis policy leader at the state and federal level, the legacy of cannabis in Oakland is one of the historic firsts, shaped by resilient advocates (like Richard Lee, Dale Sky Jones, Jeff Jones, Tucky Blunt, dress wedding, and Steve and Andrew DeAngelo) and defined by hard-fought legislation (Prop 215, Tax Measure F, Equity Program), all in the face of continuing federal criminalization and stigmatization (thanks in large part to the War on Drugs).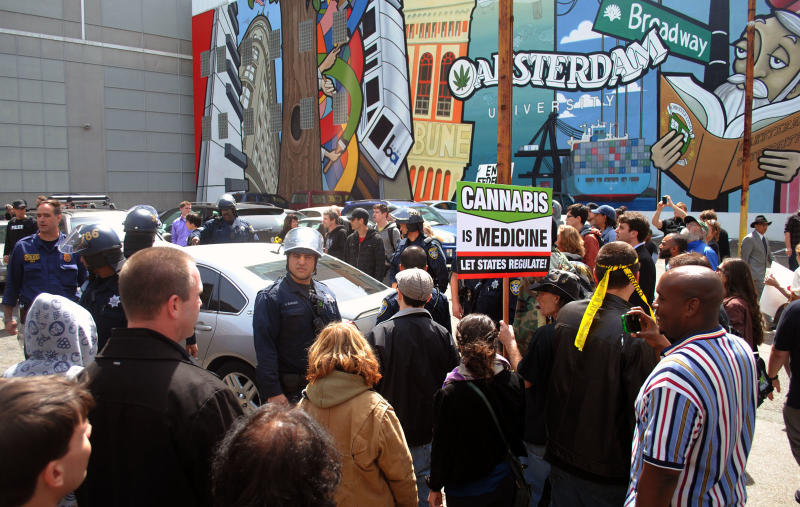 Federal Agents surround Oaksterdam during the raid on April 2, 2012. Photo by Ryan Phillips.
2. Get Culturally Savvy - Knowing a bit about the signature stories before you go enriches the Oakland Cannabis Trail experience. Three spots are officially recognized as Cultural Landmarks along The Cannabis Trail. Be sure to visit one or more of these - the Oaksterdam Uptown District, Blunts and Moore, and Harborside. Each offers a culturally significant experience that any seasoned traveler will appreciate, as they are markers of the multi-faceted history of cannabis in Oakland. Snap and share a selfie by the Cultural Landmark monuments on display, tag @visitoakland, and hashtag #oaklandcannabistrail.
The Oaksterdam Uptown District was home to the world-famous Oaksterdam University, a ground-breaking cannabis college that became the target of a historic DEA Federal raid in 2012.
Near the Oakland Coliseum District, you will find Blunts and Moore cannabis shop, a Cannabis Cultural Landmark site that is a full circle story of the War on Drugs, BIPOC communities, and restorative justice.

Harborside is a pioneer of mainstream cannabis wellness and normalization. The Cannabis Trail Cultural Landmark here honors the visionary dedication to making safe lab-tested cannabis products accessible to patients and cannabis consumers of all kinds. Harborside facilitated the first adult-use legal sale of cannabis in California and has been featured on CNN and The Discovery Channel.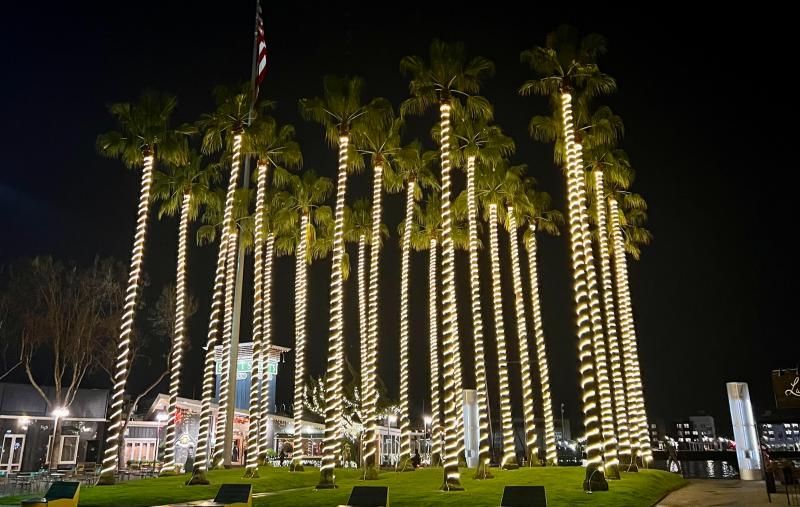 Standing in front of the palm trees that light up Jack London Square at night 
3. Go with the Flow - While a half-day or full-day will likely satisfy a cannabis newbie's curiosity, a two-day Cannabis Trail adventure is recommended for cannabis enthusiasts. Stay near the waterfront in Jack London Square or find your center at one of the many hotels in the artsy Uptown or lively Downtown area. Averaging 261 sunny days per year, Oakland is in the heart of the "sunnyside of the bay", making it an enjoyable place to get outside, lose track of time, be in the moment, and enjoy the journey.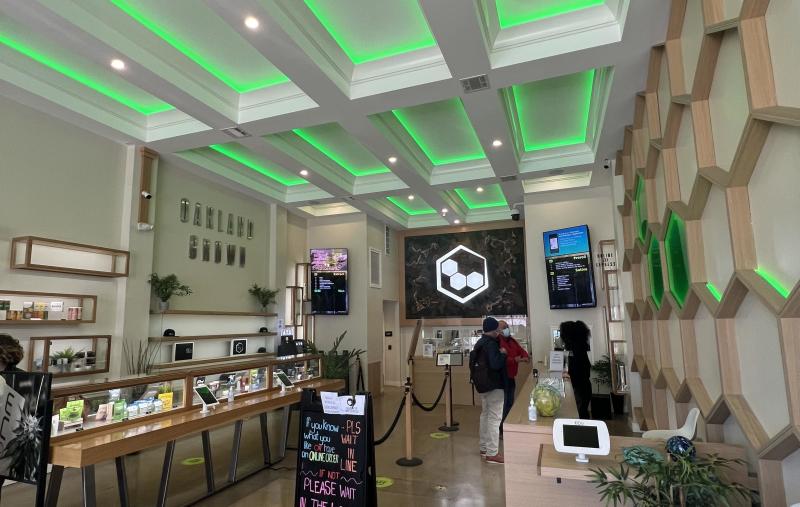 A peek inside the stunning ECO retail space. As the "Oakland Grown" sign indicates, this shop celebrates local brands and culture. 
4. Select Your Shops - Dotted throughout each diverse Oakland neighborhood are cannabis shops that shine in their own way. To experience the cannabis shops of Oakland is to discover this one-of-a-kind town that is famous for social justice movements, visionary creators, and a come-as-you-are vibe that is refreshingly authentic and inclusive. As you shop, keep an eye out for local product brands, such as Fig Farms and Dark Heart Nursery.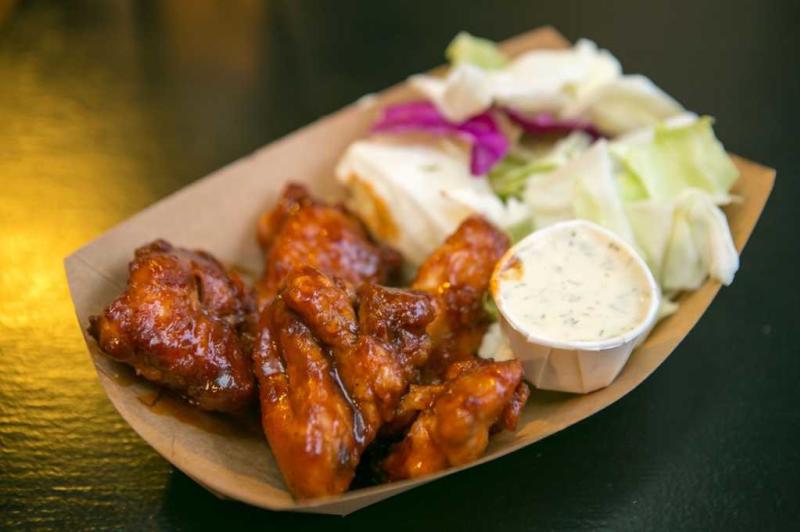 The Japanese Fried Chicken at Aburaya is incredible and is sure to satisfy cravings for something savory. 
5. Choose Your Sensory Experiences - As food pairs with wine, cannabis pairs with experiences and activities. Effect Pairing cannabis is the art of syncing your cannabis effects with a finely tuned set and setting that compliments the journey. Oakland has stellar foodie spots, including the newly opened Town Fare Cafe by Michele McQueen, a blossoming art scene, and off-the-beaten track world-class nature experiences, perfect for Effect Pairing cannabis.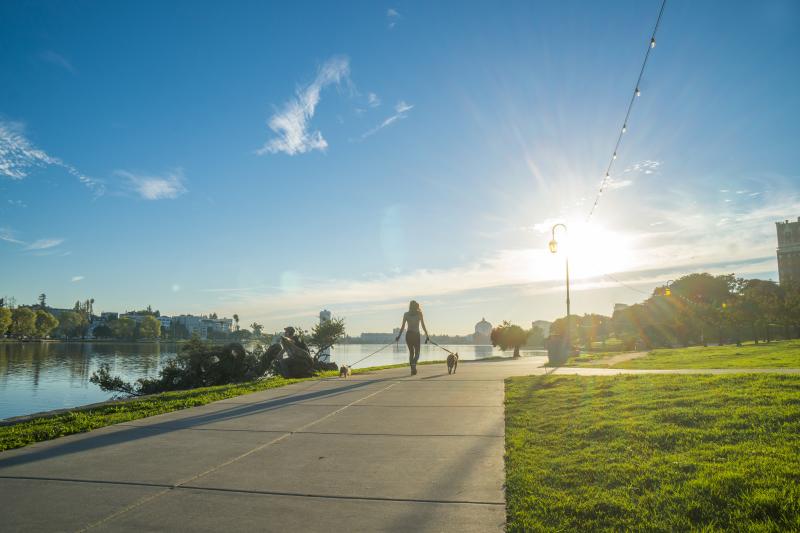 Hard to beat a sunny afternoon on the grass at Lake Merritt. 

Ganja Traveler Effect Pairing Top Pick: Visit a cannabis shop in the Uptown District, like ECO, grab to-go boxes from the award-winning Aburaya Japanese Fried Chicken Restaurant, and settle in for an afternoon picnic at Oakland's beautiful Lake Merritt. Find a grassy spot to lounge, people watch, and soak-in the local vibe, waterside.
Oakland's authentic culture, 420-friendly vibe, and diverse cannabis shop scene, makes it a Ganja Traveler 2022 Top Pick for California travel experiences. Oakland is a fulfilling mix of immersive cannabis-infused activities that will satisfy the most seasoned travelers appetite for something unique, transportive, and memorable. From the canna-curious to canna-sseur, all will enjoy traveling the Oakland Cannabis Trail, a self-guided one or two-day journey.