We take our jobs as the experts on all things Oakland seriously. So much so that we've handed our team their toughest assignment yet to find the best burritos in Oakland. Sure, it's a tough job, but we are up to the challenge. We've scoured the town, hitting up food trucks, taquerias, and restaurants… Hungry yet? Vamos a comer (translation: let's eat!).
Obelisco Restaurant

Obelisco uses organic meats for their shredded beef and chicken so you'll taste the quality for sure. However, we were big fans of the vegetarian and fish options. The red snapper burrito stands out, either battered deep fried or grilled served and served with a tangy chipotle sauce. Delicioso!
What to order: Fish burrito
Address: 3411 E 12th St #110, Oakland, CA 94601

Senor Sisig

Bursting with mouthwatering goodness, Senor Sisig's delectable burritos are a fusion of Filipino and Mexican cuisines, creating a tantalizing symphony of flavors that will leave your taste buds dancing with delight. Picture succulent grilled pork, marinated to perfection, nestled alongside tangy garlic sauce, fresh cilantro, and a kick of spicy jalapenos, all embraced by a warm, pillowy tortilla. With each bite, you'll experience a harmonious blend of savory, spicy, and zesty notes that will transport you straight to food heaven.
hat To Try: The "Senor Sisig" Burrito
Address: 330 17th, Oakland, CA 94612
 

Tacos Mi Rancho

You're going to Tacos Mi Rancho to get the baby-sized burrito. We don't mean baby-size as in a smaller burrito. This 15-inch behemoth is really the size of a human baby. Open late so you and all your friends can find some way to split this up after the bars close.
What to order: Asada burrito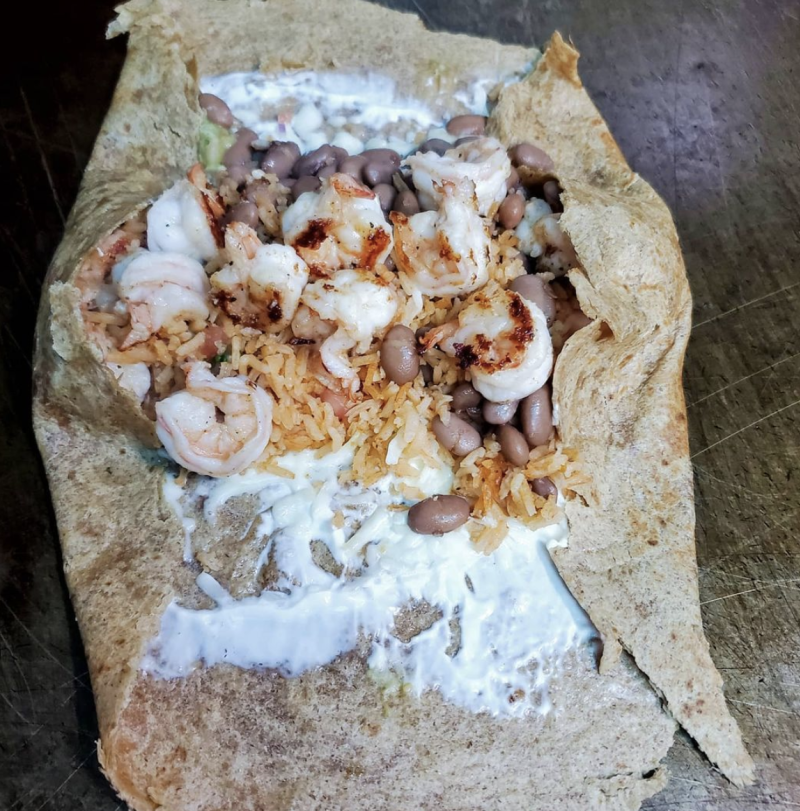 Photo Credit: Tacos Mi Rancho


Taqueria El Farolito

Combine El Farolito's lavish salsa bar with the tantalizing flavor of the meats and you've got a winning combo. Sure, its got 9 locations in the bay area (including one in the West Bay) but we're partial to the Oakland location.
What to order: One of the unconventional meat burritos, sesos, lengua, cabeza (if available)
Address: 3646 E. 14th St., Oakland, CA 94601
 

 
Taqueria La Gran Chiquita

La Gran Chiquita is renowned for their barbacoa, served only on weekends. They steam the meats for a non-greasy, tender finish, which we thoroughly enjoy.
What to order: Burrito de barbacoa
Address: 3503 International Blvd, Oakland, CA 94601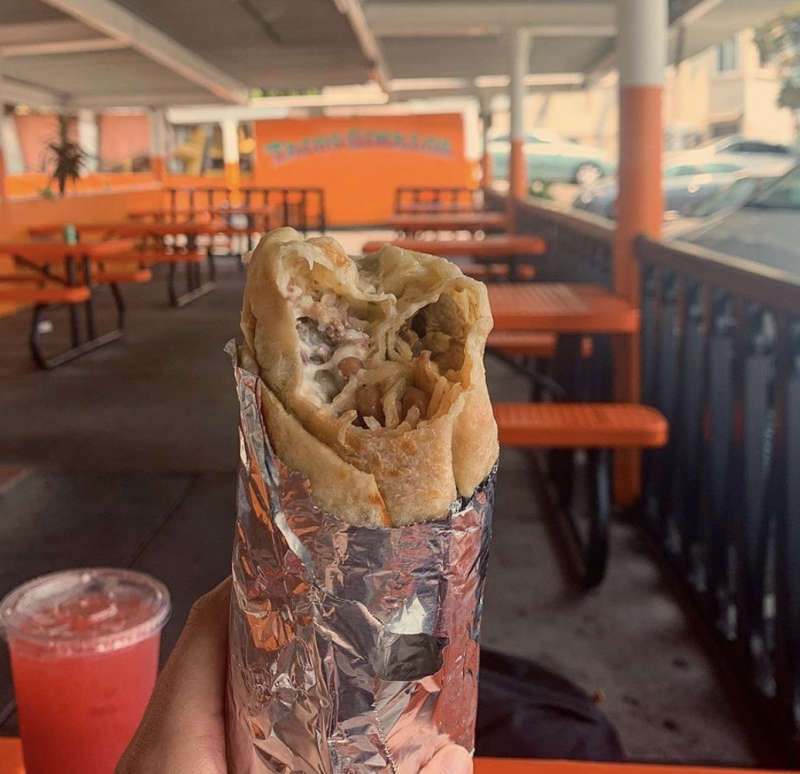 Photo Credit: @oaklandtaste via Instagram

TODOS

At TODOS Oakland, burritos are more than just a dish; they are a work of culinary art. Each burrito is carefully crafted using the freshest ingredients sourced from local farms, ensuring a burst of freshness in every bite. From the first glance to the last morsel, these burritos are a feast for both the eyes and the palate. What sets Todos Oakland apart is their commitment to providing a diverse range of burritos that cater to every craving. Whether you're a meat lover, a vegetarian, or even a vegan, there's a burrito for everyone. Sink your teeth into their classic carne asada burrito, packed with tender grilled steak, or savor the flavors of their veggie burrito, brimming with a colorful medley of grilled vegetables. And for those seeking a plant-based delight, their vegan burrito, filled with protein-rich beans and flavorful spices, will leave you craving for more.
What To Try: Breakfast Burrito
Address: 2315 Valdez St, Oakland, CA 94612

Xingones

Xingones Oakland takes the art of burrito-making to new heights, pushing boundaries and redefining what a burrito can be. Each bite is a tantalizing fusion of flavors, textures, and ingredients that will take your taste buds on an unforgettable adventure. What sets Xingones Oakland apart is their commitment to using only the highest quality, locally sourced ingredients. From the succulent meats to the vibrant vegetables, every component of their burritos is carefully chosen to deliver an explosion of taste. Whether you're a fan of the classics or crave bold and unexpected combinations, Xingones Oakland has a burrito to satisfy every palate.
hat To Try: California Burrito
Address: 736 Washington Street, Oakland, CA 94607
 

Xolo Taqueria

Located in Uptown Oakland, across from the Fox Theatre, Xolo Taqueria is the place to stop for a quick bite before or after a show. On Fridays & Saturdays try the birria, a bone-in goat braised in a rich chile broth.
What to order: Breakfast burrito
Address: 1916 Telegraph Ave, Oakland, CA 94612
 
---

See all that The Town has to offer! Check out our Digital Inspiration Guide and start planning your trip!