Often when we tell people that we're hiking fairytale forests in Oakland, there's a collective eye-rolling. Oakland, they think, is so urban. Yet, 20 minutes from downtown, up in the Oakland Hills, groves of gigantic redwoods, oaks and eucalyptuses grow. Get outside, find some peace, and check out these forest trail must-hikes in Oakland.
Redwood Regional Park

The gem of the Oakland Hills is Redwood Regional Park. While the original redwoods were felled in the 1800s to build houses in the expanding region, the grandchildren and great-grandchildren of the originals, many roughly 150-years-old, survived! Rainbow trout swim in the stream, and hazelnuts hang from shrubs. One of the nicer hikes for redwoods is the Tres Sendas trail, which you can reach from the Waterloo parking area on Skyline Blvd., north of Chabot Space & Science Center. The three-mile French Trail is also a local favorite, which you can link to from Tres Sendas. Directions and trail maps are available from the East Bay Regional Parks.
 

Joaquin Miller Park

Nineteenth-century poet, Joaquin Miller, once owned the land that is now Joaquin Miller Park, where he planted 75,000 trees, including Monterey cypress, olive and eucalyptus. The park is home to one of the only urban second-growth redwood groves in existence, as well as miles of trails, picnic grounds, and a WPA-era art deco construction that includes pools, cascades, and the Woodminster Amphitheater. Dig into the trail system that weaves through dense forests, like the Big Trees or Sunset trails.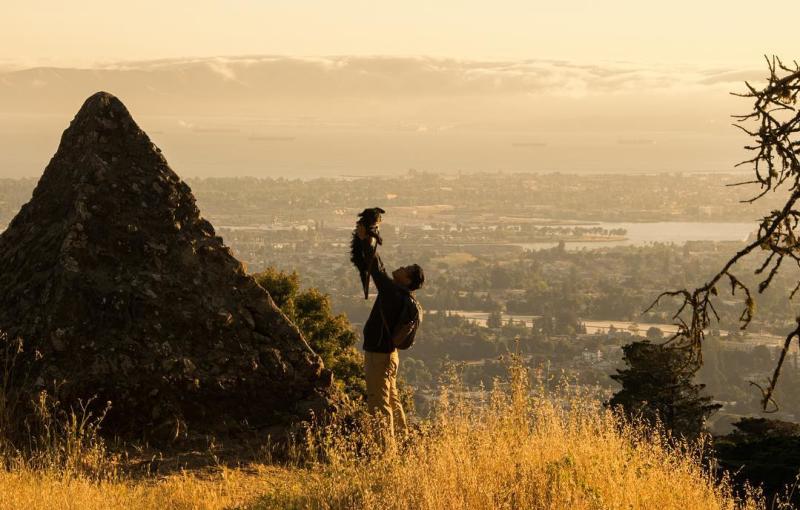 PC: @danielletan84 on Instagram

Huckleberry Botanic Regional Preserve
 
Huckleberry Botanic Regional Preserve will give you a lesson on botany with your 1.7 mile loop on the Huckleberry Trail. Pick up the trail map, which identifies 17 trees and shrubs such as varieties of manzanitas, chinquapin, and madrones, as well as best times to see flowering species. Currants, coast silk tassel, and Western leatherwood flower are seen from the winter months into spring, and huckleberry in late spring.

Leona Canyon

Two canyon trails to hike are Leona Canyon, behind Merritt College, and Dimond Canyon, with a trailhead off Fruitvale Avenue on El Centro. See the reddish bark madrone, live oak, and Monterey Pine trees at Leona Canyon, and get the best-wooded view near Leimert Bridge at Dimond Canyon. Bay trees arch into a canopy, and just past that is a fern glade. From this point on, the Sausal Creek stream bed becomes the path, so any rains will make it impassable. If it is passable, up the creek is a redwood canyon!
---

Looking for more hiking in Oakland? Check out the 100,000+ acres of parks and trails available through the East Bay Regional Park District.