Calling all vegans (and anyone who loves delicious plant-based food)! The city of Oakland now has a vegan trail highlighting all of the plant-based goodness it has to offer. Not only does Oakland have over 20 vegan dining spots in town, but they're all unique, diverse, and have something for everyone.
Hi! We are Jasmine (@sweetsimplevegan) and Chris (@consciouschris), and we run the blog and brand Sweet Simple Vegan. We recently had the opportunity to visit Oakland and experience the Oakland Vegan Trail firsthand. Let's say we were thoroughly impressed!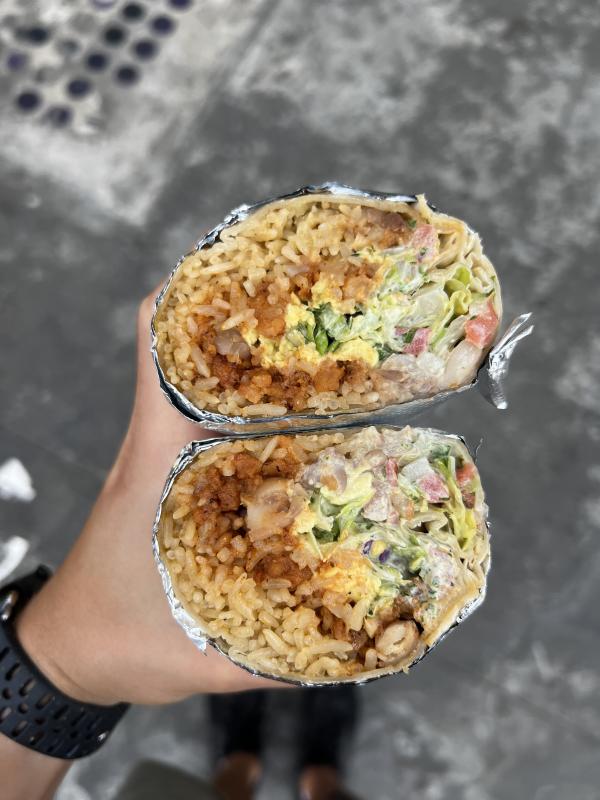 We started our trail experience at Señor Sisig, a Filipino-Mexican fusion spot that is a must-try. They have a full vegan menu loaded with flavor and variety. We tried their burritos, but they also have tacos, nachos, fries, and more, all with Filipino-inspired flare. Check out our recipe if you want to make your tofu sisig at home!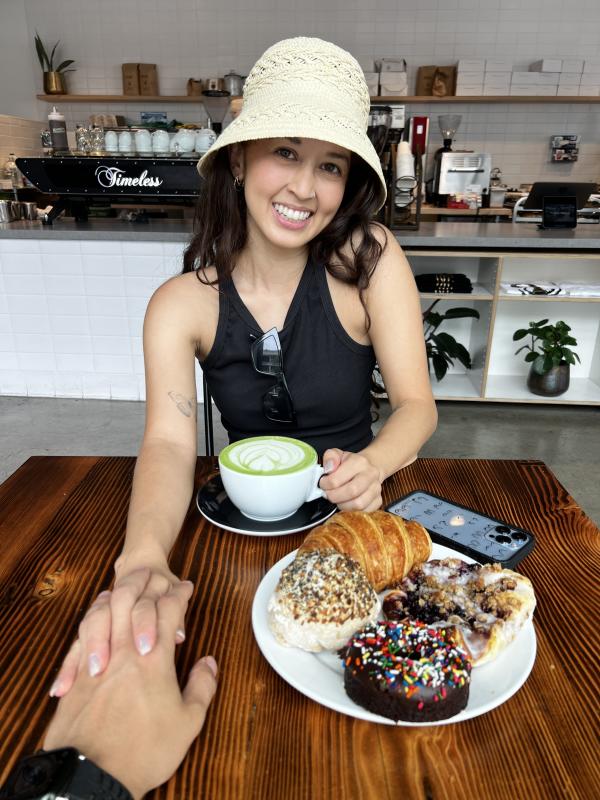 Our next stop was Timeless Coffee, an all-vegan spot carrying an array of baked goods and beverages. We enjoyed Timeless so much that we made several stops there during our visit to try more of the treats they offer. Whether you prefer sweet or savory, Timeless has something for everyone.
After Timeless, we still had a craving for some sweets, so we made a stop at Curbside Creamery at Temescal Alley. At Curbside, they offer a wide variety of cashew and coconut-based ice cream, pie, soft serve, and ice cream sandwiches. In addition, we tried the cookies and cream and peanut butter fudge ice cream flavors, both of which were delicious!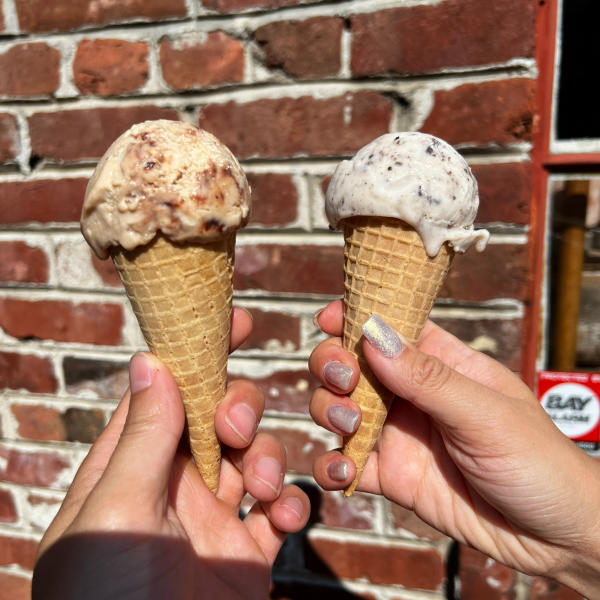 To end our day, we had the pleasure of trying a brand new spot called Roasted and Raw. Formally a pop-up in Jack London Square, Roasted and Raw just opened a modern cafe-style brick and mortar, and it did not disappoint. They offer a selection of cooked and raw food with a fresh veggie-centric approach. We enjoyed trying various menu items, including their Orange Teryaki and Kale Caesar Salad bowls. In addition, we loved their mac and cheese and yucca fries. We can't wait to go back and try more of their menu.
The next day we were up bright and early to do some sightseeing around Oakland, including visiting the Oakland Museum of California to experience the new Hella Feminist exhibit. After the museum, we headed to Timeless for a quick coffee and pastry, and then we were off to Souley Vegan, a Louisiana Creole-style eatery. Before arriving in Oakland, Souley Vegan was one restaurant we heard so many amazing things about, and we know why after trying it. We ordered a combo plate inducing mac and cheese, cornbread, and southern fried tofu with a side of their popular F.L.O.C. (FOR THE LOVERS OF CALAMARI). We enjoyed the food at a picnic table by the water in Jack London Square, which made it even more enjoyable. We definitely can't wait to go back for more someday soon.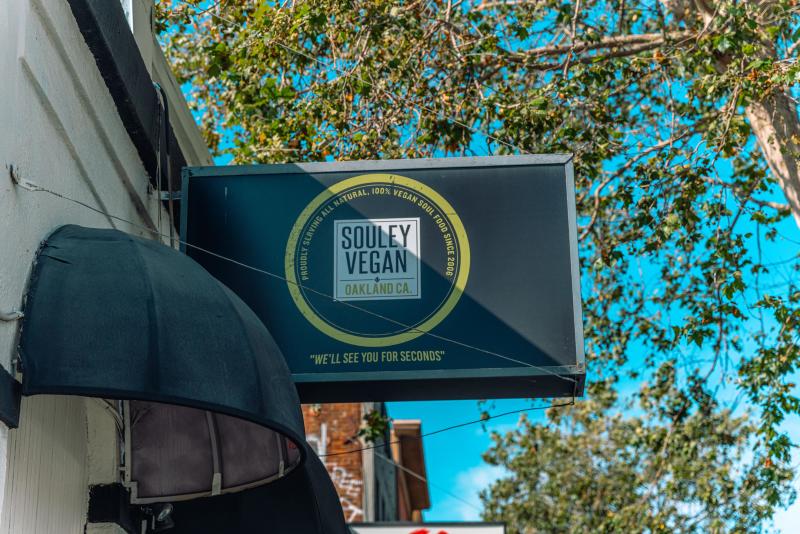 After Souley Vegan, we had an opportunity to kayak on the bay, which was so much fun (and a great workout). To end our trip, we saved the best for last. We dressed up a little fancy and went to Millennium Vegan, another restaurant we heard so many amazing things about. Millennium Vegan is constantly crowded, so reservations are recommended. They offer a wide array of dishes made with seasonal vegetables and mushrooms. We got the night started with some margarita cocktails, which hit the spot. Overwhelmed with how good everything on the menu looked, we had to narrow down a few items to order. We tried their Banh Mi special and Torchiette Pasta, both of which were incredibly delicious. To end our experience, we ordered the Peach Upside Down Cake, which came with a scoop of vegan tajin ice cream (wow!), and the Crème Brule. We loved both.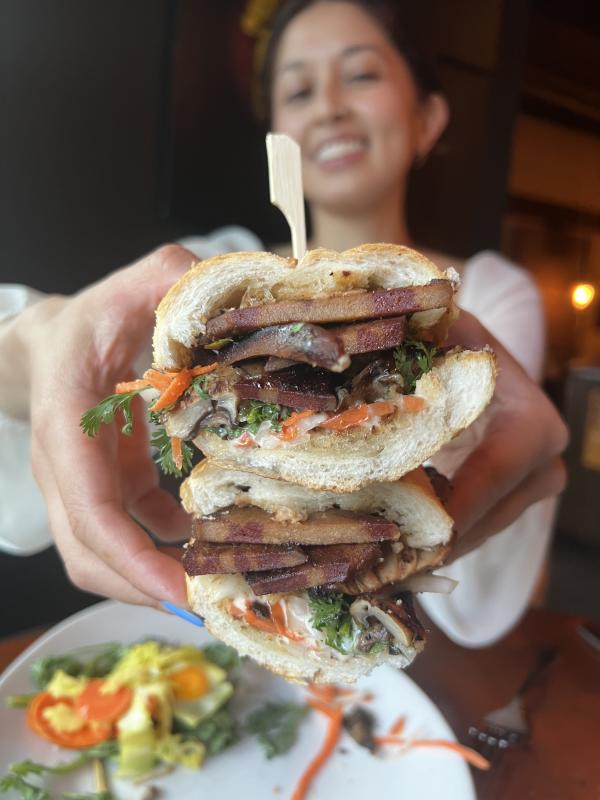 We only got to scratch the surface of the Oakland Vegan Trail, so we encourage you to check it out yourself. They have a complete list of 20+ vegan restaurants to satisfy any palette, all of which have their unique flair and diversity. For more info on the Vegan Trail, you can head to OaklandVeganTrail.com.
---
Photos above courtesy of Sweet Simple Vegan and Visit Oakland.