Farmers markets, you love them, and Oakland has plenty of them! We are all about fresh fruits and vegetables: yummy strawberries, giant artichokes, various colors of carrots, and those Buddha's hands. You may have been to other farmers' markets, but you need to experience an Oakland farmers' market. Check out all the farmers' markets that Oakland has to offer! 
Friday in Old Oakland

The atmosphere on the streets of Oakland on Friday afternoons is kind of like a party. Of course, you have your usual farmers' market suspects like fresh fruits, vegetables, local food, and local artisans' goods, but Fridays in Old Oakland also have live music! Cultures collide at this farmers market with not only its fresh produce but also with its food selections like Cholita Linda, Roli Roti Chicken Rotisserie, dim sum, and so much more. The options are endless. Fridays in Old Oakland take place year-round from 8:00 AM - 2:00 PM.

NOTE: Farmers' Market is closed November 24, 2023 - Native American Heritage Day.


Saturday in Grand Lake

The Farmers Market at Lake Merritt/Grand Lake is a local favorite. The big reason is that, well, it's pretty big. Ideally located near Oakland's Lake Merritt at Splash Pad Park, this farmers market is home to over 40 local farmers, 30 specialty food purveyors, and a handful of local artisans selling everything from homemade soaps to fresh bread. The Farmers Market is open every Saturday from 9:00 AM - 2:00 PM.
Also on Saturday:

The Freedom Farmers' Market North Oakland takes place at Shattuck Avenue and 46th Street every second Saturday of the month from 9:00 AM - 2:00 PM. NOTE: November 11 marks the end of the 2023 season.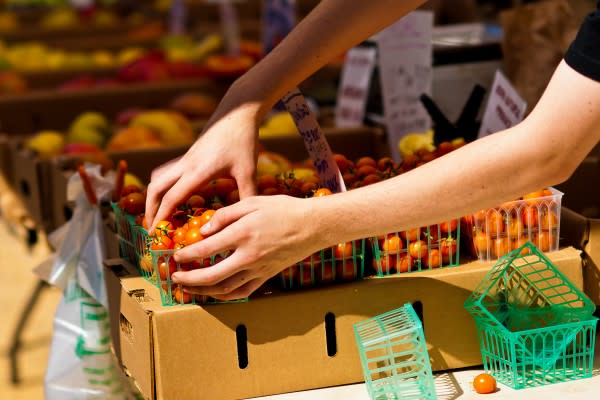 Sunday in Temescal & Jack London Square

The Temescal Farmers Market's location, on the border of Temescal and Rockridge in the parking lot of a local DMV, is not nearly as important as its metaphysical location: on the corner of Emerging Food Neighborhood between Strollerville and Hipsterville. This is the market for foodies of all ages, from infants to millennials to mothers and real 60s-era hippies. The Temescal Farmers Market is open every Sunday from 9:00 AM - 1:0 PM.
Although smaller than the Temescal's market, the scenery at the Jack London Square Farmers' Market can't be beat. Founded in 1989, the Jack London Square Farmers Market has deep roots in Oakland, offering local produce and food craft products. The Market provides a weekly opportunity for the community to enjoy a variety of vendors along the beautiful waterfront property. Market hours are 11:00 a.m. to 4:00 p.m. every Sunday.

Also on Sunday:

The Fruitvale Village located at 34th  Avenue & E. 12th Street is open from 10:00 AM - 5:00 PM. Meanwhile, the Montclair Village located at La Salle Avenue & Moraga Avenue is open from 9:00 AM - 1:00 PM.
Live closer to West Oakland, traveling in from San Francisco? No worries, West Oakland has the perfectly located farmers market. The Prescott West Oakland Farmers Market features over 40 local vendors. The market is open on Sundays, 10:00 AM - 2:00 PM year round, rain or shine!
During the Week:
 
TUESDAYS & THURSDAYS - Fruitvale Village from 11:00 AM - 7:00 PM.