The Dia de los Muertos Festival is host to 20-30 traditional ofrendas that invite spirits in the afterlife to be memorialized. This year there were twenty-eight artists and community members that worked on large installations of Dia de los Muertos altares (day of the dead altars). Although each altar was unique, topics like immigration, gun control and mass shootings, climate change, and defending indigenous culture were represented on various altars. The majority of the altars featured art made by the altar makers like paintings, drawings, Papel mache figurines, and papel picado. All altars were amazing, but here were The Unity Council's Top 5:
Mexica Altar by Maria Barron

Maria's altar was very unique; her altar was constructed based on Mexica traditions. The majority of the elements of her altar were plants and Cempasúchitl (marigold) flowers. There were four sides in her altar; each side was facing a cardinal direction and honored different people that are no longer in Maria's life.
Amor Eterno [Eternal Love] by Andrea Luna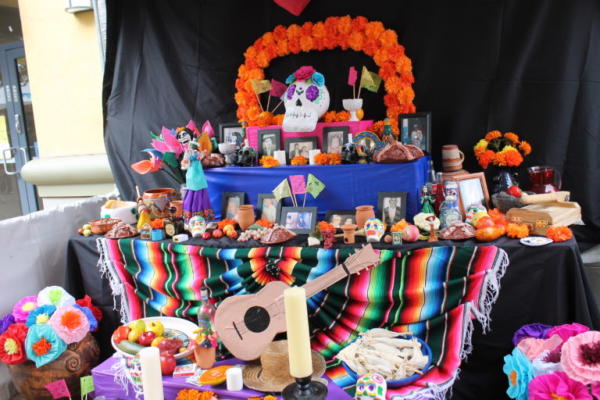 Andrea is a traditional artist from Oaxaca, Mexico, and an OUSD teacher. Andrea has been part of the Dia de los Muertos festival for the past 10 years. Andrea's altar is probably the most traditional altar we have on our list. We loved the colors, the paper flowers, the Papel mache figurine of Frida Khalo holding a bottle of tequila (it's right there on the left), and we loved the fact that she made all of the art in her altar.
Dreamers / Soñadores by Manuel Garcia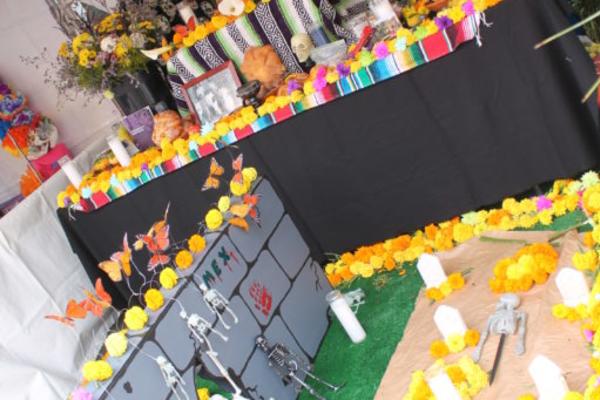 Manuel's altar honored DACA recipients and all immigrants that work hard and are mistreated when they come to the US. His altar shocked and even brought some people to tears by reminding people of all the immigrants that lose their lives trying to cross the US-Mexico border. Even though his altar made some of us cry, the monarch butterflies on top of the wall also reminded us that there is hope.
Roses in Concrete Elementary School Altar by Octavio Hernandez and his students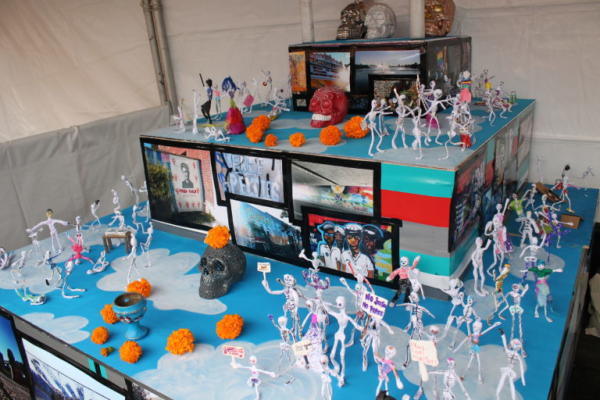 Octavio's altar is one of our favorite ones because it honors Oakland's artists and activists, which are in Octavio's opinion, "the cultural and artistic pillars of Oakland."  The coolest thing about this altar is that all the Calaveras featured in it are protesting various social issues and they were made by Octavio's students.
Entre la Vida y la Muerte by Maritza Martinez from Somos Familia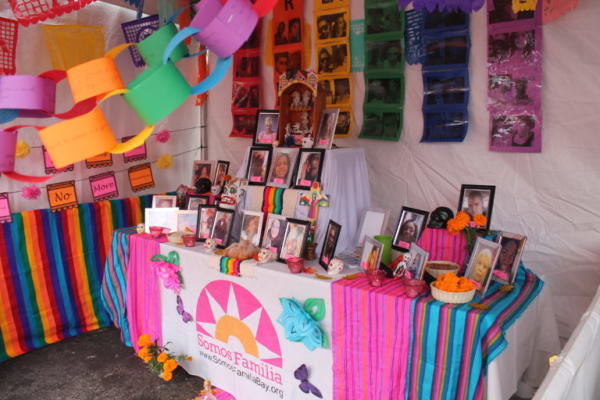 Somos Familia's altar honored the victims of the Florida nightclub mass shooting, although their altar reminded us of a recent atrocity, the altar celebrated their lives and invited the public to take action against hate and prejudice. Somos Familia's altar artists invited festival attendees to write a good intention to end hate against the LGBTQ community on a long piece of paper; using those long pieces of paper, they created a paper chain to hang over their altar. The good intention's chain was placed as an awning over the altar.
---