Oakland's brewers are rooted in the spirit of the city's earliest manufacturers, but this new breed of makers is developing flavor and style combinations that are making them stand out in the increasingly crowded world of American craft beer.
Visit all of Oakland's brewery taprooms and earn a free Oakland Ale Trail branded growler! Download the digital Oakland Ale Trail Passport. 

Here are a few day itineraries to help expedite your growler redemption process! 
Uptown Beer Trail:

Beer tasting @ Drakes Dealership
Large but intimate beer garden that's always filled with people. Outdoor fire pits, string lights, and heat lamps everywhere. If you are an extrovert and enjoy socializing and surrounding yourself in that environment, this is the brewery for you. It's also great for large groups, celebrations, dogs, and kids.
Tacos @ Belly     
Just do it... Their food is just delicious. 
A scoop of Ice Cream @ Little Giant Ice Cream     
Always end a meal on a sweet note!
Pre-game before your show @ Make Westing
Bocce ball, well drinks, and a diverse vibe to get you ready for the show.
Catch a concert @ The Fox Theater or The New Parish
You can usually count on a show of some sort in Uptown on any given night. Whether it's a concert, comedy show, or art exhibition. Check out these two venues for calendar listings.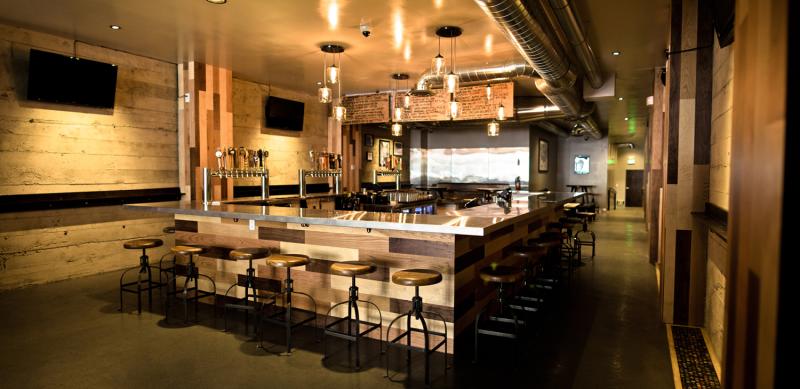 ---
Old Oakland/Jack London Beer Trail:
Beer tasting at @ Federation Brewing & Oakland United Beerworks
The first thing to mention is their giant mural inside the brewery of a keg transformer. Close by to Souley Vegan and Blue Bottle Coffee to fit your every want.
Check out some art @ Studio 11 
Conveniently located in the Ironworks District near Jack London Square, Studios Eleven promotes local artists with monthly exhibits, as well as frequent music and live art programming.
Dinner @ Swan's Market
There are so many food options, it'll make your head spin. A great spot for the indecisive visitor.
Taste more beer @ The Trappist
Their bottle list features a rotating stock of approximately 100 Belgian, Dutch, Scandinavian and American craft brews. They have 28 rotating taps that feature Belgian, local (California), and several specialty microbrews from the US. You won't find any big corporate brews here, just the finest artisan beers.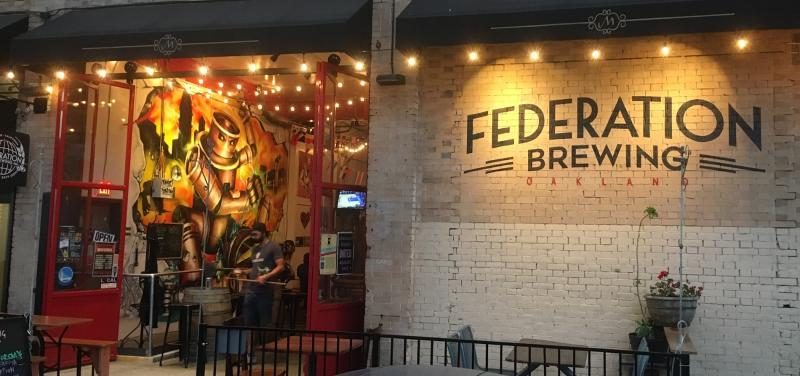 ---
Other Oakland Breweries:
 
Ale Industries
The only brewery in California the only uses locally source and refine bio-diesel fuel for use in the brewery. Ale Industries doesn't believe in beer styles. "Too many people are missing incredible tasting experiences because they have been brainwashed to think all IPAs should taste the same. We rarely refer to our beers as styles. You won't find any mention of them on the menus in our brewery and taproom."
Visit Oakland Tip: Check out behind the brewery for a giant mural wall 
Temescal Brewing
Gotta love the huge outdoor beer garden, and there is a modern design to the tasting room. "We're avoiding west coast norms of big, aggressive, hoppy brews and offering softer, friendlier beers instead. And that same approach makes its way into our bright, soft, colorful design, and a friendly, welcoming, diverse company culture and taproom vibe."
Novel Brewing Company
Serves beer flights in a book. They have a legit printing press inside the brewery... and if you are observant enough, you will find recycled printing press materials all around the brewery. "Some have said that they can taste how our travels have influenced our brewing choices, and these subtle differences allow our beer to stand out amongst the crowd. In the end, it is the people and the beer that combine to make a tantalizing story that keeps on giving.  Whatever the opposite of a cliffhanger is--that's us. Imagine your favorite book, but it never ends."