Oaklanders are a crafty bunch who are working diligently to bring manufacturing back to their home town. And they are succeeding. Check out these made-in-town pieces to get a taste of Oaklands manufacturer spirit!
Clothing
 
McMullen
 
Founded in 2007 by Sherri McMullen in Oakland, McMullen is an all inclusive concept shop for luxury fashion featuring emerging and established designers from around the world. McMullen has been well known for bringing global fashion and experiences to the Bay Area. Their brand is focused on female empowerment as well as a commitment to supporting African and African-American apparel and home décor designers. Named as one of the top boutiques in the country by Vogue and Women's Wear Daily, McMullen carries brands such as Christopher John Rogers, Dries Van Noten, The Row, Tibi, Proenza Schouler, Rachel Comey, Khaite, Peter Do, Lisa Folawiyo, Aisling Camps, Diotima, and Mara Hoffman.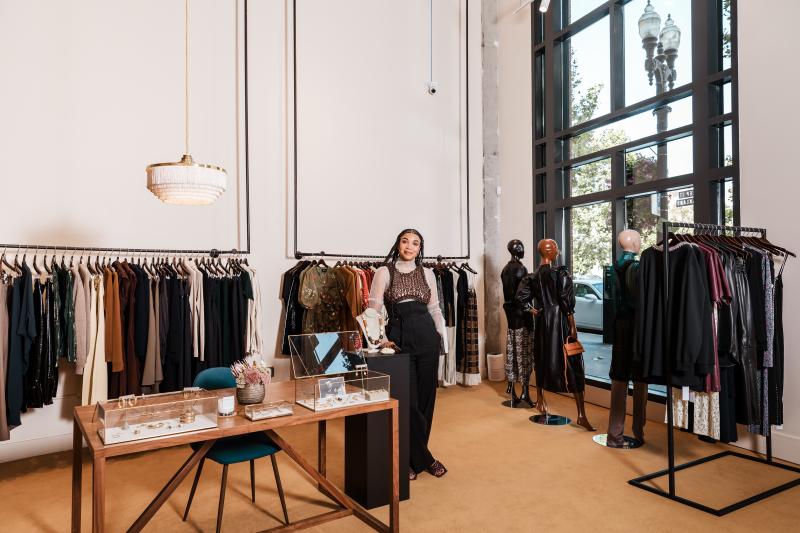 Photo courtesy of Carolyn Fong
Lesley Evers

Former painter, Lesley Evers designs many of her fabrics and manufactures locally. Her shop is located on College Avenue in Rockridge, but her gorgeous patterned dresses, pants, and blouses are available statewide. Her hands have probably touched each and every dress that goes out the door and her goal is to make clothes that bring everyone joy.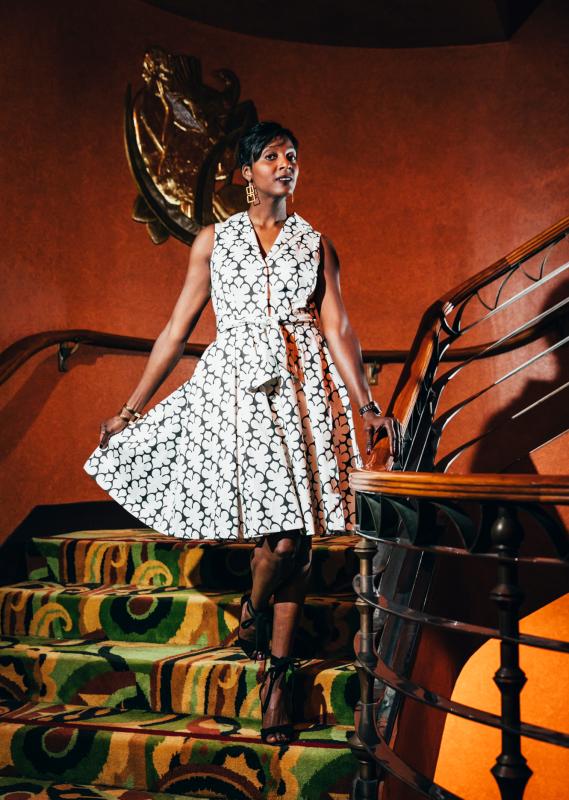 Photo courtesy of Lesley Evers
Oaklandish

Oaklandish is a lifestyle apparel brand specializing in screen printed graphics, designed and printed in their Oakland, California warehouse. Their sole mission is to spread "local love" while giving back to the people and places that maintain Oakland's city's trailblazer spirit. What started as a public art project over 15 years ago, now supports roughly 200 grassroots nonprofits a year while celebrating Oakland's local history and unique culture.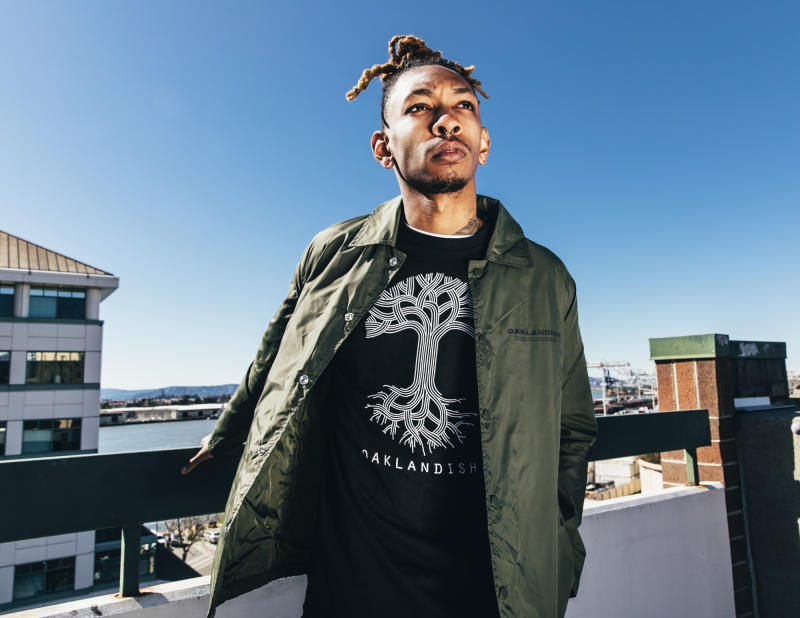 Photo courtesy of Oaklandish
Additional Shops:
 
Jewelry, Crafts, & Accessories

Dorian Webb
 
Dorian Webb designs intentional jewelry that celebrates women, supports Black culture, and harnesses the beauty of connection. Her jewelry is handmade using semi-precious and precious stones, sterling silver or 18k gold. Valuing quality over quantity, each piece is made to be worn and enjoyed for several lifetimes. Come visit her at their new studio during weekdays by appointments (schedule here) and on the weekends during our drop-in Shop & Sip events.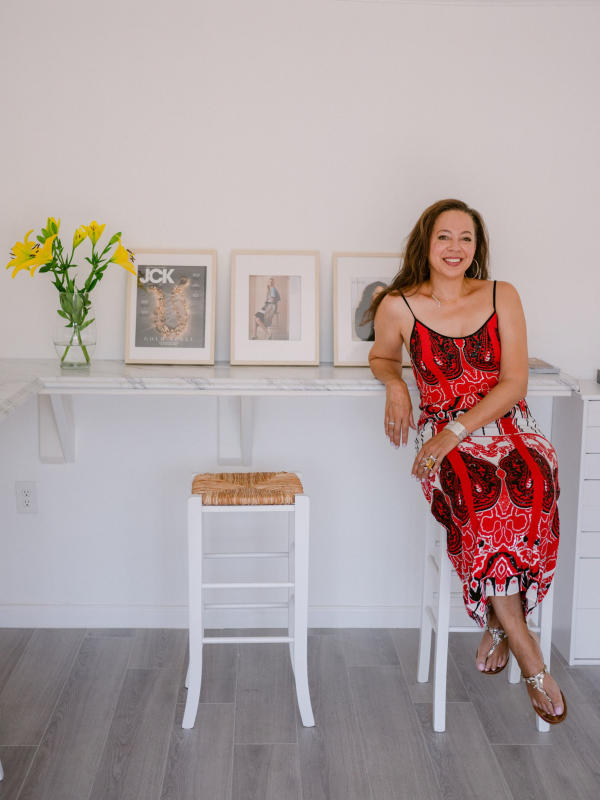 Photo courtesy of Dorian Webb
Sweet July

Nestled in the heart of Uptown, Sweet July looks beyond retail to create an experience and a beautiful gathering place for the community that inspired it. A space where new customers feel like regulars, and regulars feel at home. The shop features products for the self and home with a focus on impeccable quality at an affordable price. Alongside their own Sweet July product, you'll find thoughtfully curated items from some of their favorite Black-owned brands, as well as products created by Bay Area-based makers.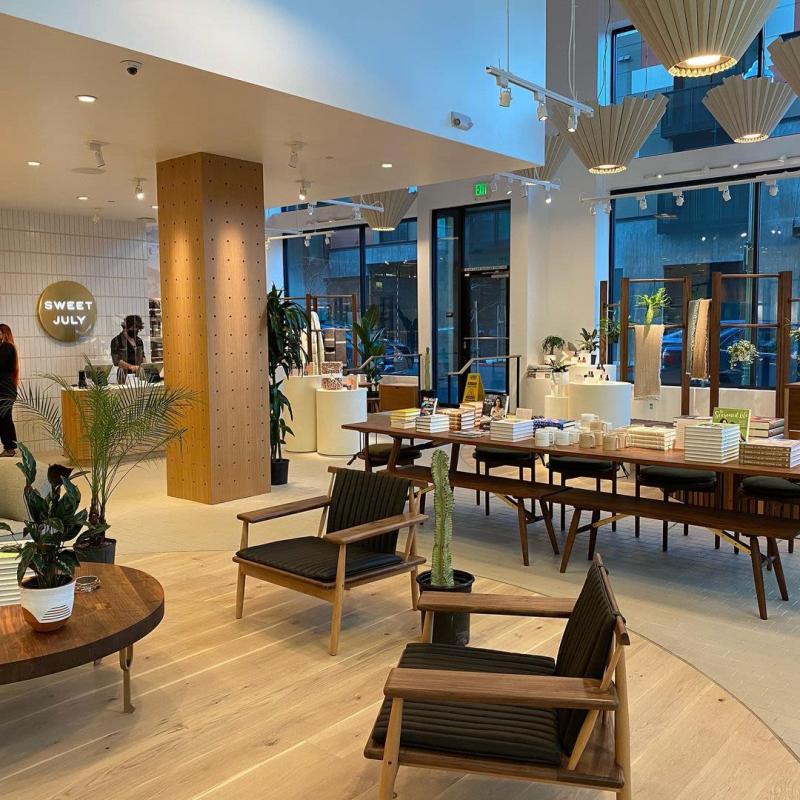 Photo courtesy of Sweet July
Bay-Made

Bay-Made is an Oakland and Bay Area gift and souvenir shop stocked with exclusively local products, artwork, and a selection of quality art and writing supplies. Along with sharing local crafts, they also host creative workshops, and have a monthly rotating gallery wall featuring local visual artists. Bay-Made means many things, but they hope you leave inspired to make something of your own.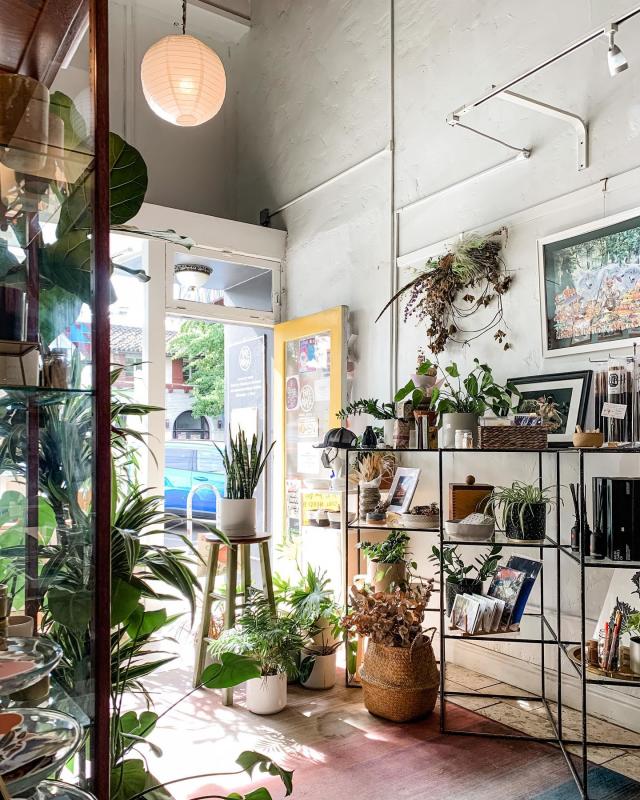 Photo courtesy of Bay-Made
Additional Shops:
 
Health & Beauty

Oaktown Spice Shop

Oaktown Spice Shop is a joyful stop on the errand routine. Customers can step into a beautiful, nostalgic and aromatic world, smell their way through glass jars of spices, have a conversation about their next meal with the staff, and find inspiration for their cooking. Their spice blends are signature recipes, hand-mixed in their shop using their freshly ground spices. Named one of the world's best spice shops by Food & Wine Magazine, Oaktown Spice Shop offers the freshest, most delicious, high-quality spices and hand-mixed spice blends in the Bay Area.

Photo courtesy of Oaktown Spice Shop
Bee Healthy Honey Shop

Bee Healthy Honey Shop is a family-owned business which started in Yemen over four generations ago. They have over 100 years of experience in learning all there is to know about bees and natural honey preparation process. Their beekeeper, Khaled Almaghafi, joined Bee Healthy Honey Shop in 1992, and inherited the business when the old owner passed away. Billions of bees later, he still finds them fascinating.
When visiting Oakland, make sure to take home your favorite Oakland-made craft before you leave The Town. Looking for more Oakland retail therapy? Check out Visit Oakland's shopping page!