This East Oakland neighborhood was once called 'Brays' and 'Fruit Vale' thanks to the cherry and apricot orchards which could be found in the neighborhood before what we now know as Fruitvale became incorporated in 1909. 
Now, 110 years later, you can still find an abundance of fruits and vegetables, thanks to the many markets around the neighborhood which spans from 29th Avenue to 42nd Avenue, and all along Foothill and International Boulevard, and of course, Fruitvale Avenue. You can visit places like Mi Ranchito, Mi Rancho, and Los Mexicanos, to name a few. You can also visit the Farmer's Market which takes place every Tuesday, Thursday, and Sunday at the Fruitvale Transit Village steps away from Fruitvale BART. While at the market, you will be able to find a variety of seasonal fruits and vegetables from local producers. Other vendors sell folk art and ready-to-eat food.
 

Fruitvale is a neighborhood where mostly Mexican and Central American immigrants reside. In recent years, a surge of immigrants from Guatemala now call Fruitvale home. While primarily a Latinx neighborhood, there's also a Southeast Asian population.
Nieves Cinco de Mayo is one of the original residents of the Public Market opening back in 2007. Owner, Luis Abundis and his crew, will delight your taste buds with his artisanal carafe ice creams with unsuspected flavors like corn and rompope. In recent years, mangonadas have become a favorite, and on hot days the line to get one can span out the door.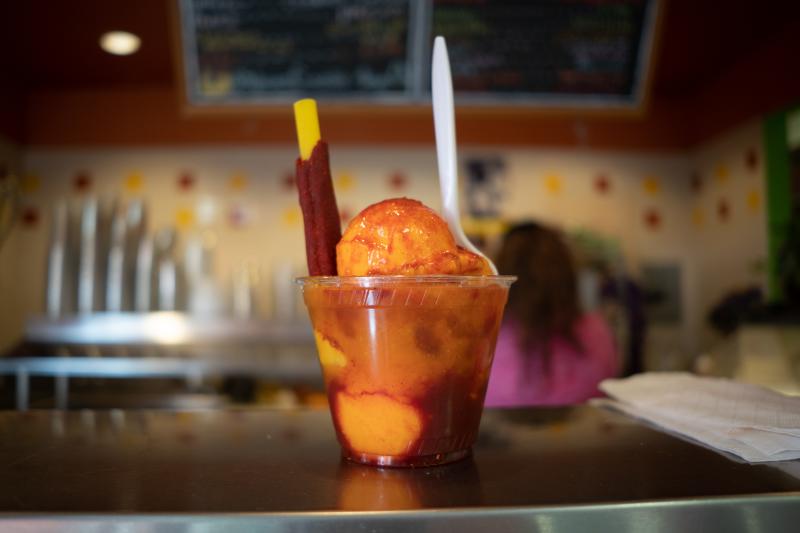 Walk out of the Public Market and onto International Boulevard (which long-time residents still affectionately call East 14th), and you can immediately feel like you have traveled to Mexico City and Cabo San Lucas. El Huarache Azteca brings the flavors of authentic dishes from Mexico City, with delicious plates like huaraches and gorditas, or the quesadillas de flor de calabaza and huitlacoche, both made with handmade tortillas. Be sure to try the huarache with tinga de pollo. 
Also part of authentic cuisine from Mexico City, there's La Torta Loca, a tiny locale that shares the space with a laundromat. While there, make sure to try a torta Hawaiana which comes with grilled pineapple and ham.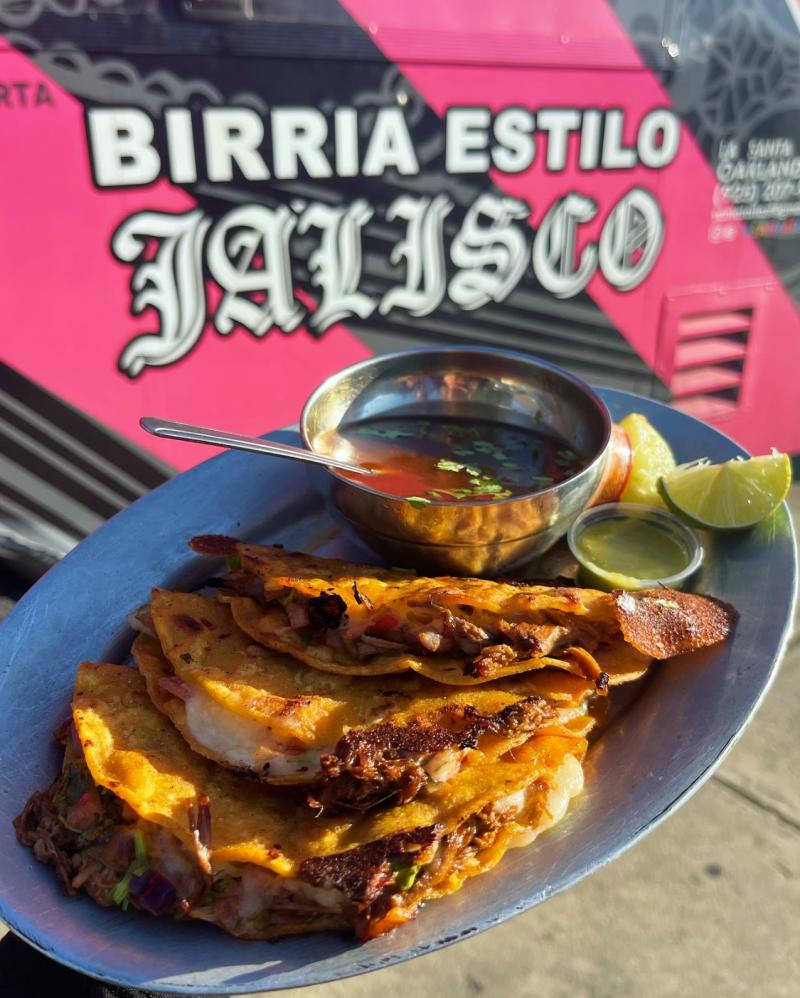 Not far from El Huarache Azteca and La Torta Loca, but still on International Boulevard, located in the remnants of what once was a car dealership, a truck called Aguachiles El Tamarindo is gathering cult-following thanks to its aguachile and tacos de Marlin. Recently, Aguachiles El Tamarindo earned a spot in the San Francisco Chronicle's Best Bay Area Food Trucks.
 

Aguachiles isn't the only establishment where you can find mariscos, another favorite among Fruitvale residents is Mariscos La Costa where the ceviche and shrimp cocktail often draws the largest crowds. 
If you want to take another international trip out of Mexico and into Central America, look no further than Los Cocos Salvadoran Restaurant which has been a staple in Fruitvale since 1985 when the restaurant first opened its doors. The menu is two pages long, but that doesn't deter hungry-goers. Most are there for the coveted pupusas and their many fillings which include: pork rinds, spinach, beans, and loroco (a vine with edible flowers). If you visit Los Cocos, make sure to try the Salvadoran agua de horchata. 
 

Another Central American country making its way into Fruitvale is Guatemala, the recent surge in Guatemalan immigrants moving to Oakland called for the opening of more restaurants aimed at representing this growing community. In Fruitvale, you can find restaurants like Rinconcito Chapin where you can try caldo de gallina. For those with a sweet tooth, there's Chapinlandia Bakery where you can buy traditional Guatemalan baked goods. 
 

If you want to try Mexican baked goods, Peña's Bakery is the place to go. The family-owned establishment has two locations in the neighborhood: one on International Boulevard, and the other on Foothill Boulevard. The Peña family migrated from Guadalajara Mexico in the '70s and began their life and business in Oakland. The bakeries opened within a year in 1997 and 1998.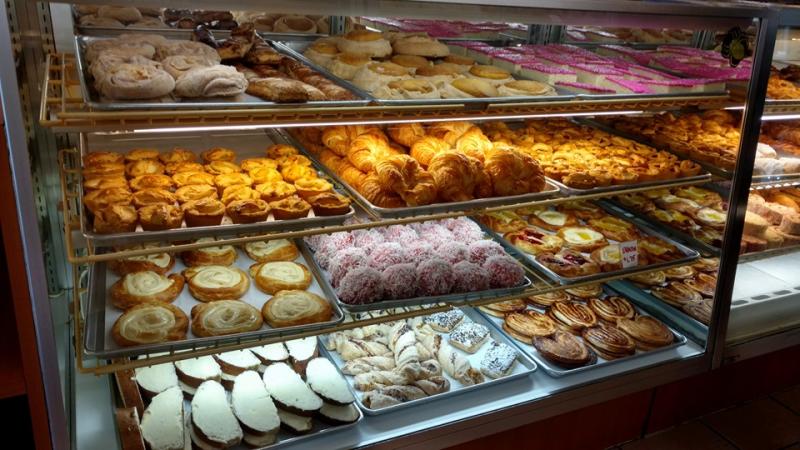 PC: Peña's Bakery
Still, on Foothill Boulevard, you can find El Tio Juan Taco Truck (which was also included in the San Francisco Chronicle's Best Bay Area Food Trucks.) The ice cream and food truck combo is an old-school 1950's Loard's Ice Cream truck. There is no fuss when it comes to the menu and the excellent service. Make sure to try the spicy chicken burrito, and while you wait for your food, admire the colorful metal arc that reads Fruitvale. 
The culinary scene in Fruitvale reflects the hard work of immigrants who left their homes behind in search of the American Dream and found it here in Oakland, in the heart of Fruitvale.