With Oakland having so many sports teams, it's not hard to believe some of the worlds most well-known athletes are from The Town! A few are pretty obvious if you are a well-versed sports fan, but a couple of these might have you texting your friends with your newfound Oakland knowledge. So keep your head up when you're around town, you never know who might be home for a visit.
Oakland Athletes Highlights
1. Marshawn Lynch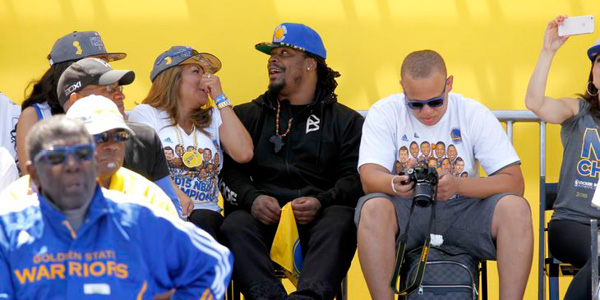 If "Beast Mode" isn't running over mountainous men on the field, or playing Mortal Kombat with Conan, he is constantly giving back to the Oakland community, and never stops reppin' The Town. #hometownhero
2. Gary Payton
"The Glove" grew up in the same neighborhood as fellow point guard, Jason Kidd. Famous for his on the court trash talking and mental toughness, Gary Payton played that old school hard-nosed defense, and won an NBA championship in 2006 with Miami.
3. Damian Lillard
Oakland is known for producing the best point guards! He might be money on the court with that crossover, but Dame spits hot fire! Probably safe to say he's the best rapper in the NBA right now. #Humblebrag
4. Rickey Henderson
Let's step into the Baseball Hall of Fame shall we? Chicago-born, but Oakland raised, Rickey Henderson was so fast he looked like Ricky Bobby from Talladega Nights! Twelve times he led the AL in stolen bases and won a World Series with the Oakland A's.
5. Jason Kidd
Born in The City (San Francisco), but raised in The Town, the 10 time NBA Allstar was known for his treys and dimes, but more importantly, his free throw kiss ritual. In 2011, the triple-double machine won the Larry O'Brien trophy with the Dallas Mavericks. He now is the head coach for the Milwaukee Bucks.
6. Brian Shaw
Before the Oakland-born guard was throwing dimes to Shaquille O'Neal, he was a student at Westlake Middle School and Bishop O'Dowd High School in Oakland. The 3-time NBA champion still lives in Oakland and were proud to have him.
7. Bill Russell
Bill Russell and his family moved to Oakland when he was 8. Known for his rebounds and shot-blocking in the NBA, he won 11 NBA championships in his 13-year career. That's just ridiculous, he has more championship rings than fingers.
8. Paul Pierce
Did you know that Paul Pierce was born and raised in Oakland before making his way south to Inglewood? "The Truth" is known for his high basketball IQ and his rivalry with the Lakers after spending almost his entire career with Boston.