Not sure if you know, but Oakland is a great place to visit with your dog (or fur-baby, as some say). Check out where to eat, what to do, and where to stay when you bring Fido to the Town!
Wine and Dine your Pup

Nido's Backyard
Nido's Backyard has modern Mexican bites with an agave-driven cocktail menu, and an Instagram dedicated to the good-est pups of the backyard. Bonus! The backyard's colorful décor is perfect for IG pics of your best fur-friend! 
Drake's Dealership 
Drake's Dealership offers wood fired pizza, brews on tap, and an open-air beer garden featuring fire pits, a live music stage, and pup-friendly patio seating.  
Grand Lake Kitchen 
Grand Lake Kitchen is a gourmet deli and market popular for brunch and a dog-friendly patio near Lake Merritt for a post-meal walk! 
Blackberry Bistro  
Southern breakfast fare, Blackberry Bistro includes delicious buttermilk biscuits and creamy grits, with outdoor seating.  
Homeroom 
Savor soul satisfying Mac + Cheese on outdoor tables at Homeroom which has an awning for pups to cool off on a hot day. 

PC: Nido's Backyard
Chop Bar 
Rustic-chic gastropub, Chop Bar, offers all-day American comfort fare & cocktails, beer and wine on tap, and dog-friendly outdoor seating. 
Heinold's First & Last Chance Saloon 
Heinold's First & Last Chance Saloon is a vibrant circa-1883 bar featuring cocktails & draft brews in funky Old West surrounds with a dog-friendly patio. Beautifully located at Jack London Square for a walk along the waterfront.  
Arthur Mac's Tap and Snack 
Arthur Mac's Tap and Snack is a dynamic dog-friendly beer garden with fire pits serving pizza, wings and draft pints from a shipping container. 
Brotzeit Lokal 
Brotzeit Lokal has a waterfront beer garden with Bavarian-inspired house-made menu items. Outdoor seating is pup-friendly.  
Lost & Found Beer Garden 
Lost & Found Beer Garden is a spacious sun-filled indoor/outdoor pup-friendly beer garden with craft beers and updated bar food. 
Beer Revolution 
Beer Revolution has craft beers so dog friendly they have a Facebook page devoted to Dogs of Beer Revolution.  

Hiking
Leona Canyon Regional Open Space 
Pets are welcome on/off leash at Leona Canyon Regional Open Space, a gorgeous open preserve with 290 acres of natural space, with wooded canyons, creeks, and climbing trails. 
Joaquin Miller Park 
At Joaquin Miller Park, dogs are allowed on leash throughout rustic woodland trails, which lead you through redwood groves and oak woodlands and across lush creek sides and wet meadows. The dog park is a new fenced-in, off-leash park including benches, waste bags, and nearby restrooms, as well as separate areas for large and small dogs. 
Dunn Trail + Roberts Park in Roberts Regional Recreation Area 
From Dunn Trail + Roberts Park in Roberts Regional Recreation Area, you can take various alternate trails that are all great for pups. Added bonus: You can bring your dog, on-leash, to the children's playground at Roberts (which you can access via the Dunn Trail). 
Learn More from EBRPD
The East Bay Regional Park District compiled a list of trails that allow dogs to explore more hikes to take your pups on.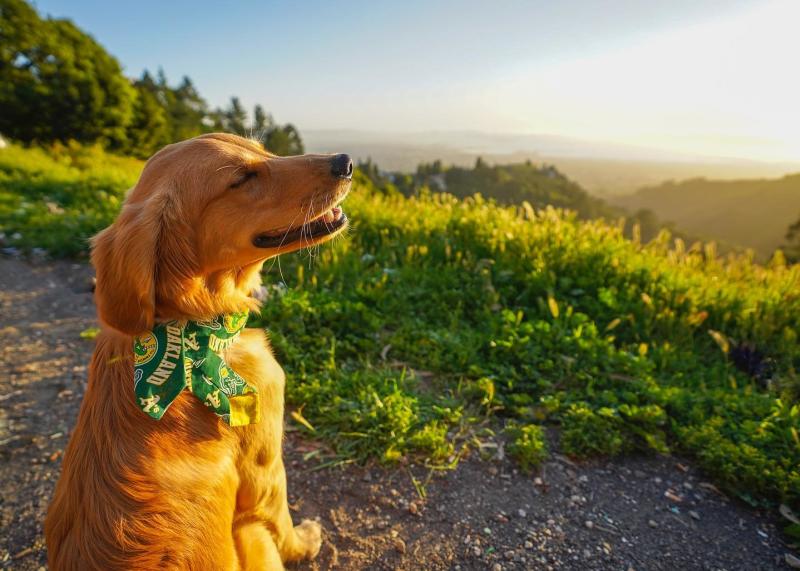 PC: Instagram @goldenboykip
Dog Friendly Stays
Waterfront Hotel 
The Waterfront Hotel does a fantastic job on both rooms and service, and the Jack London location also allows pets. Many of the restaurants here allow dogs on their patios, and there's plenty of room to walk your pet as well. 
Motel 6 Oakland Embarcadero 
Two pets of any size are welcome for no additional fee at the Motel 6 Oakland Embarcadero, but pets may not be left in rooms unattended. The waterfront property is perfect for walks, and has a grassy area with a waste station for pet relief, and waste bags are provided. 
Homewood Suites Oakland Waterfront 
Homewood Suites Oakland Waterfront welcomes two pets up to 30lbs for an additional fee of $75 (for stays of 1 to 14 days). Pets may not be left in the room unattended. There is also a walking trail behind the hotel. 
Hilton Oakland Airport 
Hilton Oakland Airport welcomes two dogs up to 20lbs for an additional fee of $50 per stay. Well-behaved dogs may be left in the room unattended. There is green space on the property, but guests must provide their own waste bags.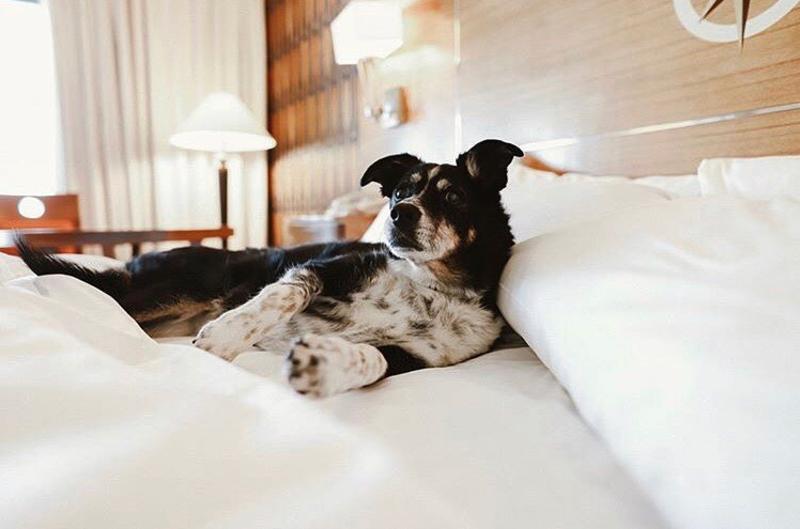 PC: Jack London Square
Neighborhoods  
Piedmont Avenue
Piedmont Avenue has a romantic small-town vibe, with shops and home bric-a-brac stacked side by side. It's perfect for beautiful Sunday strolls on the sidewalk with your pup. Grab yourself a scoop of handmade Rocky Road ice cream from Fenton's, and have a seat at one of the pet-friendly outdoor table.  
With several dog-friendly hotels and restaurants, including the dynamic bowling, bocce, and outdoor beer garden Plank, Jack London Square is an extremely dog-friendly neighborhood. The waterfront is also a beautiful walk for dogs and humans alike.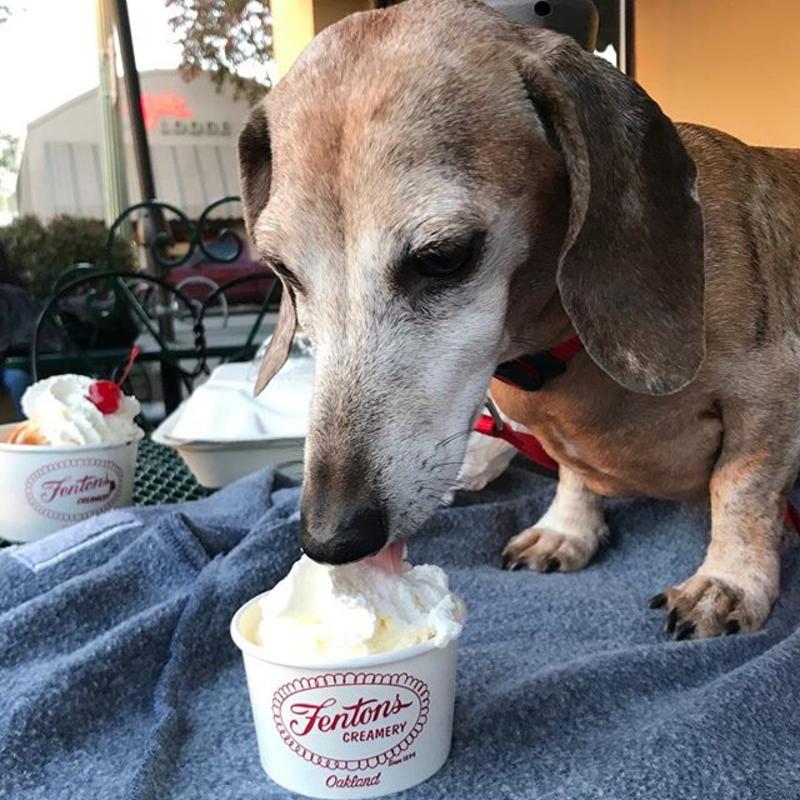 PC: Instagram @captainmogi
Bonus Event! 
Boo! Bark, Bites + Brews DogFest Bay Area is happening in Jack London Square on October 31, 2020. The event is a Halloween-themed, canine-centric festival to celebrate our canine friends and heroes! 
There's no need to leave your furry companion behind for your trip to the Town. Pack your pup, book your stay, and come spend some dog-friendly time in Oakland!