With Oakland already being a popular hot spot for foodies and sports fans, Pokémon Go is just one more reason why you should be planning a trip out to Oakland! From concentrated Poké Stops and Gyms, countless Pokémon spawns everywhere, and events happening throughout summer to pair with your journey to catch them all, Oakland is definitely "the very best" Pokémon destination. 
Top Pokémon Locations
Downtown/Uptown - With Poké Stops and Gyms left and right walking up Broadway and Telegraph, it's an easy way of racking up XP and attempting to catch them all. Don't forget your portable charger! 
Lake Merritt - Dratinis… one word is probably all you need, but just in case, Lake Merritt is a great spot to hit up all the Poké Stops and Gyms as you run around the lake. Countless water Pokemon and your normal/ground types can be found around the lake. Also, a great way to hatch those pesky 2km eggs to make room for them 10km eggs. Make sure to capture an A/R photo with The Lake Merritt Monster aka Lapras! =)
The Oakland Zoo - Take a trip with your fellow Pokémon Trainers to the Oakland Zoo for a real-life version of a safari zone with multiple Poké Stops and Gyms in the areas. Play this on repeat as you walk for all the feels!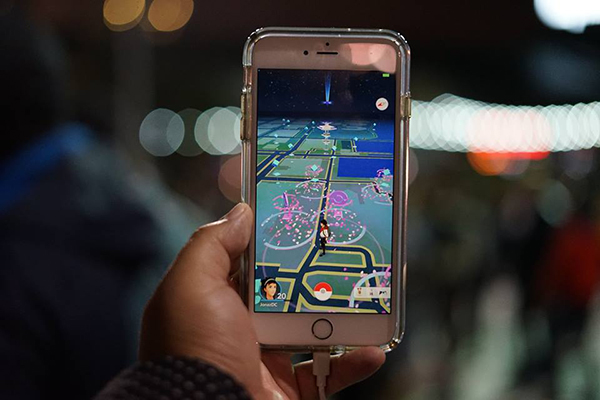 Jack London Square - In case you missed out on the last massive Pokémon Meet Up, then we're here to say that the rumors are true... this place is lit. Being by the waterfront, this gives you the opportunity to rack up water Pokémon such as Psyduck, Magikarp, Shelders and Squirtles. There's usually a lure party happening somewhere in the Square and it's also where we caught our Gyarados!
Chabot Space & Science Center - If you're on the search for Mewtwo, you might be able to see it through one of the center's giant telescopes! With a Gym and multiple Poké Stops at the facility, you will discover various Poison/Grass/Normal Pokémon that live up in the hills. Visit Oakland Tip: Nearby is a Gym called, "The Highest Point in Oakland" around Redwood Bowl Staging Area. Might be worth a short hike to take the Gym that towers over all of Oakland.
Pokémon Oakland Deals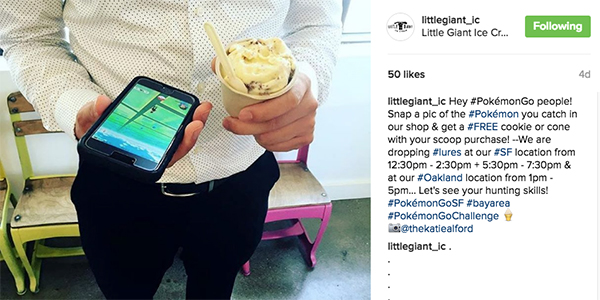 Little Giant Ice Cream - Pokémon Trainers are welcome to stop by for a discount to keep cool during your summer adventure.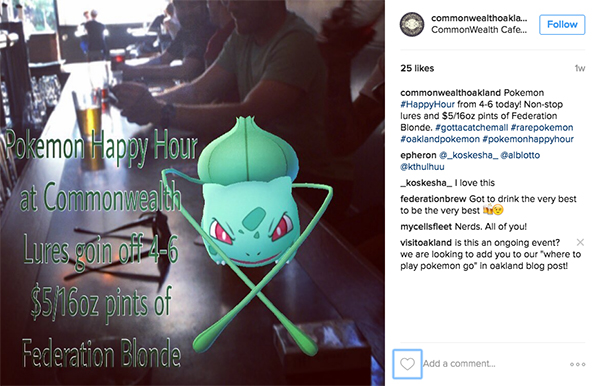 Common Wealth Cafe - With 4 Poké Stops lit up with lures every Thursday 4-6 and $5/16oz pints of Federation Blondes, this spot makes it easy for you to become a Pokémon Drunken Master.
Popular Oakland Gyms
Paramount Theatre - Rule over this Oakland landmark with shows happening year round.
Oracle Arena - You can share Roaracle with Steph, KD and The Warriors.
Grand Lake Theatre - Have your name above this historic movie palace.
Fruitvale - Be known as the Pokémon Gym leader with a phone in one hand and bomb tacos in the other!
Chabot Space & Science Center - Be the Gym leader at this Mewtwo research facility.
Mormon Temple - Be the very best with the best view of the Bay!
19th Street Bart Station Waves Art - Be the most wavey Pokémon Master!
Oakland Zoo - Rack up on Safari Balls at the zoo!
Alice Street Mural Project - Be the most artsy trainer on the block!
USS Potomac - Being a Gym leader of FDR's presidential yacht sounds pretty badass.
Heinold's First and Last Chance Saloon - Don't ever battle another trainer sober again!
Summer Events + Pokémon
Not only are Oakland Events a great way to experience the culture of the city, but can make for a great Pokémon adventure. Some events will be dropping lures to attract Pokémon to the festival!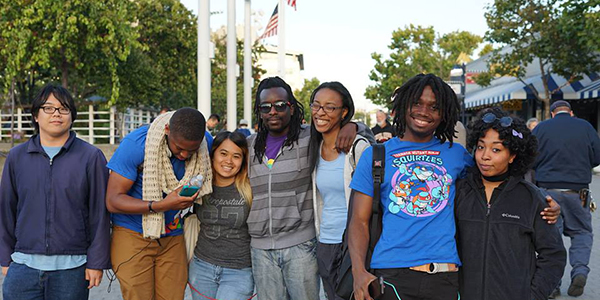 Art + Soul - August 20, 2016 - August 21, 2016
If you want to pair up your Pokémon adventure with a street festival, come out to The 16th Annual Art + Soul Oakland! Come out for music, dance, food, and street vendors. Oaktown Throwdown BBQ Competition, Turf & All-Styles Dance Battle, Kinetic Arts Circus Stage, Beer + Wine + Great Eats, Family Fun Zone and more!
For a 10-15% off accommodations, use our Oakland Marriott City Center Hotel Deal for a Pokémon travel option.
Chinatown Street Fest – August 27, 2016 - August 28, 2016
The Oakland Chinatown StreetFest celebrates the history and traditions of China and allows the local Chinese community to share their culture with the public. Held over the course of two days, the event features authentic cuisine, arts and crafts, traditional music and dance and more than 200 vendor booths. 
Stay Thurs-Sat receive 50% off Sunday (Promo code: EXTWEEKEND) Executive Inn & Suite Summer Promotion.
Eat Real Festival - September 23, 2016 - September 25, 2016
Stuff your face with good food with a focus on artisan food craft, street food, craft beers, local wines and delicious cocktails—all featuring sustainable local ingredients. All while being in the prime location for Pokémon hunting in Oakland. 
For a 10% off accommodations, use our Waterfront Hotel Summer Deal.
Valor, Mystic or Instinct, just remember to keep alert and stay aware of your surroundings throughout your Pokémon journey!
Interested in Summer Things To Do in Oakland? See our Summer Is Cool in Oakland page!
Photos by JonazDC