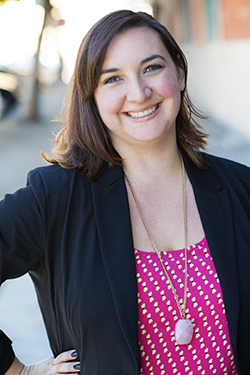 WASHINGTON, DC (July 20, 2015) Natalie Alvanez, Vice President of Marketing & Business Development at Visit Oakland has earned the Certified Destination Management Executive (CDME) designation, the only integrated executive program specifically designed for the Destination Marketing industry. The focus of the program is on vision, leadership, productivity and the implementation of business strategies. Alvanez has led the Visit Oakland marketing team over two and a half years, recently celebrating her promotion to her current VP role. She has garnered seven years of experience in the travel and tourism industry, focusing on marketing and public relations. Her interest in strategy development in tourism is reflected in her final CDME submission paper, Funding the DMO of the Future: Tourism Improvement Districts, in which Alvanez defended the Tourism Business Improvement Districts funding model as the appropriate model for funding all Destination Marketing Organizations. I am excited to apply my newfound knowledge and experience to improve Visit Oaklands future strategic and marketing endeavors, says Alvanez. The CDME program has instilled in me new destination marketing perspectives that will help me promote the City of Oakland on a whole new level. The CDME program is designed to better prepare senior destination marketing organization (DMO) executives and managers for increasing change and competition and to become more effective organizational and community leaders. Over the course of 22 years, more than 400 students have participated in the CDME program and this year the number of graduates will reach over 320. Our mission at DMAI is to advocate for the professionalism, effectiveness, and significance of destination marketing organizations worldwide, said Michael Gehrisch, President & CEO of DMAI. We realize the importance of destination marketing and are committed to improving the effectiveness of these organizations. These individuals who have achieved the CDME designation have set an example of excellence for the entire destination marketing profession.
# # #
About Destination Association Marketing International (DMAI)
Destination Marketing Association International (DMAI) protects and advances the success ofdestination marketingworldwide. DMAI's influential membership includesnearly 600 destination marketing organizations (DMOs), from 16 countries,which command US $2.5+ billion in annual budgets. As the world's largest and most reliable resource for DMOs, DMAI provides nearly 4,000 individual members - professionals, industry partners, educators and students -the most innovative and relevant educational resources, networking opportunities and marketing intelligence worldwide.
destinationmarketing.org
About Visit Oakland
Visit Oakland is a non-profit organization marketing Oakland, California as a travel destination. Visit Oakland offers a wide variety of complimentary services and materials for travelers interested in visiting Oakland. For more information, see our website at
visitoakland.org
.
Visit Oakland Media Contact
Frances Wong PR & Community Relations Manager, Visit Oakland
frances@visitoakland.org
(510) 208-0561