Visit Oakland Welcomes Jean Paul Zapata as Director of Public Relations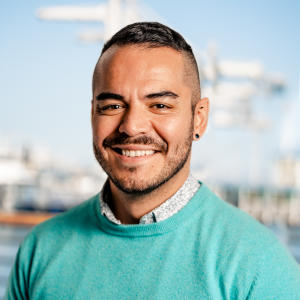 Jean Paul Zapata joins Visit Oakland with over 12 years' experience in English and Spanish-speaking roles across travel, politics, and fashion
(Oakland, CA) – Visit Oakland, the official destination marketing organization for Oakland, California, today welcomed Jean Paul Zapata as the new Director of Public Relations. Jean Paul brings his expertise in media relations, crisis communications, social media strategy and event management to manage Visit Oakland's Public Relations department.
"Oakland's diversity has always been an inspiration to me," said Jean Paul. "California is in my blood, so it's a privilege to work with such a vibrant team to highlight the beautiful stories that keep people coming back to visit Oakland".  
A Los Angeles native, Jean Paul joins Visit Oakland from Visit Greater Palm Springs where he served as Media Relations Manager, overseeing media relations strategies for international markets (UK, Mexico) and specialized markets (Spanish-language, LGBTQ+).
Before joining Greater Palm Springs, Jean Paul was Communications Director for Santa Monica-based PR agency Klick Communications, where his clients included Jose Cuervo's hospitality branch Mundo Cuervo, Redondo Beach Tourism Board, Kona Brewing Company, Shangri La Hotel Santa Monica and Shore Hotel Santa Monica.
Jean Paul spent six years prior living abroad in London, where he served as Travel Editor for Gay Star News and PR Account Manager at Black Diamond. At Black Diamond, Jean Paul cut his teeth representing various California destinations including Sonoma County, Santa Cruz County, and Visit West Hollywood – in addition to South African Airways and Viceroy Hotels.
Prior to moving to London, Jean Paul spent a short time in Queens, New York, where he was a freelance writer for local publications and did PR for fashion brands.
Jean Paul obtained a BA in Journalism and Public Relations from Cal State Northridge, and an MA in International Politics from City University, London. He's helped journalists and clients achieve various awards including 'Best US Travel Destination Article' at the 2016 IPW Travel Writer Awards USA and two PRSA awards for hotel sustainability initiatives.