Back
Where To Watch The Warriors Game In Oakland, CA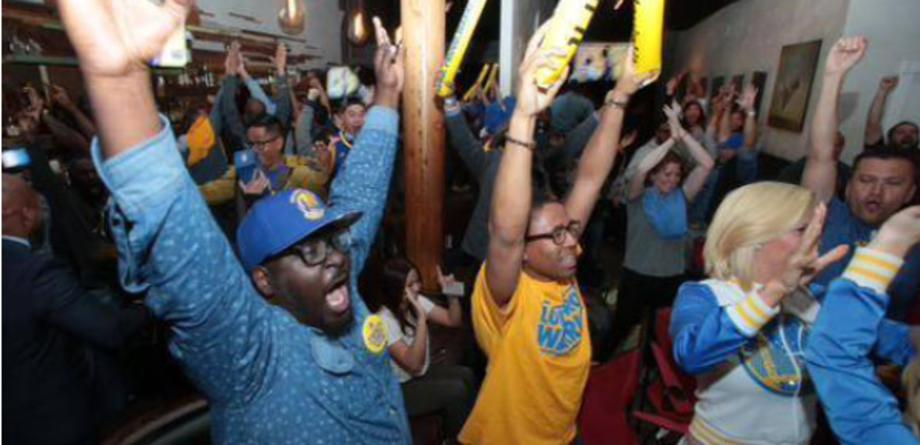 The Dubs are in the midst of a historic run that has them poised to go down as one of the best teams in NBA history. Make sure you can tell your grandkids you experienced the incredible atmosphere right here in Oakland!
Official Warriors Watch Parties
The passion and energy that has become synonymous with Warriors Ground is felt at these official Warriors Watch Parties. Era Art Bar & Lounge 19 Grand Ave. Era is always poppin on game day, but they also will have a special Warriors Game Day drink menu. Not only will you lose your voice cheering on a Curry step back triple, Era is willing to pay for (part of) your bar tab if the Warriors win! #WarriorsEra Any NBA finals game = Era pays 50% of your bar tab The NBA finals closeout game = Era pays 100% of your bar tab Tribune Tavern 401 13th St. If Curry crossin young bloods on the court on a giant screen isn't enough for you, Tribune Tavern also gives away Warrior Swag (t-shirts, posters, pins, Warriors signs, etc) at every away game! The Warriors Cheerleaders, Dance Team, and Dub Truck make appearances at the Tavern as well! OVO Tavern & Eatery 5319 M.L.K. Jr Way If you believe that eating Chicken Curry during your lunch every day or know that David Lee has a pretty impressive acting resume, you might be just like the mega fans that gather at OVO!
Bars
New Parkway Theater 474 24th St. If you enjoy your Warrior games with a beer in hand on a comfy couch, New Parkway is just that! A giant living room with a TV to match!Yes were counting this as a bar; get your $10.00tickets here. plank 98 Broadway Searching for a giant screen so you can witness Draymond flexin after everything he does? This is your spot! Featuring larger-than-life projection screens, plank provides up close and personal footage of the game! Halftime Sports Bar 316 14th St. If Dubnation runs through your veins, check out this classic bar in The Town! 3000 Broadway 3000 Broadway Grab some food before the game before Chef Curry starts cookin. Feel free to book a table in advance or take your chances on a walk in either way, the game will be on. Diamonds Sports Bar & Grill 77 Hegenberger Rd. Located inside the Holiday Inn Oakland Airport this is a great spot if you've just flown into Oakland and are looking for a nearby spot to catch the game. Cant miss out on the Splash Brothers show! The Grand Oaks Sports Bar 736 Washington St. This popular sports bar in Old Oakland is just down the street from our office. I would say to watch out for us going crazy watching Steph hit these ridiculous fadeaway shots, but isn't that everyone? The Dock on Linden Street 95 Linden St. Beer Shed on The Dock will be offering food and drink specials during the games, and something they call the "Game-winning shot." That is, after every Warrior's win, a shot of bourbon or rye whiskey is $3. #winning
Restaurants
alaMar 100 Grand Ave. alaMar Kitchen & Bar will be showing all Warriors playoff games. Their Golden Boys chalk art is reason enough to check out! Adesso 4395 Piedmont Ave. Adesso this postseason has been packed. Special menus for each game include both antipasti and sandwich specials, a St George Warrior's cocktail special, and $5 East Bay draft beers. Expect the volume to be on high to attempt to replicate Roaracle! Z-Cafand Bar 2735 Broadway Z-Caf will offer happy hour prices all night and after Warriors games. There's nothing better than a sweet deal plus catching a sight of the Black Falcon soaring into the paint with a dunk. Overland Bar and Grill 101 Broadway Overland offers a full bar, full kitchen, 9 HDTVs plus a very large Projection screen. Stick around after the Warrior game for line dancing and lessons. You might even catch Josh Reddick from the As hangin out there too! Kingston 11 2270 Telegraph Ave. Get over to Kingston 11 to chill, eat and watch the game. Warriors Game specials include $3 Red Stripes, $3 Fresh Cut Fries, and $9 Jerk Chicken Salad! #Dubnation is best celebrated on a full stomach!