Oakland's Mediterranean climate and an average of 285 days of sunshine per year make it an ideal place for meeting outdoors, which may be the way of the future for many of the city's venues, including alternative meeting spaces and neighborhoods.
Here are a few creative ways to gather when visiting and meeting in The Town. 
Neighborhood Spaces
One of Oakland's most popular neighborhoods, Jack London Square, is favored for a reason. It has breathtaking waterfront hotels, wide-open spaces, and a selection of restaurants with outdoor spaces such as Plank, Forge, and Farmhouse Kitchen. 
Jack London Square's Ferry Lawn offers both a spacious area and scenic view of the waterfront. Corporate expos and tradeshows have taken place in this spot, including the option for covered tents and booths, if desired. This space can also be used for networking or social events, as it has previously been home to open-air markets, live music, and movies-on-the-lawn.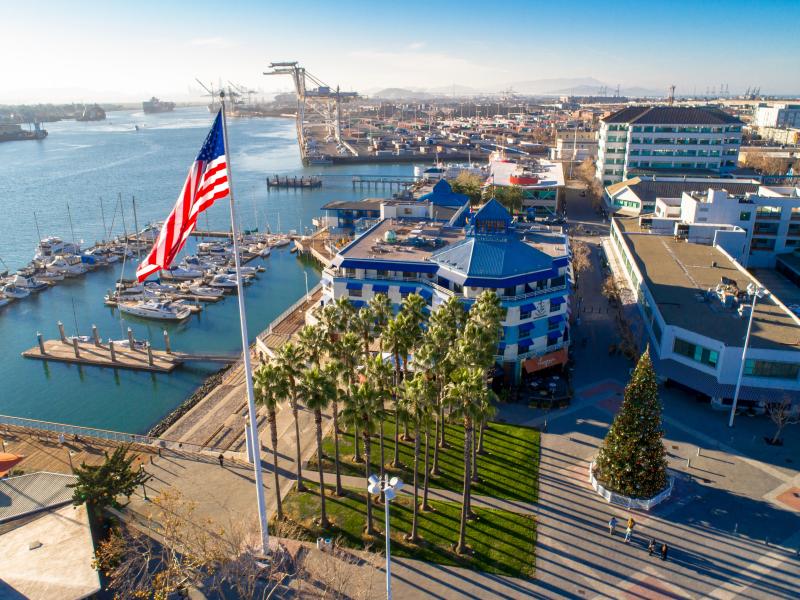 Just two blocks from the center of downtown Oakland is a little oasis otherwise known as Preservation Park, a historic, Victorian neighborhood dating back to the 1870s.
Today, 16 turn-of-the-century buildings now serve as office and rental spaces, surrounded by lush outdoor space and enclosed by a private fence. Event setups include tables and chairs surrounding the area's Pavilion & Fountain Circle at the center of Preservation Park with gorgeous backdrops of both the city and Victorian charm.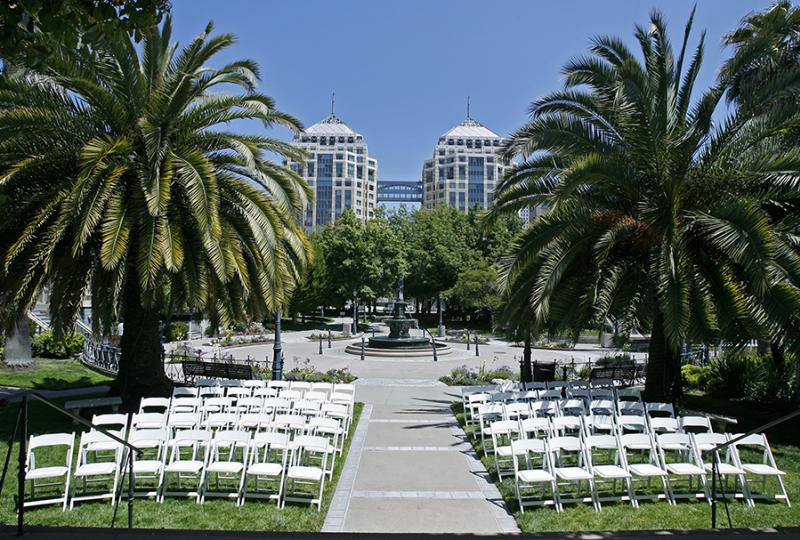 Restaurants & Bars
Oakland's restaurants and bars offer creative alternative meeting spaces to gather.
Mad Oak
The coveted outdoor space at Mad Oak is a great option to spread out safely. It has two outdoor levels, a nice, long bar, and ambiance to set the right mood. Nestled in Downtown Oakland, it's walking distance to the Oakland Museum, Lake Merritt, and Lake Merritt BART.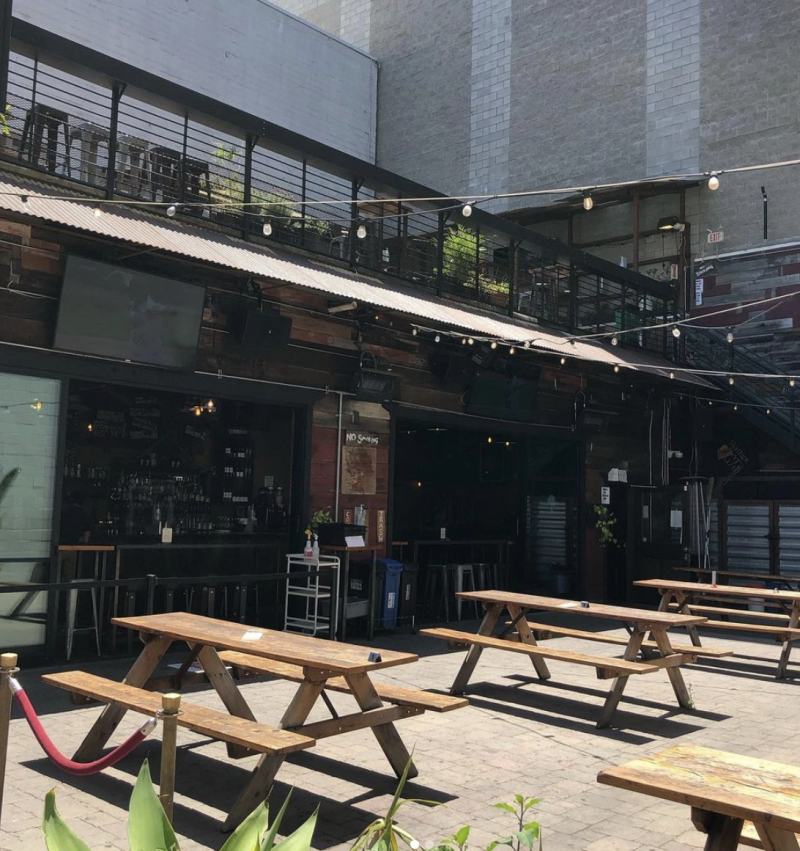 PC: Mad Oak
7th West Oakland
In West Oakland, 7th West Oakland's back patio offers small "pod" tables for smaller groups to enjoy. The venue is decorated with amazing murals from local artists, pretty string lights, as well as an inflatable projection screen for a fun, eclectic vibe.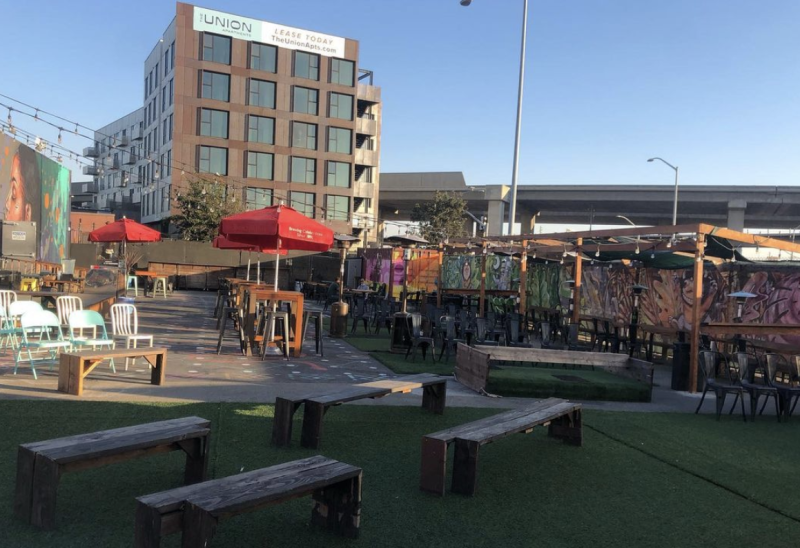 PC: 7th West Oakland
Lake Chalet
One of Oakland's most picturesque locations, Lake Chalet is nestled along Lake Merritt, with a dock that extends into the lake. The venue is a fantastic gathering place for groups, including private rooms and buyouts of outdoor locations such as the Fire Pit Lounge and the Dock Wing.
Though Lake Chalet is just a few minutes from downtown by car, you'll feel as if you're meeting alongside the Mediterranean coast of Italy at this classic Oakland favorite.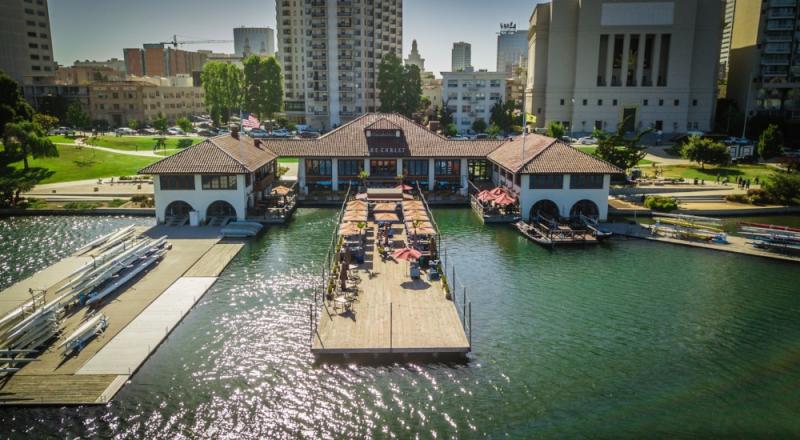 Oeste Bar & Kitchen Rooftop
Near Old Oakland, Oeste Bar & Kitchen is not only a must-visit stop for its delicious menu fusing Latin American and Southern flavors. It's the restaurant's 90-seat rooftop deck that makes this Oakland eatery a favorite for group gatherings. Co-owned by three East Bay natives, the versatile bar and restaurant is just a few blocks away from the heart of downtown Oakland, as well as the Oakland Convention Center.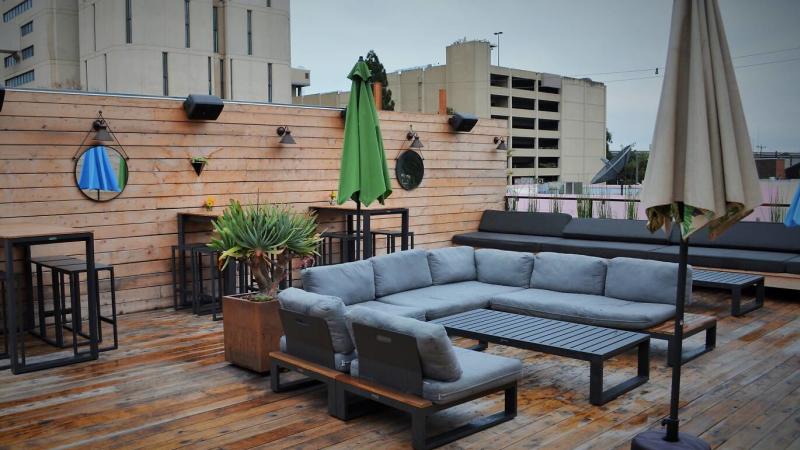 PC: Timeout Magazine
We look forward to welcoming you back to Oakland safely!