Infamous for their long hours and long poured cocktails, dive bars are a great way to immerse yourself in Oakland's diverse night-life culture. Though peculiar in appearance these hometown treasures offer a warm friendly atmosphere and, of course, well priced well drinks. 
Here are a handful of Oakland's favorite dive bars in alphabetical order:
2101 Club
2101 Mac Arthur Blvd (Dimond District)
Open Everyday 10am-2am
This family owned bar is the epitome of authentic Oakland. The crowd consists of OG Oaklanders who've lived in the Dimond for generations. The atmosphere is friendly and six flat screen TVs make this an ideal spot for game night. Get ready for some good ol' fashioned trash talk!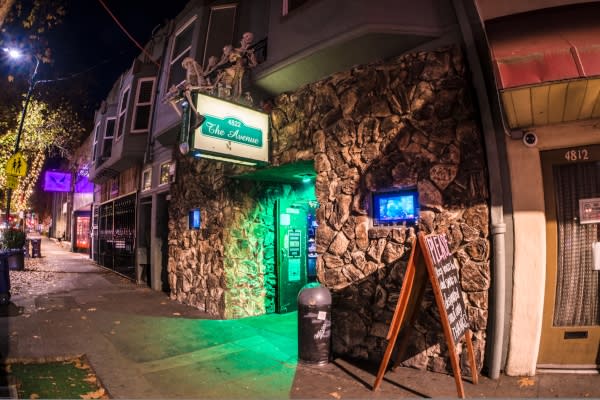 The Avenue
4822 Telegraph Ave (Temescal)
Open Everyday 12pm-2am
Lovingly called "The Ave" by regulars, this bar's wild décor should be entertaining enough for an Oakland bar hop.
Visit Oakland Tip: Enjoy arcade games and a pool table in the back!
George & Walt's
5445 College Ave. (Rockridge)
Open Monday-Thursday 1:30PM-2AM, Friday-Sunday 11AM-2PM
Old sports memorabilia plaster the walls of George & Walt's so it's hard to say if this is a dive bar disguised as a sports bar or the other way around. Either way they have every sports channel and daily drink specials so pull up!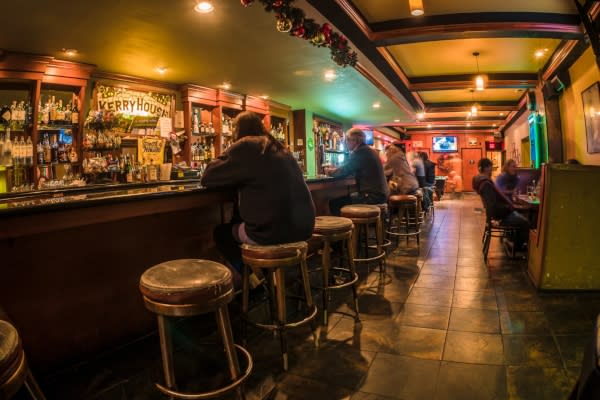 Kerry House
4092 Piedmont Ave. (Piedmont)
Open Everyday 11am-2am
Located just two blocks away from the iconic Fentons Creamery, regulars love their larger than normal selection of craft brews on tap (10-12, respectively).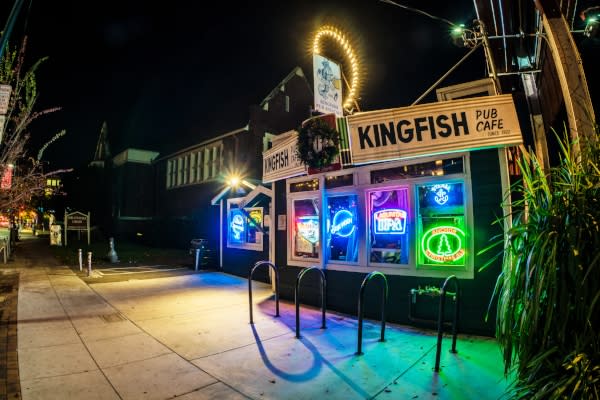 The Kingfish Pub & Café
5227 Telegraph Ave. (Temescal)
In 2016 Thrillist named this place one of the top dive bars in the nation. Kingfish opened its doors in 1922 and their drink prices haven't gone up much since. If you need more convincing, the indoor/outdoor area in the back has hella tv's and a second bar.
McNally's Irish Pub
5352 College Ave (Rockridge)
Open Wed-Sun 12pm-2am, Mon-Tue 2pm-12am

McNally's Irish Pub, the first bar in Oakland to open its doors after prohibition ended in 1933 was founded by Bill McNally the day Prohibition ended. Most all of the decor and facilities have remained almost the same: no food and small bathrooms. This is one of the last true "Locals" left in Oakland. Stop in for a pint, warm yourself by the fire, catch the game, share a story and if you play your cards right you might just become part of the McNally's family.​
Merchant's Saloon
401 2nd St. (Jack London Square)
Open Mon-Fri 7am-2am, Sat-Sun 12pm-2am
Oakland's classic saloon, open since 1916, makes one of the best Bloody Marys in The Town! Merchant's is often visited by bikers, but don't be intimidated by the leather. Chat it up with the regulars for some memorable stories.
Radio
435 13th St. (Downtown)
Open Everyday 4pm-2am
Radio is a cozy spot downtown that's easily accessible from the 12th St. BART Station. Known for their roaring music and "metal Sundays," this spot is best for anyone looking to zone out and escape into the music.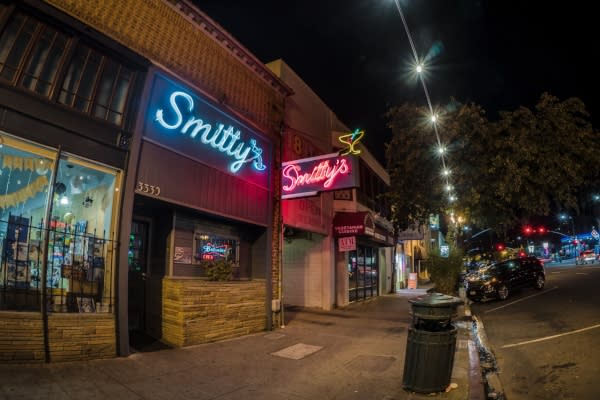 Smitty's Cocktails
3339 Grand Ave. (Grand Lake)
Open Everyday 10am-2am
Location, Location, Location! Smitty's is just a short walk from Lake Merritt, popular eateries, and the historical Grand Lake Theater.
Visit Oakland Tip: Stop by Miss Saigon's Vietnamese restaurant next door, open until 12am. It's a match made in dive bar heaven.