Back
Trend Spotting: Beer Halls & Sausage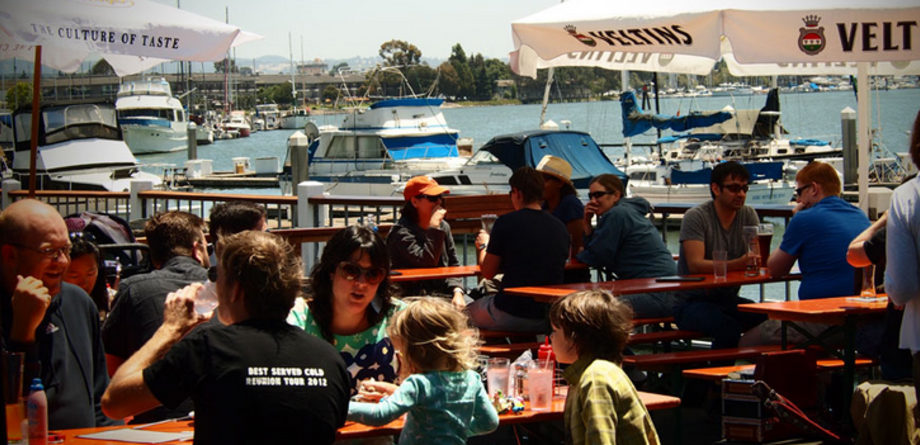 It seems like every year a new food trend sweeps through the BayArea, whether its wine on tap, thin-crust pizza (a trend thats still very much alive, by the way), small plates wine bars, etc. But rarely has a culinary fad been as pervasive and location specific as this one: beer halls withan emphasis on sausages in Oakland.
Really, its kind of odd it hasn't happened earlier, since its a trend that fits the city to a tee. Oaklands great weather (at least in relation to the rest of the country and certainly San Francisco) lends itself well to outdoor dining concepts like beer gardens. Also, Oakland has always embraced a more casual, working class style of eating (again, at least in comparison to San Francisco and wine country), a category under which beer and sausages in a communal dining setting certainly falls.
But if it might have been an untapped market before, rest assured that market is now being filled with a vengeance. In the last year or two, no fewer than a half-dozen beer hall/sausage-centric establishments have opened or are in the works in Oakland city proper. Options range. Theres casual, such as the gritty-with-a-heart Telegraph Beer Garden in the hopping KONO entertainment district. Theres also more upscale spots, such as Hogs Apothecary from Pizzaiolo trained chef John Streit and Bradford Earle, where the sausages run up to $14 and there is a registered cicerone (think beer sommelier) in charge of the 30-something craft brews on tap.
On the casual side, Brotzeit Lokal offers an impressive selection of German beers, housemade sausages, and fantastic waterfront views with its location just off Embarcadero overlooking the Oakland Marina and Estuary. And Old Kan serves beer but also artisan cocktails and a more upscale menu being developed by Michelin-starred chef and Oakland native James Syhabout. (Another nice Oakland angle: all of these new places feature primarily craft, or imported specialty European beers, and nearly all make their food in-house).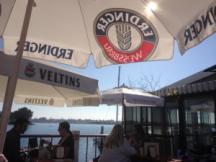 Certainly its nice to have a range of options in a city as diverse as Oakland. Its also nice to have options that are affordable and which offer a communal place to meet friends, or, heck, even meet new ones who might be sitting right next to you at a communal table. And ultimately, I think its a trend that reflects well on the city as a whole. Sure, Oakland has its problems, but the fact that a half-dozen restaurateurs decided, independently of one another, that it was a good idea to open a place where the modus operandi is to be open and accessible to all comers Well in my book, thats a positive development.
I cant wait to try them all.
THE LIST
Location: Embarcadero (note: its a funny spot to get to, but totally worth it with great waterfront views over the estuary and over to Alameda)
Specialty: Hard to find German and Belgian beers, plus a few classic American crafts. Food is centered around housemade sausages, plus beer-friendly snacks (pretzels, yum) and some German specialties like spaetzle, schnitzel, and wurst.
1000 Embarcadero, Oakland, (510) 645-1905, brotzeitbiergarten.com
Location: Temescal (although apparently this hopping little southern part of the hood has been named the Jewel Box Area, at least on their website)
Specialty: Once again, the centerpiece of the food menu is housemade sausages, plus some larger meat plates, housemade charcuterie, and a decent amount of salads and veggie options. Impressive beer menu features all California craft breweries.
375 40th St., Oakland, (510) 338-3847, hogsapothecary.com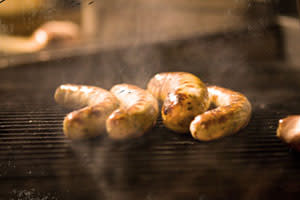 Location: Old Oakland in the Swan marketplace
Specialty: More than a dozen craft beers on tap, many local, and, almost exclusively for the food, sausages.
911 Washington St., Oakland, (510) 338-3108, rosamundesausagegrill.com/downtown-oakland
Location: KONO
Specialty: This used to be an exclusively sausage operation, but the menus changed recently to specialize in sandwiches, and more specifically, burgers. That includes some doozies like the 50/50 made with 50 percent bacon (yikes!) and another option with a slab of cheddar mac & cheese on top. There are 12 beers on tap, mostly of the craft variety, plus a bunch in bottle.
2318 Telegraph Ave., Oakland, (510) 444-8353, telegraphoakland.com
Location: Uptown (right behind the Paramount Theater)
Specialty: According to executive chef Dennis Yadroff is calling it gourmet fast food, with the definition of fast food being anything you can eat with your hands. Thatll include three rotating sandwiches and some creative small plates, such as crispy pigs ears and homemade Cheetos made out of an Instant ramenbased batter. Beers will be mostly craft and mostly from California.
2040 Telegraph Ave., Oakland, (510) 763-2040, lostandfound510.com
Learn more about Ethan.