Coming to Oakland soon and wondering what to do? Laser shows, fairylands, urban lakes, we've got you covered in Oakland. Here are our picks for the top 10 attractions in Oakland!
Arts + History + Natural Sciences = 1 kick-ass museum. The OMCA is deeply rooted in the Oakland community offering a number of educational and outreach programs. On top of that, they throw a helluva party every Friday with drinks, food, dancing and half off entrance fees.
Tip: Check out the notorious Black Panther leader Huey P. Newtons wicker chair in their gallery, originally proposed for the Alameda Courthouse. You can sit in it, too; contemplate the movement and its complicated founder.
Going strong since 1931, the art deco landmark is an entertainment and cultural hub in The Town. Top music and comedy acts flock to the Paramount, the theater is also home to the Oakland Symphony and Ballet.
Tip: Have a retro evening at the Classic movie series, featuring 35mm film prints, a newsreel, cartoon, previews, and fabulous prizes in the Paramount's own game of chance "Dec-O-Win". A live Mighty Wurlitzer organ serenade begins at 7:30 PM.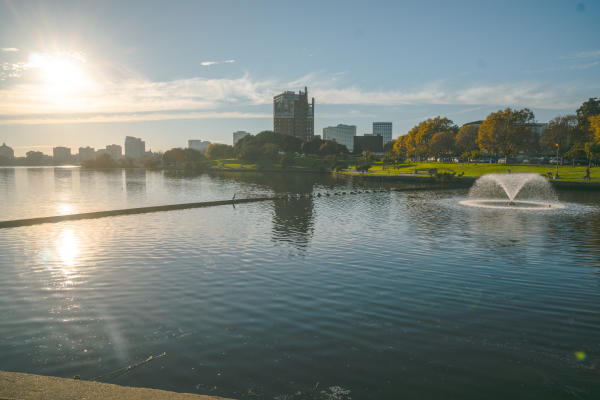 Lake Merritt is known as the jewel of Oakland. Want to feel the vibe of Oakland? Hit up the Grand Lake Farmers market and hang by the lake on a Sunday afternoon. You'll see a real mix of Oaklanders, from joggers, bikers, picnickers, paddle boaters and the brunch crowd soaking up the sun.
Tip: Gondola Servicio offers romantic rides on Lake Merritt aboard authentic gondolas from Venice, complete with Italian serenade. So, skip the cheesy Vegas stuff!
If Lake Merritt is the jewel then the Rose Garden is the hidden gem. Thousands of exotic roses are in bloom from May-October providing truly beautiful photo opportunities or an unbelievable backdrop for your wedding.
Tip: Late April and early May are the best times to visit as the sun is out and the roses are in full bloom.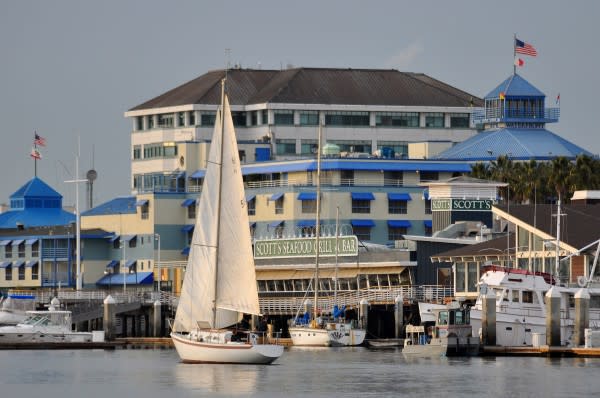 Named for the American author who grew up in Oakland this waterfront neighborhood is now home to some of Oaktown's hottest bars and restaurants, as well as an active marina. From kayaking to bowling, food tours to outdoor dining, it's the place to settle in any day of the week. There is also an impressive line-up of events to check out from Eat Real, Jacks Night Market, Sunday Farmers Markets, Dancing Under the Stars and more. Oh, and a few more of our favorite attractions are located here, our Visitor Center (not that we're biased), and the "Floating White House", the USS Potomac.
Tip: For strong drinks (and a slanted floor) stop into Heinolds First & Last Chance Saloon once a frequent watering hole for Mr. London.
Nestled in the Oakland hills kids and adults alike will enjoy Chabot. This 86,000 square foot center offers interactive space and science exhibitions, immersive digital dome planetarium shows, and giant screen MegaDome shows. Chabot is also home to largest research-quality telescopes open to the public west of the Mississippi. From interactive designs to Pink Floyd laser shows to guided stargazing hikes everyone will be entertained.
Tip: Experience Chabot LaserMania, A Rockin'Music Odyssey. Featuring classics from Led Zeppelin, Pink Floyd and more, let this brilliant display of color and sound take you on a mesmerizing musical journey.

The oldest and largest regional park system in the country is celebrating its 80th birthday this year. A number of the 65 parks are located in The Town so get out and go for a hike, grab your mountain bike or just explore the Redwoods.
Tip: Go to Redwood Regional Park, just a few miles from downtown Oakland you won't believe this magnificent forest is so close to an urban city.
Well, thank the Gov for this one. When Gov. Jerry Brown was Oaklands mayor he envisioned the redevelopment of an area of downtown Oakland as Uptown. The crown jewel of the development was the renovation of the historic Fox Theater. Jerry was right this place rocks and has become THE premier concert venue in the Bay Area.
Tip: Stop next door after the show to Rudy's Can't Fail Cafe, they are open till 1 am and serve rock star level diner grub. Oh, and this spot rocks too it's owned by Green Day bassist Mike Dirnt.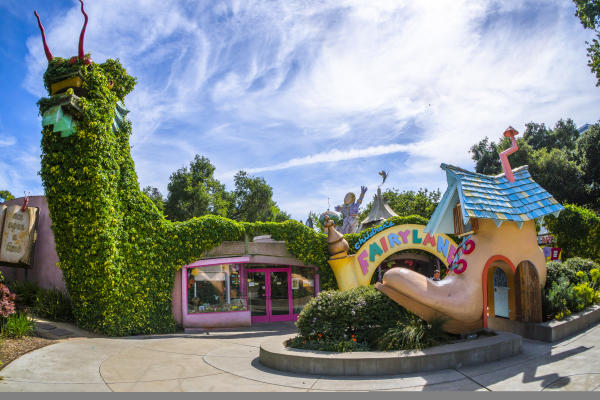 You know you were raised in the bay area if you have a Magic Key from this quaint amusement park located on the waters of Lake Merritt. It's said to be Walt Disney's inspiration for Disneyworld, but that's not why we love this storybook come to life. Whimsical storybook sets, gentle rides, friendly animals and inspired live entertainment is what keeps us coming back for more. Don't miss the Open Storybook Puppet Theater, the oldest continually operating puppet theater in the United States.
Tip: For safety reasons, Fairyland admits adults only when they're accompanied by children, and children only when they're accompanied by adults. So bring the kids and enjoy the nursery rhymes of your childhood come to life!
Nestled into the Oakland Hills you'll find African Lions, tigers, and elephants. This zoo is dedicated to wildlife conservation and education. Recent improvements included the Valley Children's Zoo which includes Tortoise, Ring-tailed Lemurs, Otters Malayan Fruit Bats, Alligators, Rabbits, and Pot-bellied Pig exhibits, as well as state of the art Reptile & Amphibian Discovery Room, Bug House and new Goat & Sheep Barn and petting area. Within the 3 acres are also play structures and an amphitheater.
There is always something new going on at the Zoo, holiday lights, Halloween parties, educational workshops, you name it. With over 400 animals spending a day here is something everyone should do.
Tip: Get on the Gondola up to the new California Trail exhibit, you'll experience the Zoo from high above and get views of the Bay area that you can't get anywhere else.