Back
The Inside Scoop: How to Do Oakland Art Murmur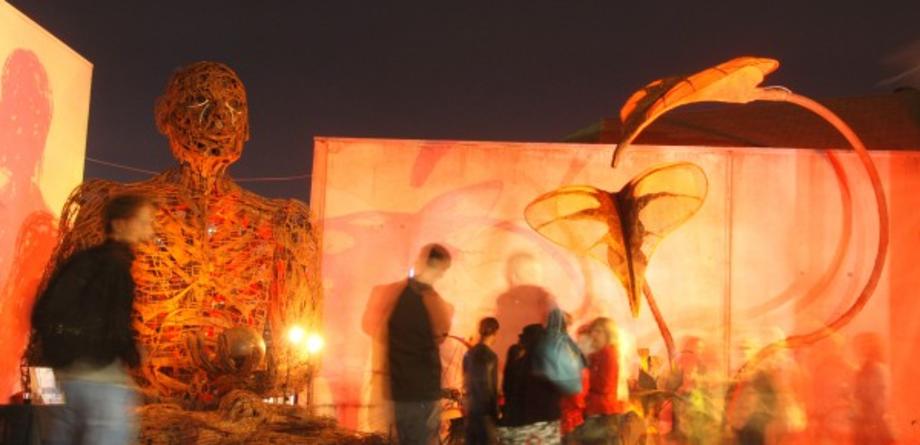 In the beginning, Oakland Art Murmur was a gallery walk. But within a few short years from when it started in 2006, the first-Friday-of-the-month event has grown to a bona fide grand affair. Attendees have stretched into the five figures: Try up to 20,000 attendees.
Getting the terminology right
Oakland Art Murmur -- On the first Friday of the month, more than 30 galleries open their doors, debuting artist shows from 6 9 p.m. It spans the neighborhoods from West Oakland and Jack London Square to Downtown and Uptown.
First Friday -- The music, the food trucks, the DJs that are on Telegraph from West Grand to 27th Street. It's here you will find the most crowds.
Saturday Stroll -- A weekly event when many of the same galleries who participate in Art Murmur open their doors to art admirers. Checking the independent galleries calendars might reveal a literary reading or a special talk. Every Saturday from 1 5 p.m.
Third Saturday -- These walking tours are guided by a curator or an artist, pit stopping at three to five galleries for a more in-depth understanding of the art scene.
Temescal First Friday -- For those who decide the Oakland Art Murmur is too crowded, this is another less-crowded option.
The Great Wall or GWO No, we're not in China -- people are referring to the Great Wall of Oakland, an extremely popular exhibit. Motion art screens on a 100-foot by 100-foot building on West Grand. Home to the annual OakCatVidFest in May.
Floating -- The Float Center and Art Gallery is part gallery, part sensory deprivation experience. Just take a several minute time out in their isolation tanks.
The art scene elder -- Ms. Joyce Gordon of the Joyce Gordon Gallery. She's been in the art scene here for an earth-shattering 11 years! Nope, it's not a lot when you think of other mature art scenes in New York. But it was the beginning of an art community that Gordon helped to ignite.
The Free B -- A lime green bus, the Oakland Broadway Shuttle covers a stretch of Broadway, from the Bay at Jack London to 27th Street Uptown. And it's free. It runs till 1 a.m. on the weekends. And it runs on clean diesel. Because we care. We do.