Every first friday of the month in the heart of Koreantown-Northgate, you'll find Oakland's prominent street festival - a live representation of Oakland's vibrant art scene, culture and community. Ripe with street performers, artist collectives, interactive art pop-ups, vendors, and food trucks there is plenty to see and do for everyone. Every month's fair features a different artistic and cultural theme, so you are constantly seeing a new side of Oakland's creatives. Come explore Oakland's eclectic arts scene, get inspired and get full on delicious local food while you're at it. 
Things To Do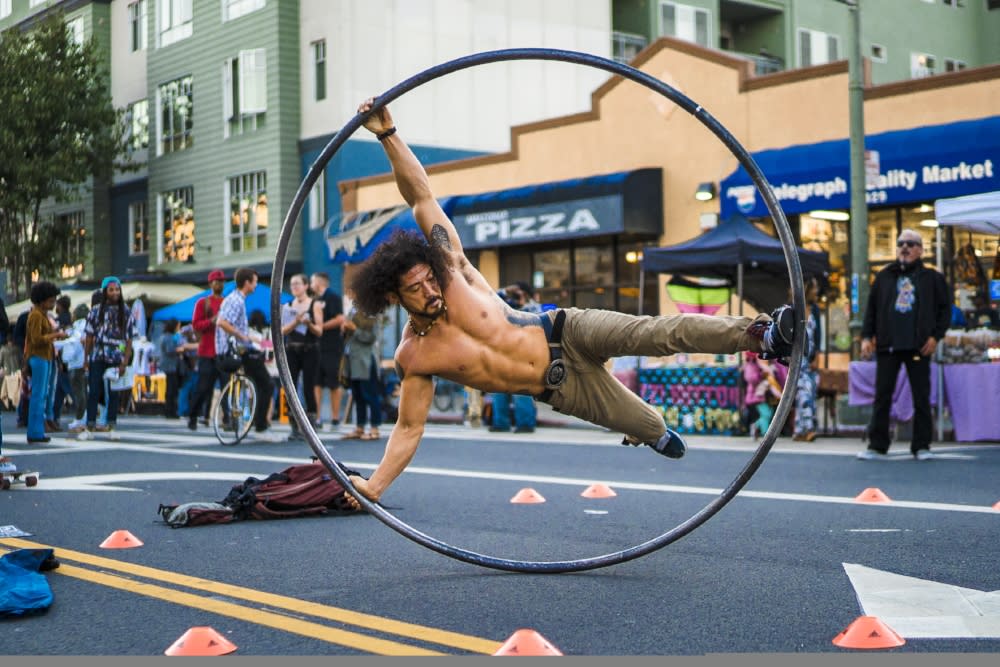 Live Music and Street Performances
Oakland thrives with talented performing artists. At First Fridays, you have the opportunity to see free live performances from up-and-coming musicians, poets, acrobats and dancers. Amongst frequent performers at First Fridays are Turfinc., an Oakland based dance company giving inner city youth a platform to learn the fundamentals of Turf dancing.
Food Trucks
Oakland has been recognized nationwide as a having one of the most cultivated food scenes. It flourishes with a variety of classic cuisines with a twist of unique flavors, embodying Oakland's cosmopolitan spirit. At First Fridays, you can savor food from dozens of these local culinary artisans and experience a variety of different cuisines, with everything from authentic tacos and BBQ plates, to jerk chicken and plantains.
Popular Vendors
Looking for some new art for your room or a special gift for your friend? Check out the many street vendors selling Oakland inspired clothing, unique, handcrafted accessories and art made right here in The Town. Amongst the most popular vendors are Oakland's Own, Old School Copes and Sankofa African Art & Jewelry.
Oakland Ale Trail
Grab your beer-loving friends and hit the Oakland Ale Trail! In close proximity to First Friday are Drake's Dealership, and Woods Beer Co. Visit all of Oakland's brewery taprooms on the passport and receive your very own Ale Trail Growler. Passports are available at all participating breweries as well as Visit Oakland's Visitor Center.
Local Non-profit Organizations
Get involved! Oakland locals emphasize investment in and empowerment of the community. At First Fridays, many local non-profit organizations come together to share their efforts in creating positive change and uplifting their neighbors. Come join the discourse about how we can advocate for social & economic justice right here in Oakland, and inspire others to do the same. Amongst the many organizations present at First Fridays are Hip Hop for Change, Urban Peace Movement, and the Bay Area Mural Program.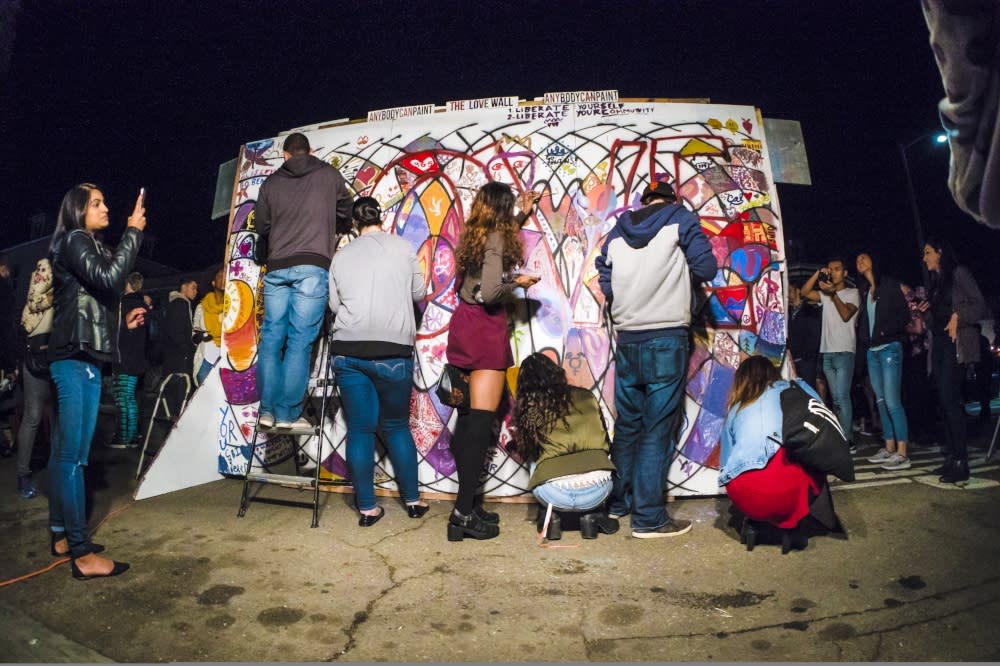 Interactive Art Pop-ups
Feeling creative? Check out one of the interactive art pop-ups like ArtisMobilUS. Launched in 2012, ArtisMobilUS is the first mobile art incubator in the country providing a platform for exhibition, collaboration, arts education and community engagement. Grab a paint brush and design your own piece on the community art mural.
 
How To Get There

Rideshare
If you plan on drinking or staying out late, call a rideshare to pick you up and drop you off near Telegraph and 23rd street.
BART
Skip the traffic and get on BART, the Bay Area's rapid transportation system. Hop off at the 19th street station and walk just a few blocks to 23rd and Telegraph to join the festivities.
Free Broadway Shuttle
Hop on the free Broadway shuttle, which runs from Jack London Square all the way up to Koreatown-Northgate, where all the First Friday activities take place. The Free Broadway Shuttle runs from 7am-10pm Monday through Friday, and arrives every 10-15 minutes. For a B Shuttle route and map of Downtown swing by Visit Oakland's visitor center or go to Bshuttle.com.
 
Before and After The Festival
 
Concert Venues
Complex
Fox Theater
New Parish
Bars
Cafe Van Kleef
Drexl
Dogwood
The Legionnaire Saloon
Make Westing
Somar
Restaurants
Blind Tiger
Kingston 11
Mua
Rudy's Can't Fail Cafe
For more information on Oakland First Fridays or inquiries about becoming a vendor go to oaklandfirstfridays.org.