There's no question that the San Francisco Bay Area is booming, and that's especially true in Oakland, where creativity and cultural diversity thrive to create a destination like no other. With more and more visitors discovering all the "Bright Side of the Bay" has to offer, Oakland is experiencing a huge uptick in hotel development, particularly in the city's inclusive, progressive Downtown and Uptown neighborhoods.
With so many new hotels coming to Oakland, it will be a breeze for meeting planners to take their meetings someplace different, where guests can soak up the local culture, diverse culinary scene and seemingly endless entertainment options – many of which can be found just a few steps from their hotel lobby! Here are some of the brand-new hotel properties either recently opened or coming soon to Oakland: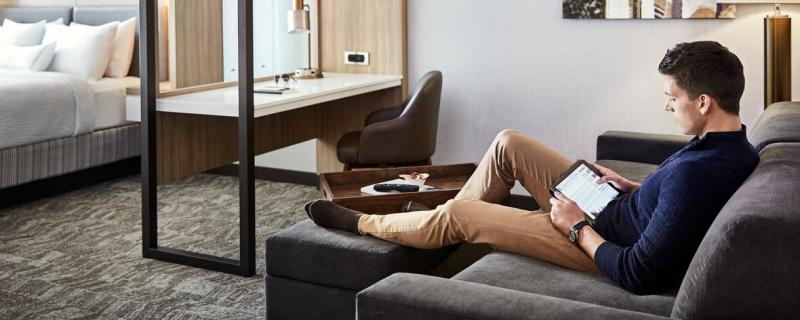 PC: Marriott Hotels
Located less than 1.5 miles from the convenient Oakland International Airport, the recently opened Springhill Suites is more than just somewhere to crash before/after a long flight. Nestled between the iconic San Francisco Bay and Oakland's San Leandro Creek, the new, sleek, contemporary yet welcoming, the hotel gives visitors access to a number of expansive parks, lush golf courses, walking trails, and beaches, as well as shopping, dining and entertainment options. With 134 sleeping rooms and amenities like free parking, an airport shuttle, free wifi, a business center, complimentary breakfast and more, the new, welcoming Springhill Suites in Oakland's Airport District is truly a meeting planner's dream.
Bonus: No need to leave your furry friends at home – this hotel is pet-friendly and offers spacious suites larger than a typical hotel room, so there's plenty of space for you and your pet to enjoy your time in beautiful, bold Oakland.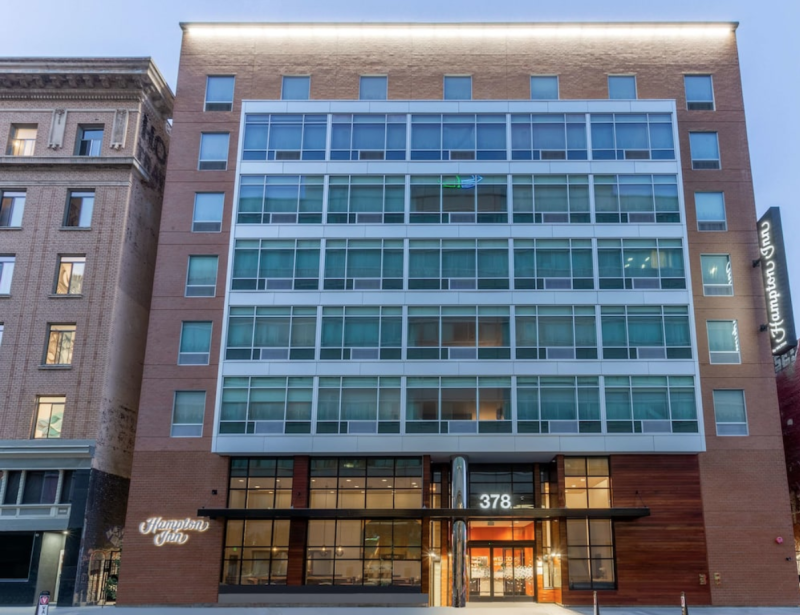 A stay at the new Hampton Inn by Hilton in Downtown Oakland means a stay in the heart of it all. Just two blocks from the Oakland Convention Center and City Center, the hotel provides unparalleled access to Oakland hotspots like Chinatown, Lake Merritt and the bustling Jack London Square – plus, close proximity to the 12th Street BART station ensures visitors easy access to the hustle and bustle of downtown San Francisco, just a short train ride away. The brand-new Hampton Inn, which began welcoming guests in September 2019, boasts 121 sleeping rooms as well as extensive meeting space to accommodate your needs, as well as welcoming amenities like free wifi, a business center, a fitness center, complimentary breakfast – including a made-to-order smoothie bar – and mobility accessible rooms.
Marriott: Residence Inn and AC Hotel (Downtown Oakland)
Slated to open its doors in late 2021, this new hotel will bring two beloved Marriott brands to downtown Oakland – Residence Inn and the AC Hotel. The property will consist of a whopping 18-stories of prime hotel space and will offer 286 sleeping rooms available for booking across both brands. The lower levels of the hotel will be in the classic Residence Inn-style, intended for longer stays with a mix of studios and one-bedroom apartments, while the upper levels will take on the decidedly trendy AC Hotel vibe, geared at millennial travelers and shorter stays with a higher level of premier finishes and amenities. Whichever brand is more your style, you and your meeting guests will enjoy the hotel's unbeatable location in progressive and welcoming downtown Oakland's Uptown District, which is brimming with a bustling nightlife, excellent culinary options, and an authentically Oakland arts and entertainment scene.
Also in the works to open soon are the Town Hotel and the Moxy Hotel, both of which will be located in Oakland's lively Uptown neighborhood. With this flurry of hotel development, Oakland will be home to no less than six new hotel properties by 2021 – bringing around 1,000 additional hotel rooms to the city.
Destination Developments
In addition to the many new hotel developments coming to Oakland, the city is also on-track to complete some large destination developments that will take the city's plethora of activities to new heights. This includes phase one of Brooklyn Basin, a new district along Oakland's waterfront with parks, dining, retail and residential space. Phase one will bring diverse dining options, bustling retail shops, a ten-acre park and 465 units of housing to the premier waterfront location – with more to come in Phase 2. In 2020, Oakland will also welcome Pacific Pike Climbing, the San Francisco Bay's newest rock climbing gym that will revitalize a large industrial space that got its start as Pacific Pipe Company. Additionally, the historic, 105-year-old Henry J. Kaiser Convention Center, located on the banks of Lake Merritt, will be reopening its doors in late 2020 and feature a theater, office space, retail, restaurants and a terrace overlooking the lake.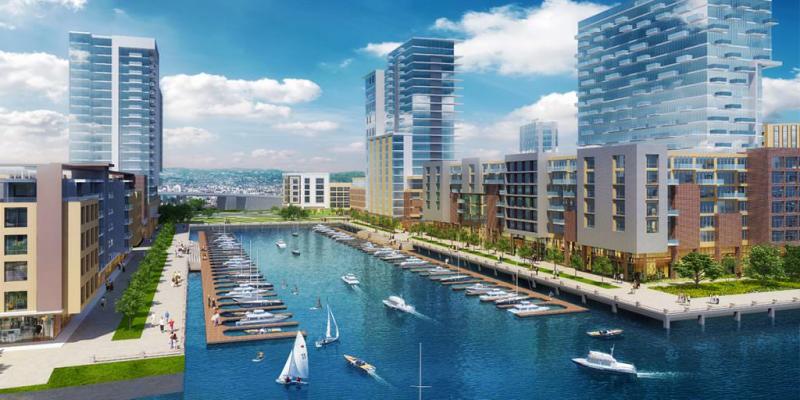 PC: Brooklyn Basin
With so many new hotel developments coming to the diverse, authentic city of Oakland, the city provides the perfect opportunity to take your meeting someplace different. Through our diverse culture, people and thinking, we will inspire you, challenge you and change the way you see things.
Get in touch with the team at Visit Oakland today to learn how we can help your meeting in the San Francisco Bay go off without a hitch.