Special Update: Quarantine Mother's Day
Yes, we're still practicing social distancing in May, but that doesn't mean the strong women in your life can't feel special on Mother's Day! Here's a special update on how to show mom she's special the Town way.
Give the Gift of Relaxation
The Claremont Hotel & Spa is currently closed but why not treat your mom (and yourself) to a spa package? Check out the options below!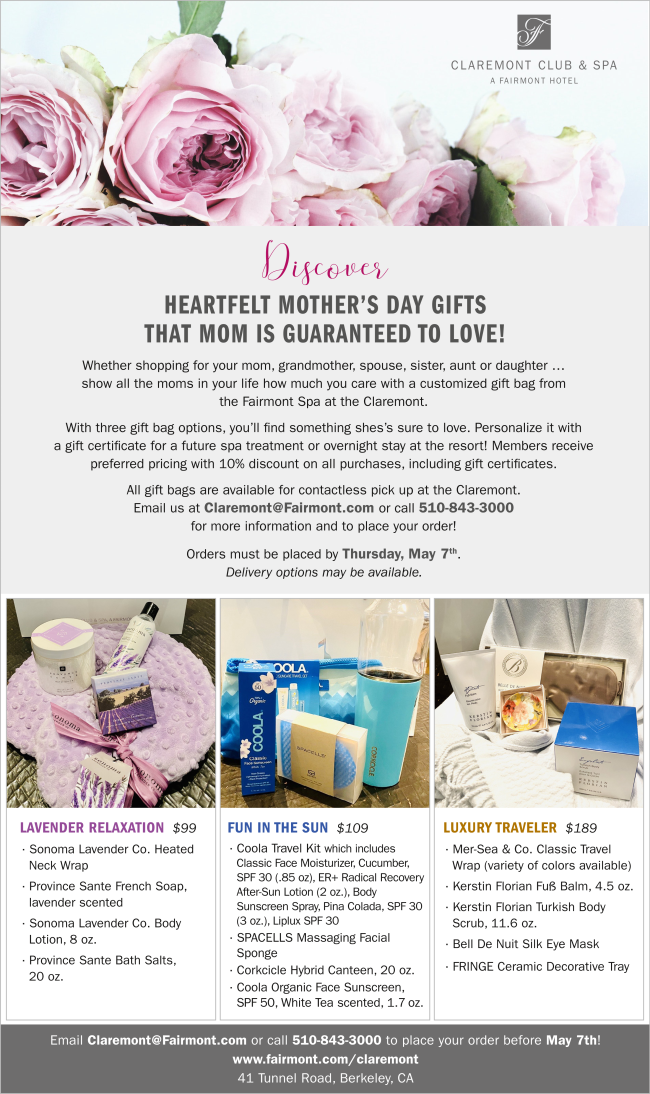 PC: Claremont Club & Spa
Shop Local Online
Oakland Supply Co
Give the gift of Oakland-made goods by shopping online at Oakland Supply Co. From jewelry, candles, cards, soaps, and other well-crafted pieces, Mom will definitely feel special. 
Shops on Lakeshore
Check out the following shops on Lakeshore Avenue that are offering goods and gift cards online, curbside pickup, and delivery: Urban Indigo, Bay-Made, Maribel, and Lakeshore Beauty!
Of course, treating her to yummy food, drinks, and sweets is not a bad idea either: Bardo Lounge & Supper Club, Shakewell, Proposition Chicken, Rico Rico Taco, Holy Land, Arizmendi, Lin Jia Kitchen, and Colonial Donuts! 
McBride Sisters Wine Package
Gift the McBride Sisters Black Girl Magic Riesling and Red Blend. Text 510-205-8540 to grab this little package for $50.

PC: Oakland Supply Co. 
Want more gift ideas, shop these other local Oakland small businesses!
Dine At Home
Honor the tradition of spoiling Mom with to-go dinner! Lake Chalet Seafood Bar & Grill is offering 3-course dinner options that are sure to delight your taste buds. Additional a la carte menu items and featured celebration beverages are also available. 
What you need to know:
Delivery cannot be pre-ordered; it will only be available on Mother's Day:
Phone order hours are taken daily, from 12pm - 7pm. You can order via UberEats, Postmates, Grubhub, and DoorDash. 
No deadline to place Mother's Day orders but preordering is highly recommended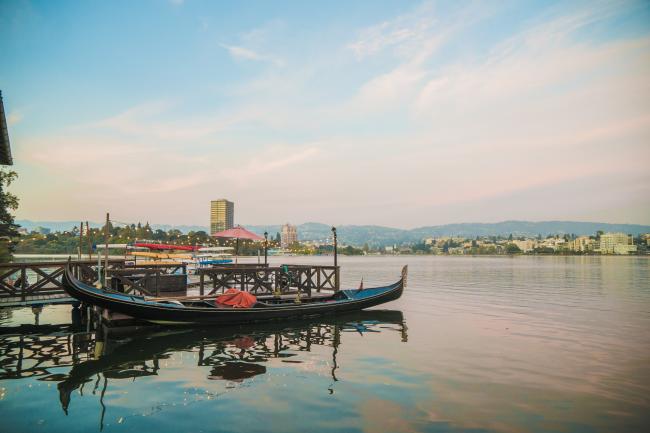 Looking for other food options? Check out these open restaurants. 
When we are past the curve and fully opened up, here are other ways to treat Mom!
Food Tours + Massage = Perfection!
Kick off your mom weekend with a foodie tour of Oakland. Go behind the scenes with the Local Food Adventures for their special Rockridge Mother's Day Ice Cream & Gelato Tour. You can also tack on a massage with the tour -- you know mom will be tired after all that walking and eating. Take a visit to the Claremont Club & Spa, to enjoy treatment rooms, steam rooms, whirlpools, deluge showers & more! 

Brunch Time
If mom is in the brunching mood, there are plenty of tasty options to choose from. Head to Eve's Waterfront in Jack London Square and enjoy a brunch buffet with crab, seafood steamer pots, prime rib & more. Capture your special Mothers Day memories at District with a brunch buffet from 11:00am-3:00pm. Lungomare will also host a special Mothers Day Brunch Buffet. Or head to The Terrace Room overlooking Lake Merritt for some Mothers Day ambiance. 
Looking for something a little more casual? Visit the Jack London Square Farmer's Market or the Temescal Farmer's Market to browse some of the best of California's agricultural bounty along with more delicious specialty foods, fresh flowers & more. 

DIY
Did someone say 'Do It Yourself'? Check out the Mother's Day Flower Arrangement Class at Wine & Design. You can customize this floral gift for your mom (or special someone) or bring them to the class to do together!
Out on The Town
Get out and enjoy Oakland's sunny weather on the Bay with a Mothers Day cruise aboard the USS Potomac in Jack London Square. A brunch buffet and mimosas are included with the view. If mom is an animal lover, bring her up to the Oakland Zoo there are free train rides (one per person) aboard the Outback Express Adventure for all moms all weekend long. If Mom's more of a sports fan? Both the Oakland A's and Golden State Warriors have games on Sunday, May 12. 
For more Oakland events for mom, visit our event calendar & Things To Do pages.