Back
23 Colorful Images of Art and Architecture in Oakland, CA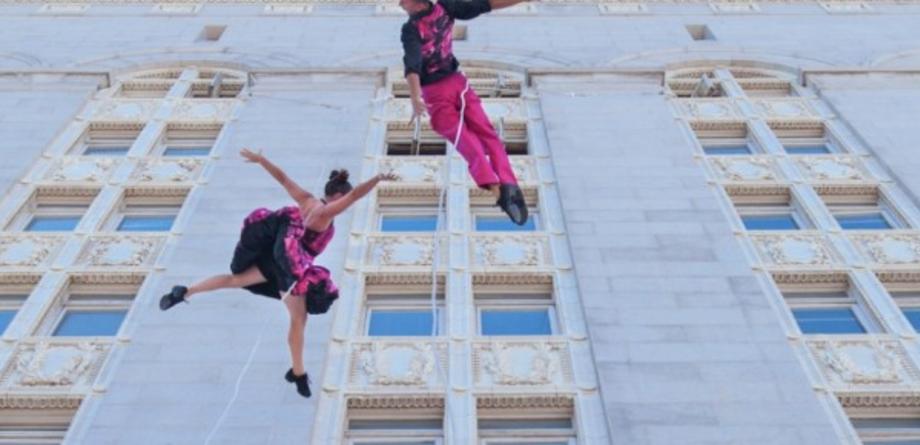 By Hal Amen / Matador Network
1. Art+Soul
Just this past weekend, thousands came out for the annual Art+Soul Festival in downtown Oakland. Between the live music, BBQ throwdown, dance troupes, local art exhibits, and other high-flying performances, there was a hell of a lot going on in this vibrant area of the city.
Photo:Greg Linhares,Omni Source Images

2. The Bay Bridge, reimagined
The largest public works project in California history wrapped up last year, in which an attractive self-anchored suspension bridge (lit above) was constructed to serve as the new eastern span of the San Francisco-Oakland Bay Bridge, connecting Oakland to Yerba Buena Island. Among the span's many impressive attributes (including being considered the widest bridge in the world) is that, for the first time, it provides access to pedestrians and cyclists to traverse the Bay.
Photo:Darrell Sano

3. Oakland Rotunda
Built in 1914 to house Kahn's Department Store (architect: Charles William Dickey), the Rotunda Building is now an upscale event space and sought-after wedding venue in downtown Oakland. The centerpiece of the structure, the dome, is 120 feet high and measures 5,000 square feet.
Photo: Brooke Anderson

4. Fox Theater
Oakland is home to several vintage theaters that have been going strong since the Golden Age of film. After undergoing extensive renovation work beginning in 1996, the Fox Theater on Telegraph Ave reopened to much fanfare in 2009. In addition to serving as a venue for national music acts, the Fox is also home to the Oakland School for the Arts, a charter school for students grades 6-12.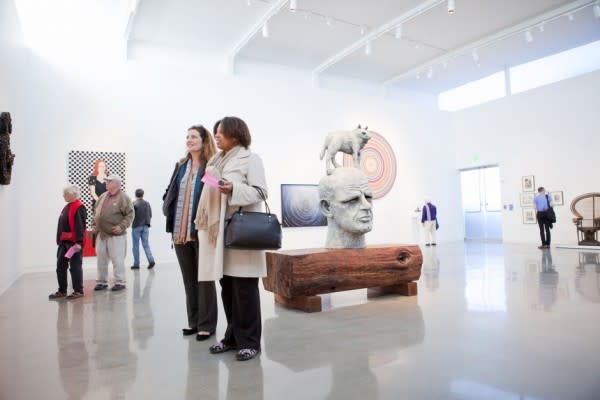 5. Oakland Museum of California
Located just south of Lake Merritt, OMCAhouses exhibits of all kinds within a striking modern structure that combines indoor and outdoors spaces. The cool thing about this site is that it doesn't stick to one discipline you can check out top-notch art as well as displays on the history, nature, and science of California all in one visit. Stop by on Friday evenings to enjoy half-price admission as well as a range of local food trailers and music acts.
Photo:Jason Lew, courtesy of OMCA

6. Going Away, Coming Home
This 160ft glass mural depicting swans in flight was created by local artist Hung Liu. Installed in 2006, it still graces Terminal 2 of the Oakland International Airport, between gates 26 and 32.
Photo: Sonny Abesamis
7. Tribune Tower
One of the defining features of the Oakland skyline, the Tribune Tower was built in 1923 with heavy influences from St. Mark's Campanile in Venice. At 300 feet high, it's easily spotted from many areas of the city.
Photos:Hitchster,Victor R. Ruiz

8. Art+car
This shot was captured during Oakland Art Murmur, the local First Friday art happening, when galleries throw open their doors to the public and performances spill out into the street. The event started on Telegraph Ave back in 2006 and now encompasses multiple areas in and around downtown. If you're in Oakland on the first Friday of the month, you won't get a better chance to infiltrate the city's art scene.
Photo:Ganesha Balunsat

9. Oakland Mormon Temple
The Oakland California Temple was one of the earliest operating temples of the Church of Jesus Christ of Latter-day Saints. It's somewhat unique, in that its five-spired design features Oriental influences. It was designed by Harold W. Burton, built in 1964, and is located in the Oakland Hills with great views of the city and bay.
Photo:Jake Spurlock

10. Water Writes mural
Water Writes is a series of 10 murals created by the Estria Foundation in cities all over the world to highlight issues around water conservation. Oakland is home to the first mural in the series, find it at Broadway and 21st.
Photo:Sonny Abesamis

11. Paramount Theatre, exterior
Another of Oakland's historic theaters, the Paramount is located on Broadway between 20th and 21st. It dates to around the same era as the Fox, but today is used for events ranging from performances of the Oakland East Bay Symphony to lecture series to screenings of classic films.
Photo: BWChicago

12. Paramount Theatre, interior
While the exterior's tile mosaic is certainly special, it's inside where the Paramount really shines. No expense was spared on the construction of this "movie palace," and today you can still see the gold walls, Italian marble, and hand-sculpted teak and oak details that, somehow, were once considered synonymous with the cinema.
Photo: BWChicago

13. American Steel Studios
American Steel Studios is an industrial arts studio that's set up shop in once-abandoned warehouses in West Oakland. They run internships, put on events and performances, and are involved with many of the monumental creations that are found at Burning Man each year.

14. Oakland City Hall
The architecture firm Palmer & Hornbostel designed Oakland's City Hall in 1910, and it was built four years later. At the time, this 320ft-high, three-tier, Beaux-Arts-style tower was the tallest building west of the Mississippi. Find it at 1 Frank H. Ogawa Plaza in downtown Oakland.
Photo: Sharon Hahn Darlin

15. Mausoleum door, Mountain View Cemetery
Situated in the East Bay Hills above town, Mountain View Cemetery is actually a really cool place to visit on account of its views. During the day, you'll find locals spread out on the grass, picnicking or just hanging out. The cemetery has been in operation since the mid-1800s, and many notable (and wealthy) Californians have been laid to rest in stately mausoleums like this one.
Photo: Sonny Abesamis

16. Oakland Art Murmur
Art Murmur isn't restricted to gallery spaces. Downtown streets come alive on the first Friday of the month, with vendor booths, performance artists, live music, and food trucks.
Photo: Sonny Abesamis

17. Grand Lake Theater, exterior
The Grand Lake Theater opened in 1926. Its exterior is dominated by a huge illuminated sign on the roof. The Grand Lake remains in business today and is considered one of the premier vintage theaters in the nation.

18. Grand Lake Theater, interior
The interior of the Grand Lake is Art Deco in style, carefully restored by the theater's current owners. It might be the only theater in the US to feature both a 3D projection system and a vintage Wurlitzer organ (which is used for short concerts prior to showings on weekend evenings).
Photo: BWChicago

19. Cathedral of Christ the Light
This Roman Catholic Cathedral was built 2005-2008 to replace Saint Francis de Sales, which was damaged beyond repair in the earthquake of 1989. Taking advantage of modern design sensibilities, the building (architect: Craig W. Hartman) features bright open spaces surrounded by wood and glass. Toursare available Mon-Fri.
Photo: joevare

20. Dunsmuir House and Gardens
Dating to 1899, this Neoclassical-Revival 37-room mansion is located just south of the Oakland Zoo and can be rented for weddings, parties, and other events.

21. Cheemah Monument, Jack London Square
Since 2002, Oakland's Jack London Square has been the site of the third installation of the International Cheemah Monument Project. According to its website, the project "is working towards the placement of these meaningful and inspiring public monuments that turn people's thoughts to hope, self-responsibility and a more sustained and widespread honoring of all the people of the world."
Photo: Kai Schreiber

22. Montclair Village mural
Located in the Oakland Hills, between Highway 24 and Joaquin Miller Rd., Montclair is a neighborhood of green spaces and upscale real estate...and understated street art.
Photo: Sonny Abesamis

23. Love Oakland
The one thing that unites all neighborhoods and all peoples of Oakland is pride in the city they call home.
Photo: Celine Nadeau
 This post was produced in partnership with the Matador Network. The original version of this post appeared here.